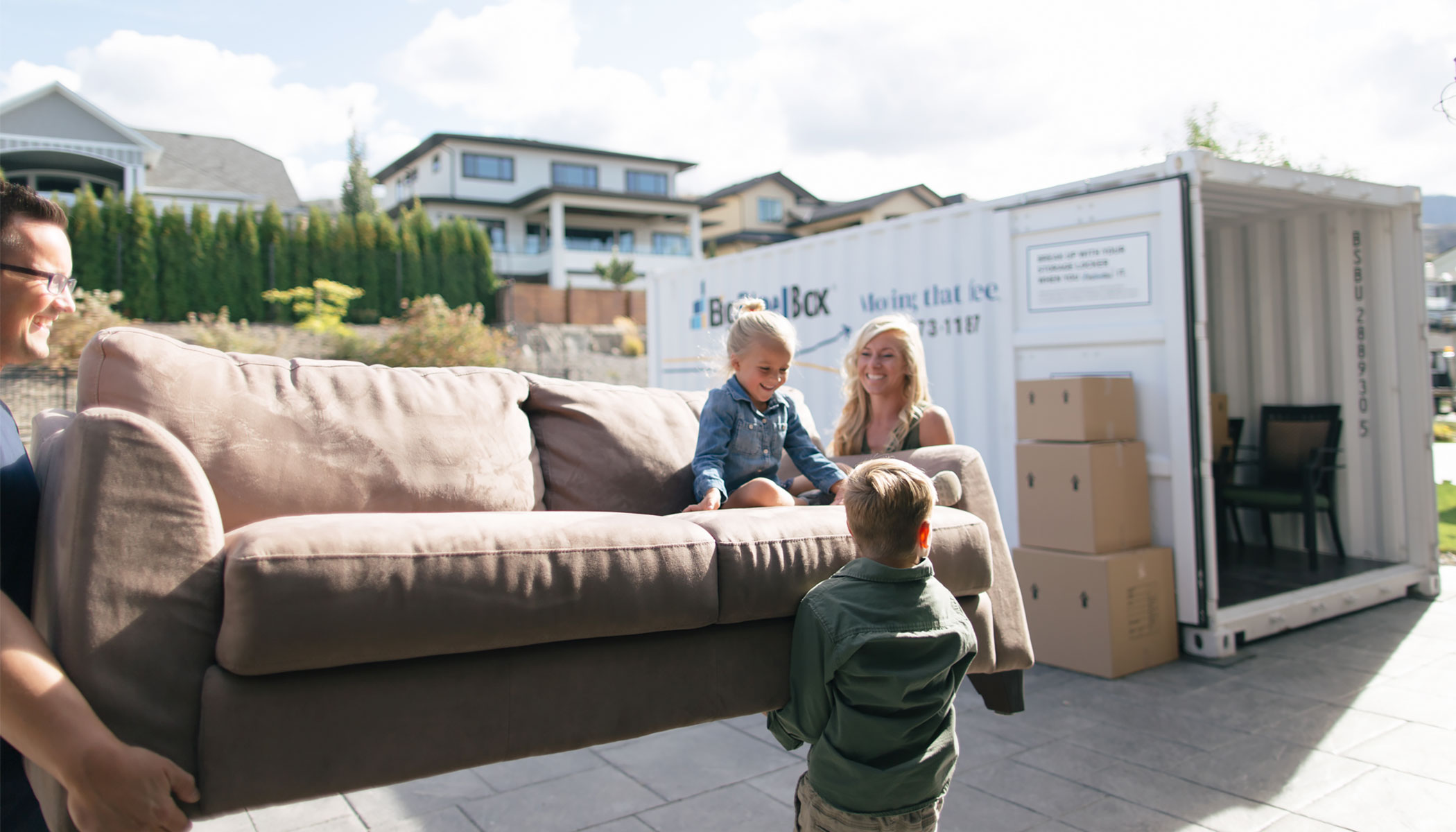 What is the Cheapest Way to Move Across Canada?
Looking for the cheapest way to move across Canada? Wondering if it's BigSteelBox?
While we're not the cheapest option for every move, we can confirm that for single family homes with 2+ bedrooms, located in our service area, BigSteelBox is typically 20%-40% less expensive than a traditional long distance moving company and a lot less stressful than renting a moving truck!
How is moving with a BigSteelBox portable moving container less stressful?
We'll deliver a moving container right to your door so you can take your time packing. There's no need to cram all the stress of moving into one day or drive a big moving truck long distance! With BigSteelBox you can take a few days or a few weeks to pack, then, WE do the driving.
When you're ready, we'll move your container to your new home or to one of our secure storage facilities, because with BigSteelBox, you have the added convenience of built-in storage in between homes!
---
---
Weigh options and compare costs before choosing a long distance moving company:
If you're looking for the cheapest way to move to a new city, here are the top three options to consider:
1) Use a Portable Moving Container
Renting a moving container (like a BigSteelBox) is a cheaper alternative to hiring full service movers. It also allows you to take your time and gives you full control over the packing of your items. Plus, when you rent a portable storage container for your move, you leave the transport and driving to someone else. Learn more

2) Rent a Truck to Move Across Canada
If you have a 1-bedroom apartment or condo with minimal furniture, renting a moving truck will be the cheapest way for you to move. If you have 2 or more bedrooms to move, renting a BigSteelBox moving container is a very affordable option that is more flexible and less stressful. Learn more

3) Hire Full Service Movers
This is the most expensive option for moving long distance of the three listed here, but it requires the least amount of effort on your part. The most important thing to be aware of with full service movers, is that most companies charge by weight, and their quotes can often be based on a lower weight than your actual load. This is why there is always a possibility that your final bill will be much higher than your original quote. Learn more
Portable Moving Containers
When looking for the cheapest way to move across Canada, there are a few things to consider:
the amount of stuff you're taking;
the distance you're moving;
whether or not you'll need storage in between homes.
2+ Bedroom Homes
If your home has 2 or more bedrooms, a 20′ BigSteelBox is a very affordable option to move your furniture to a new city or province. (The contents from most 2 to 4-bedroom homes will fit into one 20′ BigSteelBox. Larger homes may require an additional 10' or 20' Box)
A 20′ BigSteelBox provides you with 1,172 cu.ft. of interior space, which is more than you will get with a 20′ moving truck or a 16′ aluminum-panel moving container, like PODS®.
A BigSteelBox is also the most secure way to move your furniture across Canada. Our containers are wind, water and rodent-proof. They also come equipped with a Lock Box that protects your padlock. Once you place the padlock on your BigSteelBox you keep the key, so no one else will have access to your things.
Most importantly, when you move with a BigSteelBox moving container, the price we quote is the price you'll pay. There are never any hidden or additional fees that will come up, unless you decide to rent your Box longer than you originally planned, or you need an additional Box. And you pay the same price for up to 10,000 lbs of contents!
Renting a Truck to Move Long Distance
In some cases, renting a moving truck is a cheaper way to move across Canada. This is often the case if you're not taking several large items with you and you don't need storage in between homes.
1-Bedroom Apartments & Condos
If you have a 1-bedroom apartment or condo with minimal furniture, using a 20′ BigSteelBox wouldn't be the cheapest way to move your furniture across the country.
While we also offer 10′ BigSteelBoxes, the rental and shipping costs don't vary much compared to a 20′ Box. One way to make this more affordable is to load and unload at our storage facility, which saves you the local transportation costs (this option is available at most locations, please contact us for details). This option especially makes sense if you also need storage in between homes.
When renting a moving truck to move across Canada, here are a few things to remember:
As with hiring a full service moving company, when you rent a moving truck you are restricted to planning your packing and cross-country trip around the truck rental schedule. Your truck rental will need to be returned by a certain day and time or you will encounter additional charges.
Renting a moving truck may be cheaper than hiring a moving company or using a moving container, but you are then responsible for driving it to your new home, no matter how far. You are also trusting that the rental company's trucks are safe and in proper condition to complete a long distance move.
If you're moving long distance you will likely not be able to complete the move in one day.  As such, you'll need to account for nights in hotel and meals along the way.
Factor in the cost of fuel. When you rent a moving truck, you're just paying for the use of the truck. Fuel is an extra, out of pocket expense. Speak with the truck rental company to estimate what fuel will cost for your move.
Make sure to ask if there's extra costs for insurance or additional mileage.
Hiring Full Service Movers vs. Renting a Portable Moving Container (like BigSteelBox)
Hiring a professional, full service cross-country moving company can be a convenient way to move across the country, but also costly.
Here are a few things to consider when comparing a full service moving company to renting a portable moving container:
Based on an average load of 7,000 lbs, renting a 20' BigSteelBox can be 20% – 40% less expensive than using the services of a more traditional moving company when moving a single family home (varies by route). The cost of moving using BigSteelBox is straightforward without the uncertainty that comes with charges based on weight.
The cost of moving your container rental from your old house to your new home is what you are charged, not whether your home has stairs or how much your load weighs.
When you use a full service moving company you have less flexibility with your moving day and delivery dates. As such, delays and last minute changes are not uncommon. With BigSteelBox it's simple. Once your container is packed, give us a call and it will be picked up and delivered to your new city on the agreed upon schedule.
Movers are on their schedule, not yours. If you need to store your belongings before you get settled into your new home, or want to sightsee on your cross-country trip, that's no problem when you're moving with BigSteelBox. Your Box can be stored at any of our storage facilities until you are ready to start unpacking, without having to load and unload into a separate storage facility.
Hiring movers means putting your belongings in other people's hands. Once your truck is packed, you have no control over who is handling your items until they are delivered back to you. With BigSteelBox, only YOU have the key to your padlock.
You'll probably need more moving boxes than you think. Here are a few tips on where you can buy moving boxes and get them for free.
Things to Consider When Looking for the Cheapest Way to Move Across Canada
There are many options to choose from when comparing long distance moving companies and trying to find the cheapest way to move across Canada. However, sometimes the cheapest way is not always the best, and moving quotes that are too good to be true usually are.
Learn more here: How to Compare Moving Quotes
What if you need storage during your long distance move?
When moving cross-country, it's common that move-in and move-out dates don't line up. One of the biggest benefits to moving with a BigSteelBox portable storage container is you always have the option of storage in between homes.
Your BigSteelBox can be stored off-site at one of our secure locations until the day you are ready to have it re-delivered and unpack it.
If you move with a rental truck or full-service movers, and you end up needing storage in your new city, you will need to unload everything into a storage unit in your new city. Then, you'll likely have to rent another truck to unload the storage unit and move your stuff to your new home. This is a lot of extra work, and will result in additional costs.
With BigSteelBox, you only need to load and unload your things once. Plus, the option for storage in between homes is built into our moving service.
We would love the chance to make your long distance move feel better! You can request a quote online or give us a call at 1-800-373-1187.