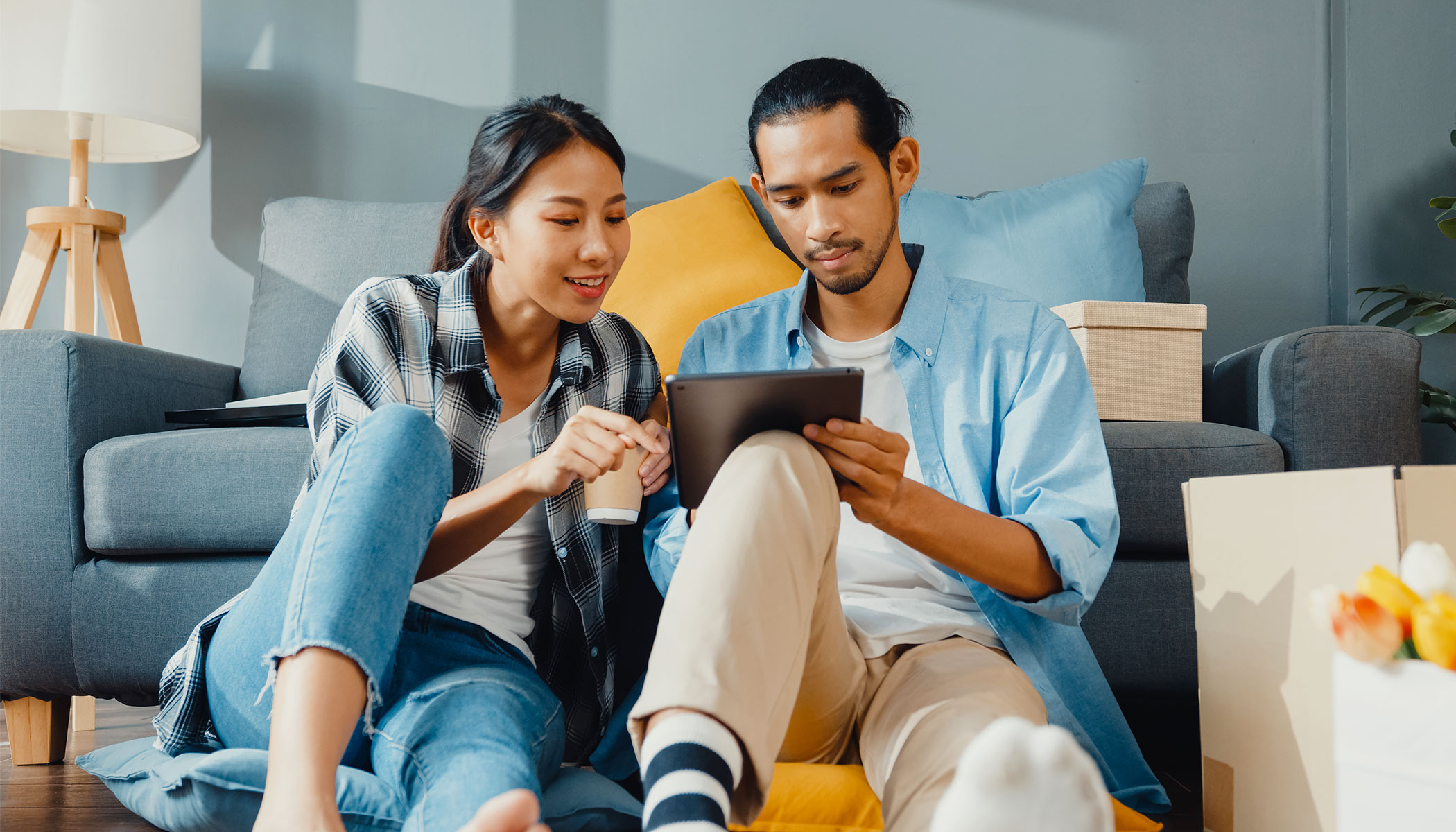 How to Estimate Your Moving Costs in 2022
Moving is a fact of life and it's something most of us have experienced, but if you've ever moved to a new city or province, you'll know that the planning process can be a little more complicated than same-city moves.
If you've experienced a long distance move, chances are good that you've been through the process of online research and collecting moving quotes from different moving companies and quickly realized that not all services estimate or charge in the same way. This can result in confusion and uncertainty when trying to choose a moving company, which will often add even more stress to an already stressful situation.
We've written detailed articles on how to compare moving company quotes, to help guide people through the process of reading and understating various types of moving quotes because we know how different they can look. In the end, we want to help you find a moving company that fits your needs, timeline and budget, and avoid any unpleasant surprises when you receive your final bill.
How do moving companies quote?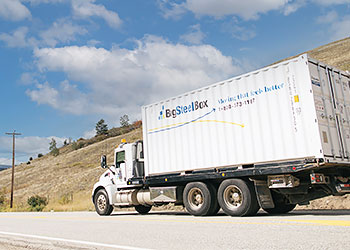 This is a great question that seems simple, but the answer can actually be quite complicated.
The majority of traditional moving companies estimate and charge by the weight of your contents; others charge a flat rate for a certain amount of space in a truck, moving labour and pick-up/delivery timeframes; and some (like BigSteelBox) will provide an 'all-inclusive' quote for the size of moving container, the length of time you need the container, and the time it takes to move it from one location to the other.
Because our 'all-inclusive' quoting method is actually pretty unique and not used by many long distance moving companies, we wanted to get a better understanding of other estimating and charging practices experienced by Canadians who've recently gone through the process of moving to a new city. To do this, we conducted a nation-wide survey at the end of 2020, to examine customer satisfaction with the long haul moving industry and to learn more about the experiences of long distance moving customers.
You can see the full results of that long distance moving survey here, however, if you're mainly interested in learning about the data regarding estimating practices and quote accuracy, read on for those findings.
Survey found many Canadians were surprised by the final cost of their move when charged by weight.
By and large the most confusion and frustration came for movers who used a moving company that charged by weight.
The survey actually found that 25% of all movers whose cost was based on weight did not find this out until after they booked, including 10% that were informed upon receiving their invoice. These stats are certainly concerning, so let's dig a little deeper into the topic of charging by weight…
Why do some moving companies charge by weight?
The simple answer is because long distance moving is tied very closely to the transport industry, and most full service moving companies are using long-haul trucks to move their customers' belongings.
In many ways, charging by weight is better for the consumer, because the scale never lies. However, overcharging arises when the weight of a customer's items is underestimated in their initial quote. While this can appear to be intentionally misleading, the main challenge is the inherent difficulty of estimating weight of household items.
How much do you think your sofa weighs? What about all those family photo albums or that antique piece of furniture? You probably have no idea… And that's why the practice of quoting based on weight is so hard to get right all the time.
Here's what our survey found:
36% of movers who were charged more due to excess weight did not know the cost of their move was based on weight before they booked.
Of customers whose cost was based on weight, 33% were charged more than quoted.
For customers who were charged by weight and paid more than quoted, the typical overcharge was 13% (or $400) more. And, 90% of the time, the extra cost was at least in part because their contents weighed more than estimated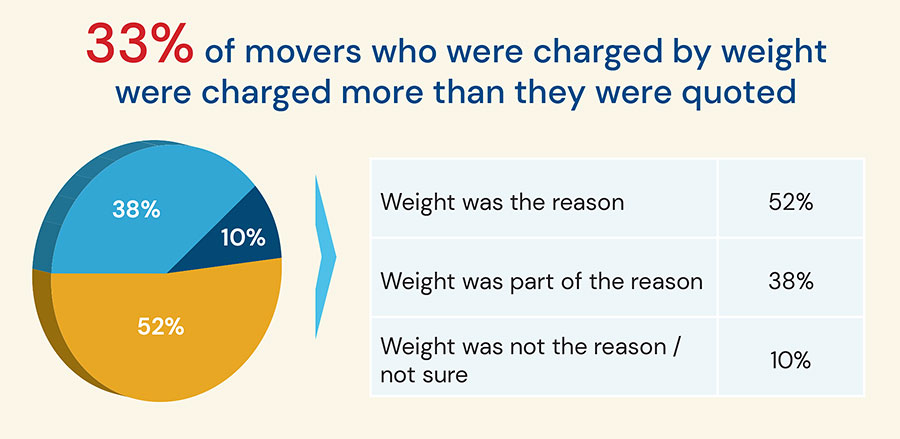 How to understand moving quotes and avoid paying more.
The key to understanding your moving quote and ensuring you end up paying what you're expecting to, is to ask questions.
Ask your moving company to walk you through their quote.


Some moving quotes can have several line items to address each portion of the move. This may include labour surcharges, ferry costs, fuel charges, and storage fees. These are all items you'll want to fully understand, especially if there's a chance they could change. So, have your moving representative go through each line item with you to explain them in more detail.

Ask if you are being charged by weight.


If you're using a long distance moving company that charges by weight (most common practice for full-service movers), the final price will change depending on the weight of your belongings. This means the price you pay could be less than estimated, but it could also be hundreds or even thousands of dollars higher than your original quote if the estimated weight is much lower than the actual.

If the transportation in your quote is being calculated in a "rate/cwt" (CWT=cost per 100lbs) format, then your estimate is based on weight and the final cost could change if your items end up weighing more than quoted. In this case, ask your moving company what the cost difference would be if, for example, your items ended up weighing 500lbs more than estimated so you're prepared for the change in cost. This may even inspire you to purge some items before moving day to cut costs.

*SURVEY FINDING: You may be surprised to hear this, but our survey showed that 19% of respondents did not find out they'd be charged by weight until they received the invoice. So, be sure to ask this question outright so there are no unpleasant surprises on your final bill.

Request an in-house or virtual online inspection.

If you're planning to use a full-service mover and you know they'll be charging by weight, you can improve the accuracy of your estimate by requesting an in-home or virtual inspection of your belongings. It's easy for people to forget about items that may be out of sight in a storage room or shed, or to misjudge the actual weight of an item. This is where moving experts can help.

*SURVEY FINDING: Our survey found that even when the customer had an in-person visit for an estimate or submitted a list of items to the company, 30% were still charged more than they were quoted. This may seem like a high level of inaccuracy, but it's better than the 39% of customer's who were charged more with only a phone consultation prior to their estimate. And on the flip-side, it means that in-home visits are accurate 70% of the time.

Is using a company that charges a "flat-rate" an option?

Some moving companies have city-to-city routes they're very familiar with and perform often. In these cases they may offer a flat rate option. So, the price is not necessarily based on the weight of your items, but rather the amount of space provided in a truck and the timeline for pick up and delivery. If this is an option for you, it could help avoid unexpected costs on your final bill.

Ask about the "extras".


Our survey also found that weight isn't always the reason people end up paying more than quoted. In fact, 29% of long-haul moving customers were charged more than they were quoted regardless of moving method (full-service, truck rental, container-based). And, in these cases, the customer was charged an average of 12% over their quote, which equates to an average additional cost of $250.

Some full-service moving companies (they do the loading and unloading of the truck and move your things for you) and moving truck rental companies (you do the loading/unloading and drive the truck yourself) will be conservative with their approach to creating a moving estimate and not include certain 'extras' that are separate from the weight and transport of your items, such as:

Full-Service Movers:

Paid breaks for moving labourers
Charges for labourers using stairs
Storage in between your move
Moving and packaging supplies
Insurance
Fuel surcharges

Moving Truck Rental:

Insurance for potential damage to truck
Moving and packaging supplies
Fuel
Cost if truck is returned late or to a different location
Have a list of these types of questions on hand when talking to your moving representative so you don't forget about any of them.
Ready to choose a moving company?
As you can see, there's a lot more to reading quotes and choosing a moving company than you might think – no wonder it can be so stressful! At BigSteelBox, we believe it's our job to do whatever we can to make you feel better about your move, so we're always happy to answer any questions you might have throughout the quoting, booking and moving process.
If you think BigSteelBox might be a good option for your long distance move, call us today for your free quote at 1-800-373-1187 or request your quote online.