Our different sizes give you flexibility to choose.
8' BigSteelBox
This size container is great if you just need a little extra space. It's also perfect if you're looking for an extra tool shed or space to store some seasonal gear that's taking up too much room in your garage.
10' BigSteelBox
The 10' BigSteelBox is used by customers moving to or from a smaller living space, like a condo or apartment. You can usually fit the contents of a moderately furnished 1-bedroom home in the 10' moving container.
20' BigSteelBox
Our 20' BigSteelBox is the most commonly used size for residential moving and storage. The contents of a moderately furnished 2 to 4-bedroom home usually fits into a 20' (excluding appliances). If you have a 5+ bedroom home you'll probably need an extra 10' or 20'.
Need a bigger BigSteelBox?
If you have enough room on your property to accommodate a larger shipping container and want to buy or rent a 40′ BigSteelBox, we have that size too. Please note, however, that we cannot move a loaded 40′ container. If you'll need your loaded container moved in the future, then renting two 20′ containers is the best option for you.
---
---
It's the details that make a shipping container a BigSteelBox: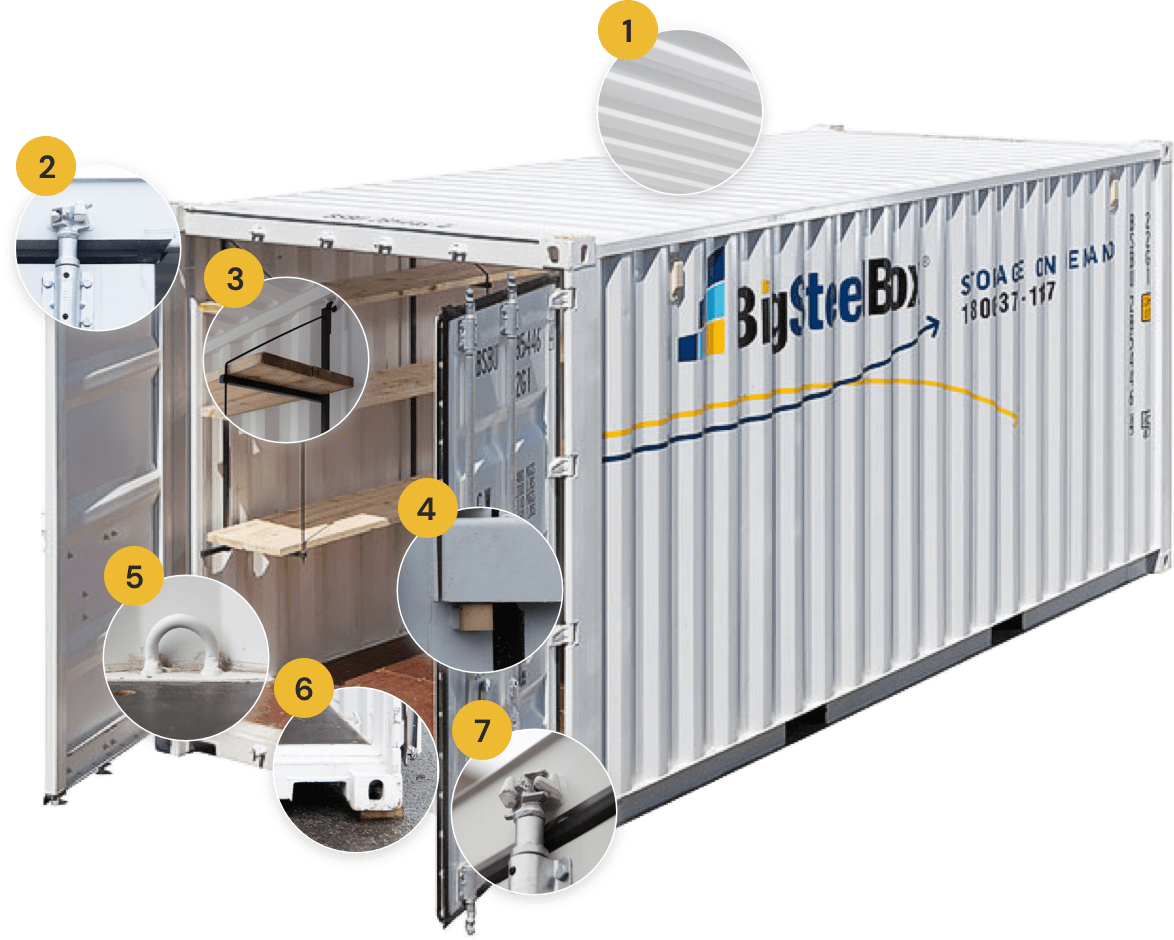 1. Corten Corrugated Steel
Designed to withstand the heavy abuse of transport on ocean, rail or roads. Bridges are made out of this stuff!
2. Heavy-Duty Rubber Gaskets
Located on both sides of the door. Creates a watertight seal on the doors. No leaking, even with heavy rain or melting snow.
3. Add Shelving
We rent and sell shelving brackets, allowing you to install shelving in a matter of minutes. Just connect the shelving bracket to the D-rings and add your own 2"x10" boards. Keeps everything organized.
4. Steel Lock Box
This steel shield surrounds your padlock so that it can't be accessed with bolt cutters. Your valuables will be safe.
5. D-Rings
These are located every 4' on the interior walls. Makes securing your load easy during transport. Keeps your belongings safe and intact.
6. Elevated Flooring
Prevents water from entering at ground level, keeping your stuff dry.
7. Steel Locking Arms
Doors maintain a tight seal by hooking onto rings at the top and bottom rails. Keeps water, rodents and everything else out.
How We Deliver a BigSteelBox
How much space is needed?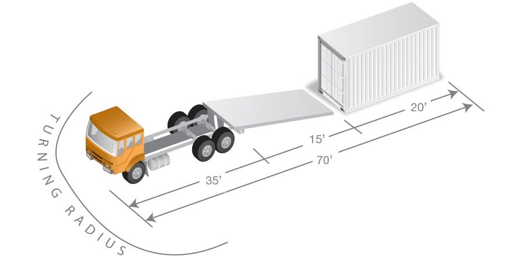 We need at least 70-feet of space in a direct line to place a 20′ BigSteelBox. This includes the length of the container, the length of the deck that extends backwards and the length of the truck.
Our trucks are equipped with decks that extend off the back, and then tilt down. The corner posts of the container are lowered onto wooden blocks to protect the surface of your driveway, and to keep the container level. The truck then slowly moves forward until the other end of the container is lowered onto blocks.
As long as the site is clear and there is enough space, the whole delivery process usually takes about 10-15 minutes.
Will my contents shift?
When we load or unload your BigSteelBox during a pick-up or delivery, the container will be tilted on a slight angle. However, the entire process moves very slowly, and the force on your contents is minor compared to what they would experience during any form of transport.
Whenever contents are moved by truck (full service mover, rental truck or moving container), the turning, braking and going up and down hills impacts your contents far more than the delivery or pick-up of a BigSteelBox.
It's very important to pack your contents carefully, load them properly, and ensure everything inside the container is secured with tie downs using the D-rings along the inside of your BigSteelBox. VIDEO: How We Deliver & Load Your BigSteelBox