Rental Truck vs Moving Container: Compare moving with a U-Haul® truck to a BigSteelBox moving container
If you're planning a local move on a budget, your first thought might be to find a friend with a pickup willing to help you. But, if you don't have a friend with a truck or your move is long distance and you have to fit all your stuff in one trip, you'll have to explore other options.
When trying to stick to a budget, there's potential to save a lot of money with a do-it-yourself move. The most popular DIY moving options are to either rent a moving truck from a company like U-Haul®, or rent a moving container like BigSteelBox. Both require you to load and unload them yourself (unless you decide to hire moving help), but there are a number of other factors to take into consideration that will affect more than just the cost of your move.
First, answer these questions about your moving needs:
What's your moving budget?
How many days will you actually need to complete your move?
If you're moving to a new city or province, will you need to stay in a hotel along the way?
Are you comfortable driving a large truck on busy highways or in bad weather?
If renting a truck, how much will fuel cost? (The cost of fuel is NOT included in the price of renting a U-Haul)
Are you moving during a popular time of the month (very end or very beginning) or during peak moving season (late spring to early fall)? Rates can vary depending on when you need to move.
Once you know the answers to the questions above, you can start to request quotes from different companies and compare them to one another to find the option that best suits your needs. But, before you do that, we've put together an even more detailed list of questions and answers (Q&A) to better prepare you for the quoting process.
Q: What's the best option for 1 and 2-bedroom apartments, condos and townhomes?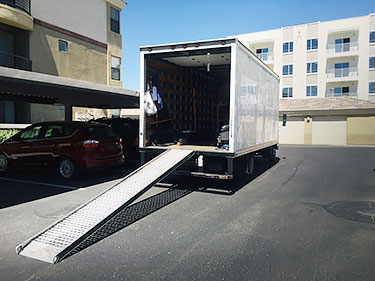 A: U-Haul – A moving truck can be parked outside the entrance of a multi-family community for a few hours at a time to allow you to load or unload it without causing too much disruption to your neighbours.
Most container delivery trucks require at least 70' of space in a straight line to deliver a 20' BigSteelBox (60' for a 10' container), and because there are often space restrictions in multi-family communities, this often restricts our ability to place a container. Also, one of the biggest advantages to using a moving container is that you have it for at least a month and can take your time loading and unloading. Since leaving a moving container in a shared parking lot is often not allowed in condo and apartment communities, this is another reason to go with a rental truck.
Q: What's the most convenient moving option for 2+ bedroom single family homes?
A: BigSteelBox – If your home has 2 or more bedrooms and space to place a moving container, then a 20′ BigSteelBox is a very affordable and flexible option, which works well for both local and long distance moves. (The contents from most 2 to 4-bedroom homes will fit into one 20′ BigSteelBox. Larger or more heavily-furnished homes may require an additional 10' or 20' container.)
A 20′ BigSteelBox provides you with 1,172 cu.ft. of interior space, which is more than you will get with a 20′ moving truck or a 16′ aluminum-panel moving container, like PODS®.
Q: Which moving option is the most secure?
A: BigSteelBox – Compared to a moving truck or PODS-style moving container, a BigSteelBox is the most secure way to move your belongings across Canada.
Our moving containers are actually shipping containers, so they are made entirely from steel and sealed to be weather and rodent-proof. They also come equipped with a Lock Box that protects your padlock from bolt cutters and theft. Once you place the padlock on your BigSteelBox you keep the key, so no one else will have access to your things.
Q: Which moving option is more affordable?
A: This depends on your type of move, home type and the time you need to complete your move.
For a local or long distance move, a rental truck is usually the lowest cost option, as long as you're able to complete the move in a few days. However, keep in mind that when demand is high and supply is low, it's not uncommon for rental truck companies to increase their rates because they don't have truck availability or they need to reposition trucks to meet demand. You'll get a better price if you book further in advance.
While the price is often lower compared to other moving options, this method requires substantial effort on 'moving day' including the packing, loading, driving and unloading. And, for the really ambitious, some unpacking as well.  You'll also want to consider recruiting a few friends or family members to help to make sure it all gets done in the short time frame. There is also the potential for extra, unexpected fees with a moving truck rental, so be sure to review the information below regarding price certainty.
Using a BigSteelBox can also be a very affordable option for local moves, and while it may cost a little more than renting a U-Haul for a couple of days, a local move with a BigSteelBox includes having it for at least 1 month, so there's a lot less pressure to complete everything in a short period of time.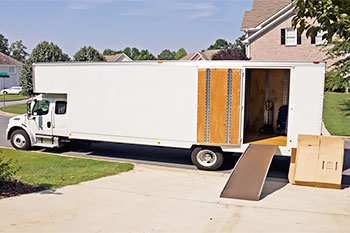 When it comes to long distance moves, a U-Haul is still likely going to be a cheaper option, but remember to factor in other things that could balance out the difference in cost, i.e. having to drive a large moving truck on major highways and possibly bad weather, the cost of fuel, and any expenses incurred if you can't get to your new home in 1 day, such as hotels and meals.
With BigSteelBox, you load your container and then call us when it's ready for pick up. We'll move your container to your new home, or to our storage yard until you're ready for re-delivery. This option is great for moves where your move-out and move-in days don't line up because storage is built right into the service.
Q: Which moving option offers the most price certainty?
A: BigSteelBox – When you move with a BigSteelBox moving container, the price we quote is the price you'll pay. There are never any hidden or additional fees that will come up, unless you decide to rent your container longer than you originally planned, or you need an additional container. And you pay the same price for up to 10,000 lbs of contents!
When you move with a U-Haul truck, there are a number of fees and costs that are not included in your initial quote. Things like fuel, insurance (which can range from $20 to $200+ depending where you're moving), and mileage rates are variables that are not usually part of your quote. Also find out what it will cost if you need the truck for 1 or 2 days longer than anticipated should you end up needing more time to complete your move.
Be sure to estimate your fuel costs and add that amount to your quote when comparing it to other alternatives. Rental truck companies typically estimate fuel economy between 6-10 miles per gallon (MPG) for trucks 15′ and larger, while other moving services may not have a separate fuel cost. You can determine your move distance using Google Maps and entering the distance into a fuel cost estimator.
Learn more about how to compare moving company quotes.
Other tips to help you choose between U-Haul and BigSteelBox
Perform a quality check.
Do your research by looking up moving truck and moving container company reviews for the providers you're considering. Company reviews can be found easily by searching google for the "company name + location". We also post links to all customer reviews for all of our locations on each the location page of our website.
Also, ask your friends, neighbours, family, and coworkers for recommendations to help find a trustworthy moving company. The more people you ask, the better idea you'll have about which companies have a good reputation for customer service, truck upkeep/container condition, and cost.
If you're moving across Canada or looking for the cheapest way to move long distance, make sure to ask people specifically about the long distance moving company they used and confirm the company they recommend has locations in your current and new cities.
Consider if you'll need storage between homes.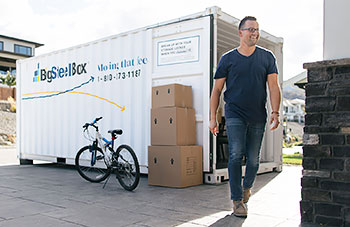 When you move with a BigSteelBox, storage is already built into the service. Your moving container doubles as a storage container and can be kept at your home or one of our storage facilities for as long as you need it.
We already mentioned the superior security of a BigSteelBox shipping container above (made entirely from steel, weather and rodent-proof, equipped with a Lock Box to protect your padlock from bolt cutters and theft) so you'll have peace of mind knowing your things are safe for as long as you need them stored.
Some rental truck companies like U-Haul offer storage options such as their U-Box containers, which are wood-frame moving containers made with pressure treated plywood and wrapped with a weather-resistant plastic cover. These boxes are 7'11" x 4'8″ x 6'11.5″, which translates to 257 cu.ft. of space. Each unit has a weight capacity of 2,000 lbs. Their small size means you'll likely need multiple U-Boxes to move a home of any size. Because they're wood and plastic, they offer limited security when stored outdoors so they're better suited for short-term storage.
Some U-Haul locations offer indoor self-storage lockers in a variety of sizes, but this option requires the extra labour of unloading the U-Haul into the storage locker and then re-loading a truck when you're ready to move your items to your new home. With a moving container you only have to load and unload once.
At BigSteelBox, it's our mission to make moving and storage feel better for you. If you think using a BigSteelBox moving container for your local or long distance move is a good option for you, contact us today at 1-800-373-1187 or request your free quote online here.