Comparing BigSteelBox to PODS®: What Makes Them Different?
Updated April 26, 2022
At BigSteelBox, we invite you to compare us to other moving and storage companies because we're confident our combination of products and service provides unique and compelling value for most people looking for a simple solution.
Whether it's the extra security our steel containers provide, the flexibility of our service, our dedicated customer service, or the fact that we have more locations across Canada than any other mobile storage company, we believe that BigSteelBox is a better way to move and store your stuff.
In this post we'll compare PODS® moving and storage containers and services to those offered at BigSteelBox to give you as much information as possible so you can make an informed choice for your portable storage or moving needs.
How are PODS and BigSteelBox the same?
Sometimes the easiest place to start in a comparison is to look at how the two solutions are the same or similar. Below are services BOTH BigSteelBox and PODS offer:
Mobile storage solutions to residential and commercial customers.
Delivery of containers to customer's location.
Storage of your loaded (packed) container at a secure facility.
Access to your stored containers in the storage facilities with some advance notice.
A moving solution for both local and long distance moving.
A convenient alternative to traditional moving companies or rental truck options like U-Haul® or Budget®.
Delivery of a container to your home in advance so you can pack at your own pace.
Monthly container rentals.
Different sized containers to meet the customers' needs.
Storage and handling services charge if your loaded container is stored at a secure facility.
Ground-level loading with just a short step up.
It may sound like both companies do exactly the same thing, but there are actually many differences between the services and products offered by BigSteelBox and PODS.
What's the difference between the type of containers PODS and BigSteelBox use?
A BigSteelBox is a certified shipping container that is used for transport by ocean, rails or road. Regardless of the size, a BigSteelBox is built for ocean transport, so you can rest assured it can hold up against the elements.
What are the containers made of?
PODS containers are made of a steel frame with aluminum skin panels. The top is a translucent material that allows ambient light to pass through.
BigSteelBoxes are certified steel shipping containers that are used for transport by ocean, rails or road. They are weather and rodent-proof.
How do their doors differ?
A PODS container has a steel roll-up door.
A BigSteelBox has two 16-gauge steel swing doors, with double-sided rubber gaskets that seal tight to protect against the elements. BigSteelBoxes with doors on both ends are also available in select markets.
What is the difference in sizes?
PODS containers are available in 7′, 12′ and 16′
BigSteelBoxes are available in 8′, 10′, 20′ and 40′ sizes (most residential units are 10′ or 20′ sizes)
Because of the all-steel construction, a BigSteelBox is more weather proof and secure than a PODS container, so if the box will be left outdoors for an extended period of time, a BigSteelBox is a more secure option. Check out the security features of a BigSteelBox for more information.
Container Sizes – What is right for you?
Did you know that a 20′ BigSteelBox provides 44% more storage space than a 16′ PODS and holds more than twice the weight?
Comparing a 7′ PODS container to an 8′ BigSteelBox:
7' PODS
8' BigSteelBox
Exterior dimensions: 7' x 7' x 8'
Exterior dimensions: 8' x 7' 3" x 7'5"
Interior dimensions: 6'6" x 6' x 7'6"
Interior dimensions: 7'6" x 6'11" x 6'9"
Total cubic feet of storage space:
292.5 cu ft
Total cubic feet of storage space:
351.3 cu ft
Summary:
An 8′ BigSteelBox has 20% more space that a 7′ PODS.
Both containers would hold the contents from 1 room or 2 small rooms.
---
Comparing a 12′ PODS container to an 10′ BigSteelBox:
12' PODS
10' BigSteelBox
Exterior dimensions: 12' x 8' x 8'
Exterior dimensions: 9'10" x 8' x 8'6"
Interior dimensions: 11'6" x 7' x 7'6'
Interior dimensions: 9'4" x 7'8" x 7'10"
Total cubic feet of storage space:
604 cu ft
Total cubic feet of storage space:
564 cu ft
Weight capacity for contents: 4,700 lbs
Weight capacity for contents: 12,000 lbs
Empty container weight: 1,750 lbs
Empty container weight: 2,870 lbs
Summary:
A 12′ PODS container has 7% more cubic space than a 10′ BigSteelBox.
A 10′ BigSteelBox has over 2X the weight capacity of a 12′ PODS container.
Both boxes would hold the contents from 2-3 rooms.
---
Comparing a 16' PODS container to a 20' BigSteelBox:
16' PODS
20' BigSteelBox
Exterior dimensions: 16' x 8' x 8'
Exterior dimensions: 20' x 8' x 8'6"
Interior dimensions: 15'6" x 7' x 7'6"
Interior dimensions: 19'4" x 7'9" x 7'10"
Total cubic feet of storage space:
814 cu ft
Total cubic feet of storage space:
1,172 cu ft
Weight capacity for contents: 4,200 lbs
Weight capacity for contents: 10,000 lbs
Summary:
A BigSteelBox has 44% more storage space and over 2 times greater weight capacity of a 16′ PODS container.
A 20′ BigSteelBox can usually fit the contents of a typically furnished 3 to 4 bedroom home without the appliances. It's more likely that a 16′ PODS container would fit a 2 to 3 bedroom home.
Note: You may be wondering why the weight capacity for smaller PODS and Boxes are greater than larger ones. It is because the weight capacity is contingent on the truck that needs to haul the container, and not the container itself. If the truck is carrying a smaller container, that has a lower weight when it's empty, it can have more weight loaded inside of it.
How do the delivery methods compare?
This another area where there is a distinct difference between the two companies. Because BigSteelBoxes are heavier, with greater load capacities they are delivered using tilt deck trucks. PODS uses their patented Podzilla™ delivery system.
How PODS delivers:
PODS has their own patented delivery system that lifts the container off the truck vertically.
The truck pulls ahead and then the container is lowered to the ground.
This system keeps the load flat during the loading and unloading process.
A PODS truck would need at least 33′ of space in a straight line to place a container. (Please note, the size of the PODS container was not indicated in this scenario.)
How BigSteelBox Delivers:
BigSteelBox uses mostly tilt deck trucks for loading and unloading.
We can deliver by crane truck if requested, or required, for the delivery location.
The tilt deck extends back off the end of the truck, and then angles down.
The end of the container is placed on wood blocks to protect the driveway or surface, and then the truck moves forward to lower the other end of the container.
Both ends are placed on blocks to protect the surface of the customer's driveway. This also helps to level the BigSteelBox.
A 20′ BigSteelBox requires 70 feet in a straight line to place a container (60 feet is needed for a 10′ BigSteelBox)
Learn more and watch a video about how we deliver a BigSteelBox.
Summary:
While the PODS delivery system does keep the containers level with the ground in the load and unloading process, there is very little risk of load shifting during a tilt deck placement.
Loads are more likely to shift during transport (of a PODS or BigSteelBox), because the normal driving process of braking, accelerating and going up and down hills will apply more force than the angle of deck tilting.
If a load is secured correctly, tilting the box and slowly bringing it onto the truck deck will cause little to no shifting.
Because of the smaller size and lighter weight, PODS can be placed in tighter spaces.
What areas in Canada do PODS and BigSteelBox serve?
PODS has 8 locations in Canada all in major metropolitan areas.
BigSteelBox has 36 locations across BC, Alberta, Saskatchewan, Manitoba and Ontario.
While PODS can service most moves between larger Canadian cities, BigSteelBox is more likely to be able to service moves to smaller communities, especially in Western Canada.
How about their long distance moving services?
Because BigSteelBox has more locations than PODS, we can serve more routes. We can even provide competitive solutions to cities where we don't have a location.
On routes where both PODS and BigSteelBox have locations, the service, pricing and timing of the moves are very similar. The biggest difference comes down to the space and load capacity advantages of using BigSteelBox.
The average contents weight in a 20′ BigSteelBox used for a long distance move is 7,000 lbs. This is much more than the weight capacity of a 16′ PODS container, which was noted above at 4,200 lbs. So, it's far more likely that a customer would need to order a second PODS container for an average long distance move.
For more information, visit our long distance moving page.
How do PODS and BigSteelBox storage facilities compare?
One of the reasons why BigSteelBox is able to provide lower monthly rental rates for larger containers is because we provide storage in secure outdoor facilities. Because PODS storage units are not as viable for long-term outdoor storage, they have indoor storage facilities.
For obvious reasons, indoor storage comes at a higher price, but it may be important or necessary for customers who are storing items that are sensitive to extreme heat or cold, like oil paintings and musical instruments, which can be sensitive to humidity changes. However, it's important to note that the vast majority of items do not need temperature-controlled storage, even your treasured antique furniture will be safe in a BigSteelBox!
Both PODS and BigSteelBox require advance notice for customers to access their loaded container. At BigSteelBox, we require the time so we can safely place the customer's Box in our set out area.
Compare PODS and BigSteelBox pricing?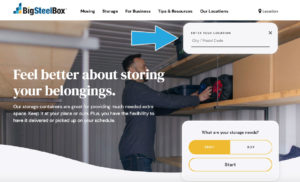 PODS typically has higher monthly rental rates than BigSteelBox, and lower delivery rates. Because of the way PODS is priced they may be cheaper for a short term, local move.
The biggest thing to keep in mind is that PODS containers are smaller, so you'll want to make sure you have enough space for all of your belongings.
Rental rates and freight fees vary by market for both companies, and both charge an additional fee for storage and handling if the container at their facility. To get a better idea of BigSteelBox prices, ensure your city is selected in the geo-locater box on the top right of our website, and then visit the Moving or Storage pages for some basic pricing in your area.
Learn more about How to Compare Moving Quotes.
How do the companies compare for business storage?
A large portion of the BigSteelBox business is focused on serving the needs of our business customers. Because of the versatility and security of a shipping container, they are used for many commercial purposes. Wherever a business needs extra secure space, a BigSteelBox is usually a great solution.
PODS also serves businesses, but the use of a PODS container is more limited because it's not ideal for long-term outdoor storage. For construction and other industrial uses, the security and durability of a lighter weight box would come into question.
Visit our business storage page to find out more about how we serve different types of businesses.
We're here to make moving and storage feel better! Contact our helpful Storage Consultants today with any questions you may have, or to request your free quote: 1-800-373-1187 or request a quote online.