We are here to do good.
One of our company values is: "We are here to do good: We are blessed. We are grateful for what we have and feel a responsibility to leverage our resources to help where we can."
We're always looking for ways to help in our communities, whether that's supporting local festivals and organizations by providing mobile storage containers, or volunteering our time to help charitable organizations.
Below are just a few of the exciting events and deserving charities we've been proud to support. Keep up to date on our latest community involvement by following us on Facebook, Twitter and Instagram.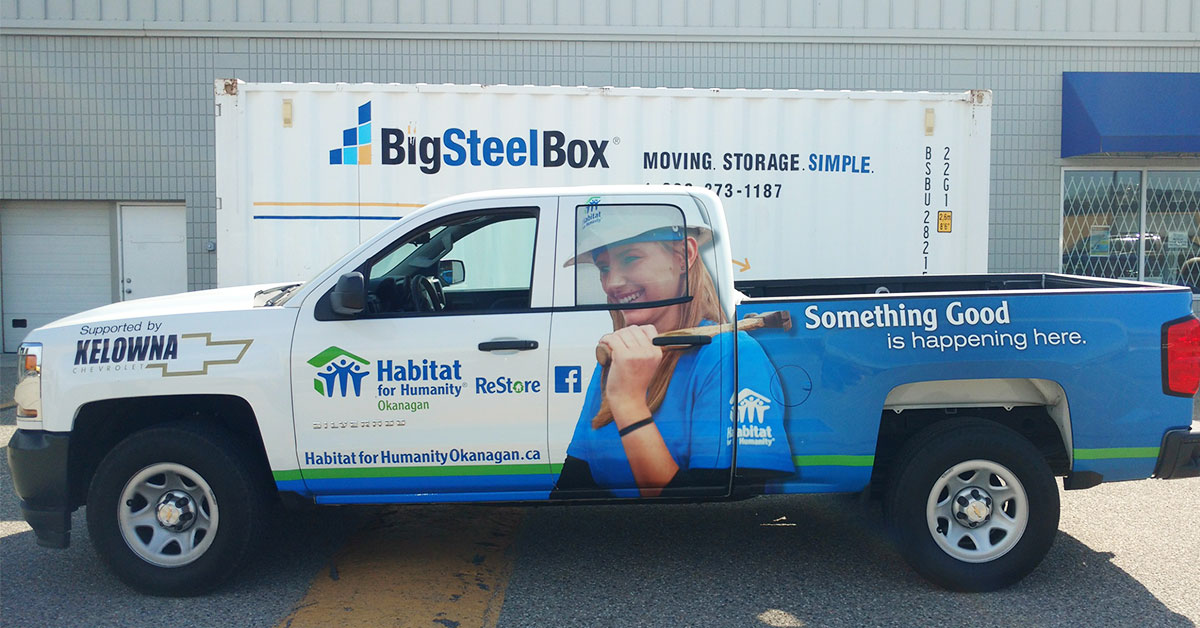 Habitat for Humanity Canada
When we were given the opportunity to team up with Habitat for Humanity Canada to become their official storage provider, we jumped at it!
Habitat for Humanity has been working to strengthen, stabilize and provide independence for Canadian families through affordable home ownership for years. Through our partnership, BigSteelBoxes will be donated to keep building supplies, equipment, and materials safe on Habitat construction sites. We will also provide storage containers to be used to store items donated to local Habitat Restores.
"We're very excited to partner with BigSteelBox, our first national gift-in-kind donor of storage containers," said Mark Rodgers, President and CEO at Habitat for Humanity Canada. "Storage space on build sites is at a premium for many local Habitats across Canada, and BigSteelBox is able to offer them a cost-free storage solution. Gift-in-kind donations like these help to free up construction budget for local Habitats which ultimately allows them to build more homes."
We're very proud to be part of this initiative, which helps empower families in need across Canada by giving them the opportunity to buy their own Habitat home.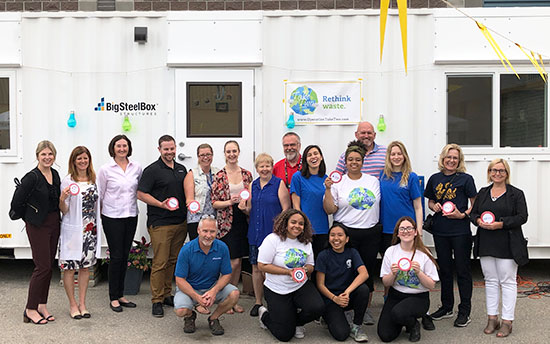 Operation Take Two
Operation Take Two is a youth-led initiative whose goal is to revolutionize the way we look at the global issue of waste, by empowering communities to turn their trash into treasure. The project began back in 2017 by a small group of students from Rutland Senior Secondary high school in Kelowna, BC, with a big vision.
"Operation Take Two is an initiative to help people rethink the way we look at our waste," says Operation Take Two founder Theresa Schwab. "We do this with our plastic recycling workspace which will have two machines: one to shred the plastic and another to melt the plastics into a mould to make versatile storage containers."
After winning over $32,000 in grants and donations, the students built their first plastic recycling facility, which will soon be operational. BigSteelBox was very impressed with the information and business plan presented by the students, and were happy to support their project by donating a 40 ft modified shipping container, specifically fitted to serve as a self-operational plastic recycling plant.
Event Sponsorships
From providing secure and convenient storage to local events and festivals such as GlobalFest in Calgary, the Manitoba Stampede in Winnipeg, the Roots & Blues Festival in Salmon Arm, EPCORE RiverFest in Edmonton, and the Airshow in London, it's likely you will cross paths with a BigSteelBox as some point during the year!
We also enjoy supporting local sports teams and events, like the Saskatchewan Rattlers in Regina, and the IIHF World Junior Championship hockey tournaments.
And, you will likely see our BigSteelBoxes and staff out working with local charities, including United Way, Food Bank, and Salvation Army food and clothing drives throughout the year.