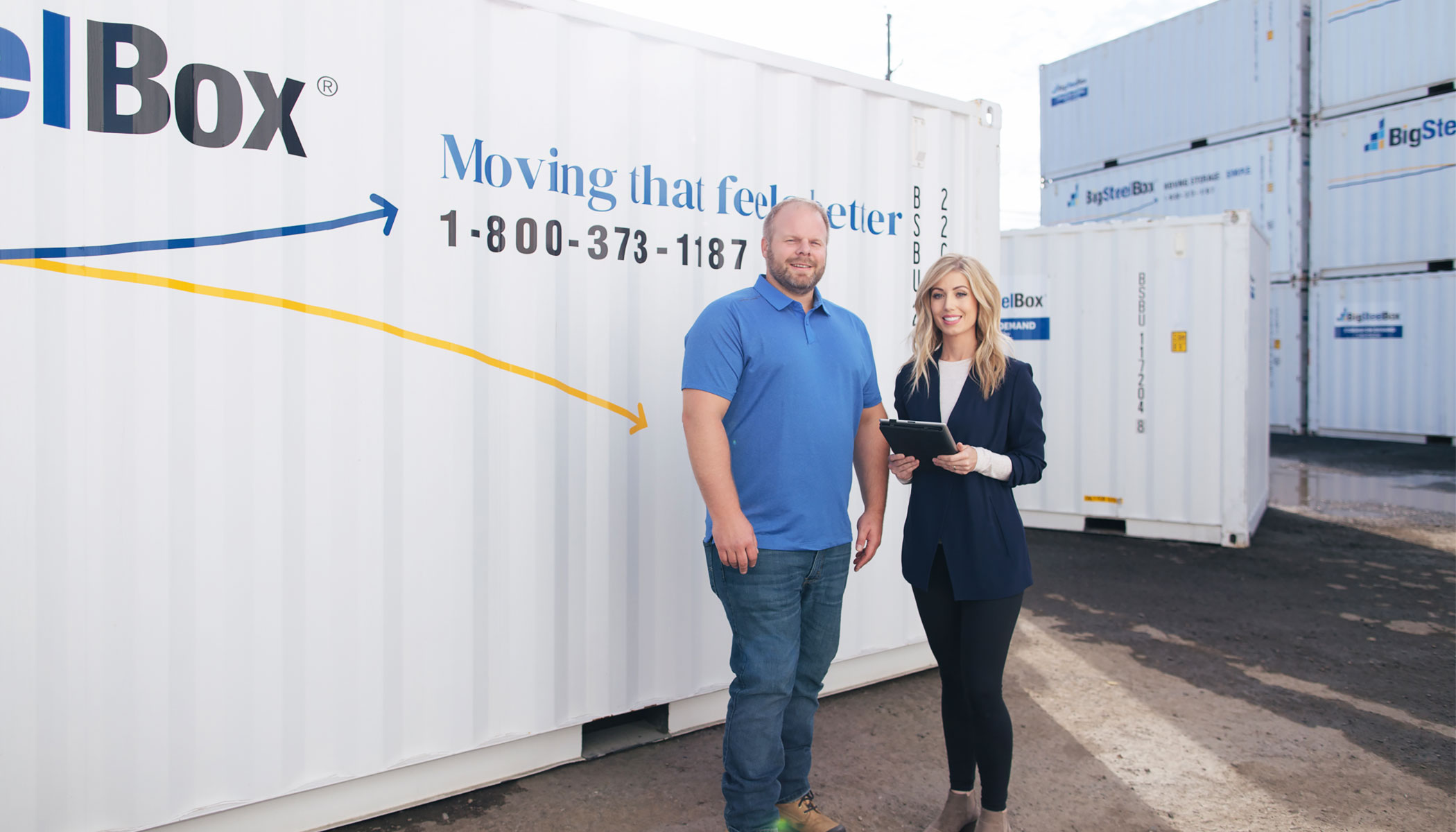 How to Compare Moving Company Quotes
When collecting moving company quotes, things can get confusing. Every moving company quotes differently, so in most cases, you're never comparing "apples-to-apples".
To help you decipher the quotes you've been getting from different types of moving companies, we've put together some information on how to break down your moving quote from the types of providers listed below:
Full Service Moving Company Quotes
A quote from a full service mover can look very different depending on whether you're moving a short or long distance.
Some companies will quote based on time if the distance is shorter or a regular route for them, but for long distance moves, most full service moving companies will quote and charge based on the weight of your things.
1) Long Distance Moves:
Most full service moving companies charge by weight when moving to another city using rate/cwt (CWT=cost per 100lbs). Reputable companies will estimate as accurately as possible, but it's almost impossible to know how much the contents of a load will weigh until it's measured on the scale. When a company under-estimates the weight, the customer ends up paying extra based on the actual weight recorded at the scale.
The estimate below was based on a 3-bedroom home, moderately furnished, without appliances. This estimate was done based on 4,500 lbs. Most homes of this size will fill a 20′ BigSteelBox.
The average contents weight of a loaded 20′ BigSteelBox is approximately 7,500 lbs. In this scenario, if the customer was quoted 4,500 lbs. and the actual weight came in at 7,500 lbs., they would be charged up to $2,000 more than they were quoted. That would not be a pleasant surprise! Make sure to run a couple of "what if" scenarios in case it's overweight.
So, if you're thinking about hiring a full-service moving company, it's important to have them come in for an in-house inspection before they offer you a quote so that the final bill isn't significantly higher than the quote. During the pandemic, some movers offered assessments over Zoom or FaceTime when face-to-face meetings weren't possible. But, failing those options, the moving company may ask for an itemized list of furniture to be moved.
A recent Canada-wide survey of long distance moving customers showed that for full service moving quotes that were based on weight, the inaccuracy in quoting ranged from 30% to 39% regardless of the method of quoting (phone consultation, supplied item list or in-home visit). See the full article with the results of that study here: Long Distance Moving Survey Uncovers Good and Bad News for Canadians
If you're comparing different full-service moving companies, make sure all the estimates are based on the same weight. Hiring a full-service mover may be the best option based on your scenario, but it's important to understand how they charge to avoid surprises. Learn more about estimating your moving costs when they're based on weight.
Sample Long Distance Quote from Full Service Movers:
2) Local and Short Distance Moves:
For local and shorter distance moves, quotes from full service movers are easier to understand because they're usually based on the size of the truck, number of people, time, and materials. However, there is still a tendency for moving companies to avoid providing an estimate of total time required.
Sample Local Moving Quote from Full Service Movers:
Things to Note:
If you're using a long distance mover who charges by weight (most common practice), the final price will change depending on the weight of your belongings. This means the price you pay could be hundreds or even thousands of dollars higher than your original quote. Requesting an in-house or virtual online inspection can help improve the accuracy of a quote.
If you're moving locally, full service moving companies will likely quote an hourly rate based on the size of the truck, the number of labourers, and materials. Time spent traveling to your home, between homes, and back to their location are subject to charges. Time for coffee and lunch breaks is usually charged too. In many cases, you'll just get an hourly rate for your quote, and it's up to you to estimate how long it will take. (Don't forget to factor in a tip, if that's part of your plan.)
If the local quote specifies an estimated number of hours, your final bill will be based on the actual time it takes, not what's on the quote. So, be prepared that your final price could fluctuate.
Pricing often varies by day of the week, time of the month, and season. Weekends, the end of the month, and summer typically costs more.
If items need to be stored before redelivery, additional labour and storage charges may apply. Request these rates in advance to avoid surprises.
---
Rental Truck Quote
For a local or long distance move, a rental truck may be the most cost effective option, as long as you're able to complete the move in a few days. While the price is often lower compared to other moving options, this method requires substantial effort on "moving day" including the packing, driving, and unpacking. You'll also want to consider recruiting a few friends or family members to help.
Sample Moving Truck Rental Quote:
Things to Note:
Estimate your fuel costs and add that amount to your quote when comparing it to other alternatives. Rental truck companies typically estimate fuel economy between 6-10 miles per gallon (MPG) for trucks 15′ and larger, while other moving services may not have a separate fuel cost. You can determine your move distance using Google Maps and enter the distance in a fuel cost estimator.
Confirm whether your quote includes the cost of rental truck insurance, which can range from $20 to $200+ depending where you're moving.
Rates increase significantly if the kilometre limit is exceeded. Calculate the distance you will travel and, if applicable, add any extra mileage costs to your quote.
Consider the number of days you'll need the rental and ask for the cost for 1 or 2 extra days.
---
Aluminum-Panel (PODS®-style) Moving Container Quote
Portable storage companies like PODS offer a very similar service to BigSteelBox, but there are significant differences in the types of containers that affect the value of each service.
A 16′ container is the largest size provided by most companies who rent aluminum-panel containers. These are considered suitable for a home with 3-4 rooms, NOT a 3 to 4-bedroom home. If you're comparing this style to using a 20′ BigSteelBox, you'll want to take the size difference into consideration. The chance of running out of space, and needing an extra container, is greater if you're using a smaller PODS-style option.
And, you won't see it on a quote, but these types of units are also less secure compared to a shipping container, which could be a concern if the container will be left outside for any length of time. Learn more about the differences between a PODS-style container and a BigSteelBox.
Sample Aluminum-Paneled Moving Container Quote:
Things to Note:​
Determine how many containers you'll need. This will come down to the number of rooms in your home, how heavily furnished it is, and how efficiently you're able to pack.
Consider whether or not you may need the container for an additional month. Monthly rental rates for this style of container are usually higher than a BigSteelBox. If you need an extra month, any savings you may have gained with lower delivery costs may be off-set by the higher monthly rent.
Using cubic feet (cu.ft.) can help you compare moving options:

16′ aluminum panel container: 814 cu.ft.
20′ rental truck: 1,015 cu.ft.
20′ BigSteelBox: 1,172 cu.ft.

Review the rental term on your quote. Some companies charge per 4-weeks, rather than monthly. This usually isn't a major consideration for moving, but it will be a factor if you need storage for any length of time between homes.
---
Plywood Moving Box Quote
Wood-frame moving containers are made with pressure treated plywood and wrapped with a weather-resistant plastic cover. The service is similar to other portable storage options, but the boxes are smaller. While this makes them more convenient for condos and apartments, it means you'll need multiple boxes to move the contents of a larger home. The quote below was based on moving a 3-bedroom home.
The interior dimensions of the units referenced below are 7'11" x 4'8″ x 6'11.5″ which translates to 257 cu.ft. of space. Each unit has a weight capacity of 2,000 lbs. Because they're wood and plastic, they offer limited security when stored outdoors. This makes them better suited for loading contents over a shorter period of time.
Sample Plywood Moving Box Quote: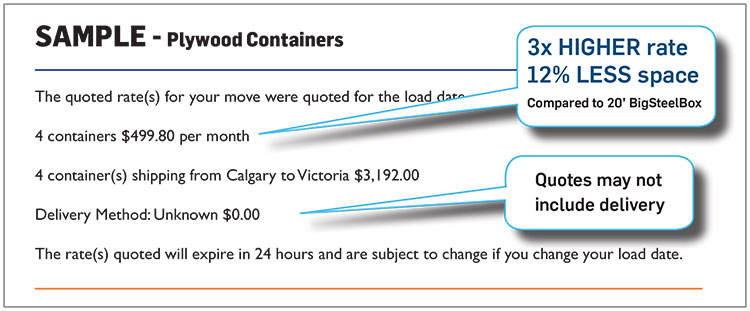 Things to Note:
The quote above doesn't have a "delivery method" cost. This may mean that the initial delivery is included in the total, but more often than not, delivery is extra. If you have a truck and trailer you can save some money and pick them up yourself, otherwise it's worth confirming the cost for delivery and pick-up.
Estimating how many plywood boxes would be needed is the most significant variable in this quote. If you have large or awkwardly shaped items, it will be more difficult to fully utilize the available space.
The other significant consideration would be if you need use of the boxes for more than one month.
---
BigSteelBox Moving Quote
The contents of most 3 to 4-bedroom homes (excluding appliances) will fit into one 20′ BigSteelBox, which holds up to 10,000 lbs. BigSteelBoxes are actually shipping containers, so they're weather and rodent-proof. Plus, BigSteelBoxes come equipped with a Lock Box that protects your padlock from bolt cutters.
At BigSteelBox, we aim to make our quotes as simple as possible. We provide one cost for transportation, which includes all movements of the container, and then one price for the first month of the Box rental. The total before taxes is bold and easy to see.
One of the advantages of this model, means that you have far greater cost certainty. There are no significant additional charges unless you need an extra BigSteelBox or you exceed the 10,000 lbs. content limit. The average weight of a full 20′ BigSteelBox for a residential move is 7,500 lbs. So, exceeding the weight limit is not common for most moves.
The only additional charges you may incur are for accessories (padlock, moving blankets, vandalism protection, etc.) or for on-site storage at our facility. We'll clarify all of these costs before you finalize your order.
Sample BigSteelBox Moving Quote: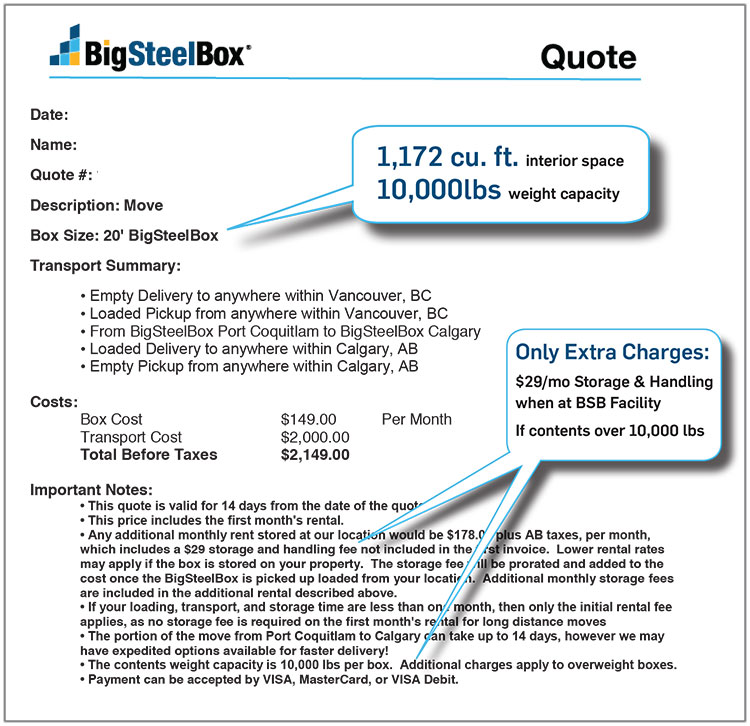 Things to Note:
There are no additional labour charges, and no weight-based price confusion in your quote.
Factors that could influence your price include:
Needing another BigSteelBox (this is uncommon unless you're moving a 5+ bedroom home).
Additional deliveries or months' rent.
Keeping your Box at a BigSteelBox storage facility.
Optional vandalism protection or accessories.
Exceeding the 10,000 lbs. weight limit.
---
We're Here to Help Make Your Move Feel Better!
Understanding how the moving companies are estimating can save you the surprise of unexpected charges down the road. Don't just look at the bottom line price on your moving quote – ask questions. If you're being charged by weight, make sure you understand how that will translate for your move.
We're here to help you make the best decision for your move. Call us at 1-800-373-1187 anytime to discuss your moving options, or request your free quote online today.