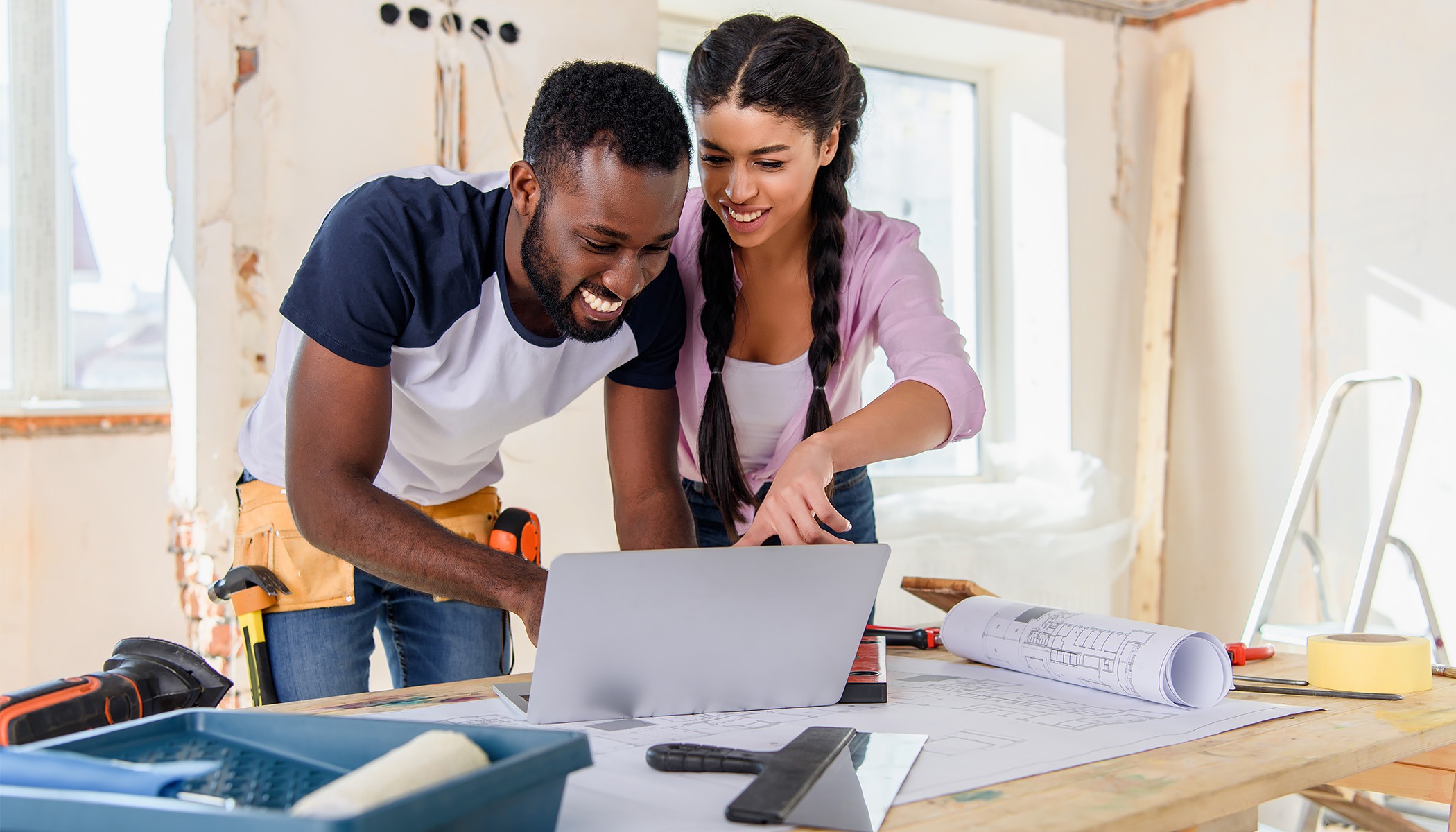 How To Plan a Successful Home Renovation in Any Season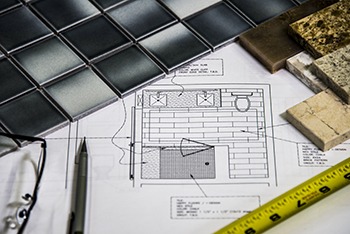 No matter what time of year you undertake a home renovation project, there is plenty to plan and a number of variables to consider. Of course the amount of time a reno will take and how much it will affect your daily life will depend on a few factors, including the size of the reno and the room or rooms you'll be renovating, but the time of year can also be a factor to consider.
There are pros and cons to taking on a renovation during any season, so read on for more information on that before you begin your project.
Renovating During the Spring
Much like the summer months, spring is a popular time for homeowners to plan home renovations, but there can be downsides to that timing as well.
Pros of a Spring Renovation:
The warmer weather and increased daylight hours during the spring are definitely beneficial to starting a home reno, especially if you're doing the work yourself. Often people who have full-time jobs have trouble finding the time to work on their DIY projects during the work day, so having more time before and after work is a plus and will help you get the job done faster, particularly if the reno is on the exterior of your home or requires outdoor work.
Spring is also a good time to get started on outdoor renovation projects so that they're done in time to enjoy them during the summer months. If your reno requires digging, later spring is a good time to get started because the ground should be thawed yet it won't be extremely hot like it can be in the summer.
Cons of a Spring Renovation:
While we mentioned warmer weather as a "pro" above, this may not be the case for every city and province. Depending on where you live, springtime weather can still be unpredictable, chilly and wet.
If you live in a city that gets a lot of rain like Langley and Vancouver, or one that experiences a lot of snow melt during the spring months like Winnipeg and Ottawa, it will be tougher to keep your home clean if your reno project has family members or contractors coming in and out of the house regularly. Most good contractors will make an effort to keep things clean and take precautions like protecting the floors in your home with plastic, but there is still a higher likelihood of supplies and equipment getting wet and there being more messes to clean up each day.
Spring is also when prices of materials and labour often increase because the demand for both goes up that time of year. If you're trying to complete a home renovation project on a tight budget, you may want to plan it for fall or winter to save money, or purchase your materials earlier to avoid increased costs.
Renovating During the Summer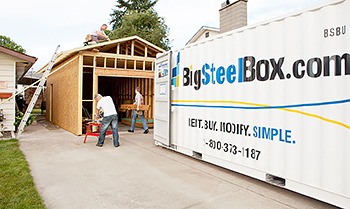 Similarly to a spring renovation, summer is definitely a popular time to take on a big project.
Pros of a Summer Renovation:
With summer comes good, consistent weather. This makes a project easier simply because there is less likelihood of things like rain or cold slowing things down.
If you're hiring a contractor for a bigger job, it will be easier for you to get yourself or your family out of the house while they're working because there will be more opportunities to be outside. Or, alternately, if you plan to do the work yourself, you may have more flexibility to take time off work during the summer (especially if you have a job that slows down or stops during the summer months).
Cons of a Summer Renovation:
During the summer, trades and construction companies are always at their busiest. It's usually harder to find contractors on short notice, so if you must take on a home reno project in the summer then you should research and book your contractors well in advance.
If you're going to do the work yourself and you have kids, you may want to re-think summer as the time for a large home reno project. Kids will be out of school for their summer break and around the house a lot more, which often makes it tough to get things done. Of course, you can always take the opportunity to put them to work if they are old enough to help!
Because summer is such a busy time for renovation and building projects, and demand for everything involved in a reno is higher, costs for materials and labour will also likely be more expensive. If you're able to pre-purchase building materials like drywall, flooring, and plywood in advance of your start date in the fall or winter months, that could help you save some money in the long run. Keep in mind, however, that you will need space to store materials until they're needed, which can also add costs to your budget, so be sure to take the need for secure storage into account as well.
For more summer reno tips check out: Tips for Surviving a Summer Home Renovation
Renovating During the Fall
Fall can be a good time to start a renovation project, but like every other season, there are factors to consider.
Pros of a Fall Renovation:
Fall can be a great time to focus on home renovations because you still have a decent amount of daylight and the weather is usually good, at least for the first few months of autumn.
If you have kids, it may not have been as easy to get projects done during the summer with them around all the time, so take advantage of the empty house you'll have thanks to them being back in school.
Fall is also a good time to start a larger reno project that requires trades or a professional contractor, because it's likely that their availability and labour costs will have come down due to less demand than they experienced during the summer.
Cons of a Fall Renovation:
The main challenge that you should take into account when planning a fall renovation (particularly one that needs to be completed before the snow flies), is that your window to finish projects will be shorter.
As the months pass the days will get shorter and the weather will be less cooperative, so you may feel increased pressure and stress to get it done on time. More often than not, renovation projects take longer than anticipated, so be sure to do thorough planning and preparation before taking on a project in the fall.
Renovating During the Winter
The biggest deterrent for taking on a home renovation during the winter months is weather. While the season comparisons above began with the "pros", Canadian winters are so "special" that it makes sense to address the elephant in the room – winter in Canada can be cold!
Cons of a winter renovation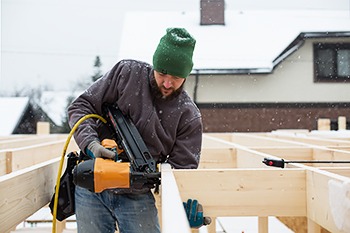 While some cities like Vancouver and Penticton will see more rain and cloud during the winter months with temperatures hovering around the zero mark, winter in much of Canada can be very cold and come with a lot of snow. In addition, the days are already very short across Canada by mid-December, so you'll have even fewer daylight hours than you would in autumn.
If you live in a prairie province or a city that is farther north, chances are good that you will deal with consistent cold weather throughout the winter months. This can be a challenge for similar reasons to spring and fall in that you will have to deal with excess moisture being tracked in and out of your home, however, the sub-zero temperatures can be even tougher to deal with.
Whether you're doing a reno yourself or hiring a contractor, there will likely be tools and equipment that need to be used for the duration of the project and they may not operate properly in extreme cold, so be sure to factor in a warm, secure storage option.
Another factor to consider is whether or not ventilation is important during your home reno. If there will be chemicals used, a lot of dust, or painting involved, be sure to consider air quality. When it's -30 degrees outside, we're less likely to want to open doors and windows, which can result in poor or even dangerous air quality, so make sure you have a plan to keep the air inside your home clean and safe.
Pros of a winter renovation
Because of our often uncooperative Canadian weather, fewer people will choose to start a home renovation project during the winter. This means the cost of supplies and trades will likely be at their lowest because there's less demand and competition.
So, if your renovation will be done entirely indoors, then winter might be a smart time of year for you to tackle it because you will probably save money and there's less likelihood of you waiting on your contractor or trades because they will have more availability and flexibility.
Also, unless you engage in a lot of winter activities, chances are you'll also have more time on the weekends to take on projects around the house.