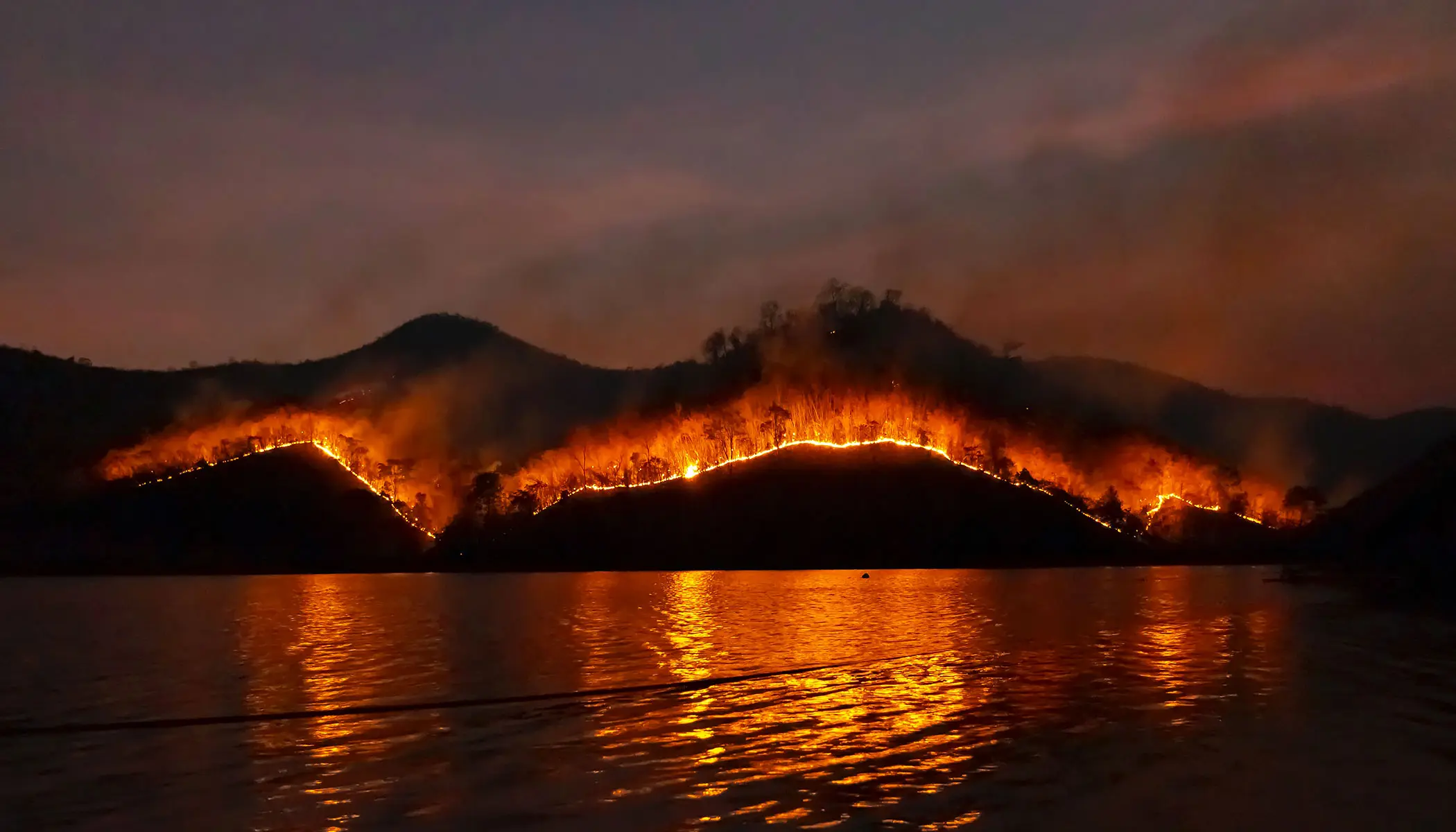 Emergency Supply Kits: How Organizations Can Prepare for a Natural Disaster
It's impossible to deny that the instances of natural disasters are becoming more frequent every year. According to the Canadian Climate Institution, from 2010-2019, the cost of weather-related insured catastrophic losses was twice as high as it was from 1983 to 2009 combined. And during the 2023 wildfire season in B.C alone, it was recorded that 28,500 square kilometres of area burned, which was more than double the previous record of 13,500 square kilometres in 2018.
Public Safety Canada (PSC), a department of the Government of Canada, predicts that disaster losses are likely to increase as a result of a number of factors, including climate change, critical infrastructure interdependence, and shifting demographics in Canada. PSC also states that the impacts of climate change are already being felt across Canada with more frequent and intense floods, wildfires, drought, extreme heat, tropical storms, melting permafrost, coastal erosion, and, in Northern Canada, damage to seasonal ice roads.
The flooding in Southern Alberta in 2012, and Saskatchewan and Manitoba in 2014; extreme ice storms in Ontario and Quebec in 2023; the devastating wildfires in Fort McMurray in 2016, and the Okanagan (Kelowna and West Kelowna) in 2023; and Hurricane Lee that recently hit the Maritimes in 2023, are just a few of the many devastating events Canadians have encountered in recent years.
These hazards pose significant risks to communities, individual health and well-being, the economy, and the natural environment, with many Indigenous communities being some of the most vulnerable to the effects of natural disasters due to their remote and coastal locations, lack of access to emergency management services, and reliance on natural ecosystems.
So, while solutions to the issues contributing to the increase in natural disasters may take years to achieve, it has become more important than ever for companies and organizations to be prepared for severe weather or environmental events that put people in danger.
How can businesses and organizations prepare for a natural disaster?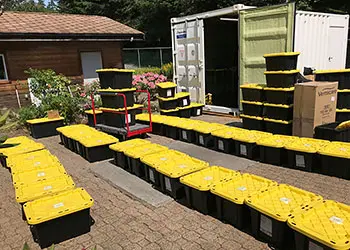 One significant way that businesses and organizations can prepare for emergencies caused by natural disasters is to have an emergency management plan in place to assess threats to their staff and the general public should a disaster strike. In particular, if there is a potential risk to the ability to access a location (in or out) due to a natural disaster, an emergency preparedness kit is a great option to consider.
Many types of organizations can benefit from having an emergency supply kit in place to prepare for natural disasters. Obviously, the size of a kit and the items needed will vary based on the number of people that may be impacted and what is already available at the location, but items to consider are a food and water supply, medical equipment, protection from the elements (extreme hot or cold weather), alternative energy sources and battery-powered equipment.
Emergency Preparedness Kit Use Case: Squamish, B.C. General Hospital
In early 2023, Provincial Health Services Authority's Health Emergency Management British Columbia (HEMBC) program commissioned BigSteelBox to build an emergency preparedness container that would be placed next to Squamish General Hospital (SGH) and Hilltop House (HTH). Similar emergency supply containers are in place at several other communities in B.C. In 2018, communities in Bella Bella and Bella Coola, B.C., acquired such containers after identifying the need when they evacuated their patients to higher ground during a tsunami warning.
Because SGH and HTH can only be accessed via Highway 99, the hospital is at risk should that highway get blocked due to a natural disaster, such as an earthquake, wildfire, or flood. SGH is extremely important to the region as it is the largest acute medical site along the Sea-to-Sky region, while also being home to Hilltop House, a long-term care home. If access was cut at Highway 99, it could be days before supply lines were back up and running for those confined to hospital grounds.
"HEMBC needed the emergency supply container to store a range of necessities including flashlights, bedding, and medical supplies, as well as a three-day of food and water supply for staff at Squamish General Hospital and Hilltop House," says Christine Turenko, Health Emergency Management Specialist.

"Hospitals are prepared to support patients for extended periods, but they don't typically stock extra food and water supplies for staff during extended events where everyone must remain on-site. It was important to ensure staff rations were available, which includes one to two litres of water per person, per day."
Squamish is located in a mountainous area north of Vancouver, B.C. Due to its location, it experiences extreme weather fluctuations throughout the year with high rain and snowfall in the fall, winter and spring, and heat in the summer. It is surrounded by heavily treed forests and mountains, making wildfires and landslides a direct threat. After taking all these factors into account, having a modified shipping container to house emergency supplies was deemed the perfect option for this project.
Shipping containers are constructed to withstand extreme weather, travel and regular movement. Made of 8-gauge corten corrugated steel, they are extremely strong and durable. Unlike a wood-frame or aluminum structures, they hold up in the harshest climates.
"Similar projects were completed in other rural and remote communities in the province that also experience challenging weather conditions," said the HEMBC Project Team.

"Through these examples we found that using a modified shipping container is an easy and effective solution to add space to store supplies while also protecting them from hazards. Modified shipping containers from BigSteelBox have been used for past projects and accommodated the need for climate control settings and appropriate ventilation to fit municipal requirements."
The modified container used to store the HEMBC emergency preparedness kit was was equipped with:
Who Should Have an Emergency Plan and Preparedness Kit?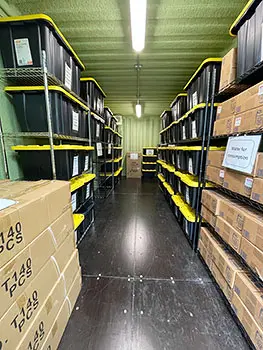 Many types of organizations can benefit from having an emergency preparedness plan in place to prepare for natural disasters. These units help ensure the safety and well-being of employees, customers, and the business or organization itself during and after a disaster.
Other organizations that would benefit from having an emergency supply unit include:
Hospitals and Healthcare Facilities
As noted in the use case above, healthcare facilities must be prepared to provide continuous care during disasters. Having emergency supplies, including medical equipment, medicines, food and water, and backup power sources, is essential for patient and employee safety.
Educational Institutions
Schools, colleges, and universities located in rural areas should have an emergency response plan and supply kit to ensure the safety of students, faculty, and staff during disasters. These supplies can include food, water, first aid kits, and communication tools.
Corporations and Businesses
Large operations and businesses with offices or facilities in remote, disaster-prone areas can benefit from emergency supply units. This could be on plants and worksites in the oil, gas, forestry or mining industries. These units can help ensure the safety of employees and minimize disruptions to operations.
Critical Infrastructure Providers
Organizations responsible for critical infrastructure such as power plants, water treatment facilities, and transportation hubs should have a stock of emergency supplies on hand to protect staff, maintain essential services and minimize downtime.
Emergency Services Providers
Fire departments, police departments, and emergency medical services are often those who must come to the aid of others during times of need and natural disasters, but they themselves must be well-equipped with emergency supplies to support their employees and ensure they can effectively respond to emergency situations.
Community Centers and Shelters
Facilities that serve as emergency shelters during disasters should have emergency supply units with provisions for evacuees, including food, water, bedding, clothing and hygiene items. These are often places where people flock to and donations are made during times of need, so having a permanent, secure storage option on site is a great way to stay prepared.
Manufacturers and Distributors
Companies involved in manufacturing or distributing essential goods, like food and water, should maintain emergency supply units to ensure the continuity of their operations and supply chains.
Agricultural Organizations
Farms and agricultural operations may need emergency supplies for both human and livestock needs during natural disasters that can impact crops and animal welfare. Having a plan in place should you need to evacuate your livestock or support their well-being with limited access to incoming supplies, is extremely important.
Tourism and Hospitality Industry
Hotels, resorts, and tourism-related businesses in remote or disaster-prone areas can benefit greatly from having a stocked emergency supply unit in place to ensure guest safety and provide essential services during emergencies.
In the face of natural disasters, there are countless types of businesses and organizations that are susceptible to the effects of a natural disaster, which in many cases, puts lives at risk. In the end, preparedness and resilience are key elements in disaster management.