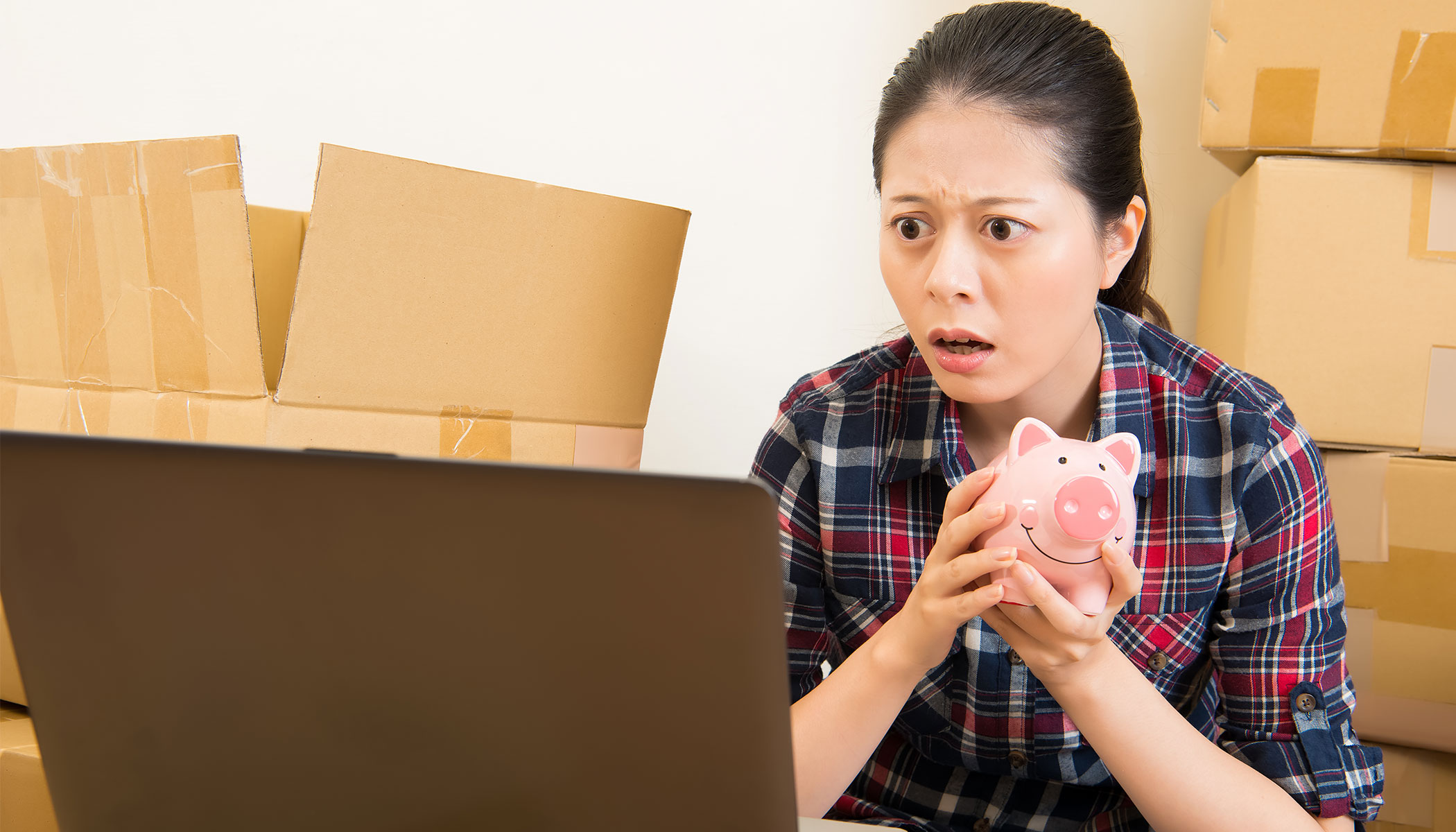 6 Ways to Save Money on Your Move
Moving can be expensive and many of us want to stick to a budget. For this reason, we've written specific articles that compare the costs of different moving options, because the bottom line is that most people want to save money where they can when moving.
After helping thousands of Canadians move over the years, we've learned that the most important factors to our customers when they're moving are good customer service, trusting their belongings will arrive at their new home safely, and getting a fair price.
These are all understandable expectations, and we work hard to meet or exceed them with each of our customers. But, whether or not you choose BigSteelBox as your moving company, we still want to help you save money on your move. Read on for our top tips…
How to Save Money on Your Move:
Do the packing yourself.

Use your own packing materials.

Purge items with a yard sale, consignment or donation.

Plan meals in advance.

Save money on delivery costs if using a moving container.

Keep your receipts to claim moving expenses at tax time.
---
1. Do the packing yourself
Packing is probably the most time consuming part of the entire moving process, but if it's something you have time to pick away at and can physically handle yourself, packing your stuff yourself will save you money.
Even if you'll still need to hire professionals to help you load or unload larger pieces (like furniture and mattresses), boxing up all your smaller items will cut costs if you're being charged an hourly rate by a moving or packing company.
The key is to be organized and to prepare as far in advance as you can.
As soon as you know you'll be moving, start collecting boxes and packing materials. There are a number of ways to get free cardboard packing boxes, such as retail stores or Facebook Marketplace. Check out this post for a detailed list of places to find free moving boxes: Where To Buy Moving Boxes (And Get Them For Free)
Packing yourself will not only save money, but it will also help during the unpacking process because you'll know where everything is. Plus, you'll have peace of mind knowing your things were packed properly and with care. Labelling or colour coding your boxes will help keep things organized and make unpacking easier.
For more tips and tricks on packing, check out this post: Top 6 Packing Hacks to Make Your Move Easier
2. Use your own packing materials
It's important to properly wrap and protect your things when packing, whether it's large pieces of furniture or small picture frames and collectables. Of course you can purchase moving supplies like packing paper and bubble wrap, and rent moving blankets, but this is another place you may be able to save some money.
If you're not worried about old comforters, blankets or sleeping bags getting a little dirty in the process, use them to wrap furniture and valuables. This also applies to smaller items, like dishes and glassware.
Save newspapers and flyers, or use your bath towels and tea towels to wrap your breakable items. Not only will this save you money but it also means you don't have to pack the blankets and towels separately in another box, which saves on space – it's a win-win!
Use your luggage! This is another great packing tip. Be sure to use all suitcases, duffle bags and even backpacks to hold items you're taking with you.
3. Purge items with a yard sale, consignment or donation
Again, the key to making this tip work is to prepare early – get on it as soon as you know you're going to be moving.
Sort through the stuff in your basement and garage and pull out things you no longer use or need, such as electronics, furniture, kitchenware, kids toys, bikes, etc. It's also a good time to go through closets for clothing and shoes you no longer want.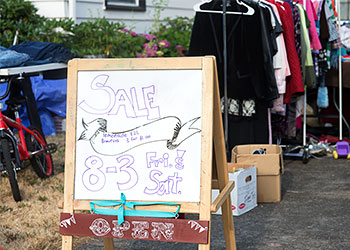 If the weather and timing permits, plan a garage or yard sale, and be sure to price things to sell! It's also a good idea to post ads on Facebook Marketplace, Kijiji or your local classifieds website.
If there isn't time for a garage sale or you're moving in the middle of winter, look into consignment options in your city. There are often consignment stores for clothing and furniture, which will give you up to 40% of the sale price (the percentage back will vary from store to store).
Purging some of your stuff will cut down on the amount of stuff you have to pack, and the space you'll need to move it (and it's a great way to declutter when staging and trying to sell your home!).
For items that have seen better days, or aren't valuable enough to sell (like old dish sets, dated clothing or furniture, and kids' toys) plan to donate them to a local thrift store like Value Village or the Salvation Army Thrift Store. It's a quick and easy way to cut down on the amount you'll need to move.
Finally, if you have old bedding (sheets, blankets, comforters) that you don't need for packing (see #2 above), think about donating these to a local animal shelter. These types of items are often in need and will go to great use.
4. Plan meals in advance
While it may be considered a "moving tradition" to order pizza on moving day, you will definitely save money if you plan meals and snacks leading up to and immediately after moving day.
It can be easy to forget, but everything in your refrigerator, freezer, and pantry has to be packed too. And some of these items can be very heavy!
Take inventory of fresh, frozen and dry food items and make a plan to use up as much as possible the days and weeks leading to moving day. Doing this will mean fewer trips to the grocery store, or less take out orders, and it will result in having less to pack and move with you.
5. Save money on delivery costs if using a moving container
Many of our customers choose to move with us for the convenience and flexibility of having a BigSteelBox delivered to their home a few days or even weeks in advance of moving day to pack at their pace. This applies to unpacking at their new home too. However, there may be instances when loading a BigSteelBox moving container at our yard makes sense for you, and saves you the cost of delivery.
If this is something you'd like to explore, speak with your BigSteelBox Storage Consultant to arrange a time to visit our yard to load your items. They can usually schedule a time for you to access a BigSteelBox within a couple of business days.
Another money-saving option we're able to offer to most of our long distance moving customers is "tiered pricing" of Economy, Standard and Expedited. If you're not in a rush to have your container delivered to your new home the 'Economy' shipping option is a good way to save on the overall cost of your move because with more time to transport your BigSteelBox to your new city, the savings we receive on the transportation portion of your move gets passed on to you.
6. Keep your receipts to claim moving expenses at tax time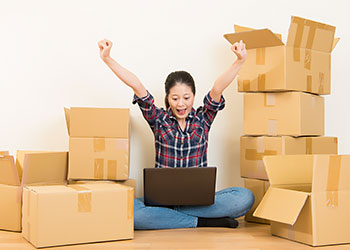 If you or your spouse is moving to a new city for work, or if you're moving to be a full-time student in a post-secondary program that is at least 40km from your former residence, you may be able to claim most of your moving expenses on your annual income tax return.
Most moving expenses are eligible to use as deductions if your move qualifies, but to be sure it's a good idea to review the Canada Revenue website. Here are just a few examples of eligible moving expenses:
Costs of renting a moving truck or moving container, or hiring a full-service moving company
Storage required in between your move
Travel Expenses: including gas, hotel and meals incurred during the move
Temporary living expenses (up to a maximum of 15 days)
Costs to maintain your old home while vacant
Cost of selling your old home, including advertising, notary or legal fees, and real estate commission
Moving insurance
Be sure you save all your receipts throughout your move and keep them safe until tax time in case you're audited and need to provide proof of payment. We recommend consulting with an accountant before submitting your tax return as well to ensure that you're claiming eligible expenses and maximizing your deductions.
Now You're Ready to Save Money on Your Move!
At the end of the day, the best way to save money on your move is to be prepared and organized. Be sure the moving company you choose is up front with how they quote and possible extra charges so there are no surprises at the end. Some companies will advertise a great moving rate or may provide you with a low quote, but be aware that the price could change if there are variables in their quote, such as the time or date you need to move, the amount of time you'll have movers on site, or the weight of your contents.
Check out this post to learn more about how to compare moving quotes.
With BigSteelBox, the price we quote you is the price your move will cost. There are never hidden fees. We genuinely care about our customers, so we believe it's our job to do whatever we can to make your move feel better.
We'd love to help you with your next local or long distance move! Call us today at 1-800-373-1187 or request your quote online here.