Moving Boxes and Packing Supplies
We pride ourselves on being moving and storage experts, so what can we say about supplies? Well, it's pretty straight forward…
Whenever you're moving or storing stuff, cardboard or plastic packing boxes make things much more uniform. And, always make sure you have more boxes and packing supplies than you think you'll need – there's probably more to pack in your home than you think!
Note: If you'll be using your container for storage and want to make your storage space even more efficient, we also rent shelving brackets that are easy to install and can be delivered with your BigSteelBox.
Cardboard Moving Boxes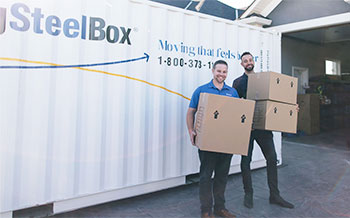 Most BigSteelBox stores sell cardboard moving boxes in these sizes:
Small Box: $3.75/each (13″x18"x16″ = 2.17 cu/ft)
Medium Box: $4.75/each (21″x20″x20″ = 4.8 cu/ft)
Large Box: $5.75/each (26″x20″x20″ = 6 cu/ft)
Ratchet Straps for Moving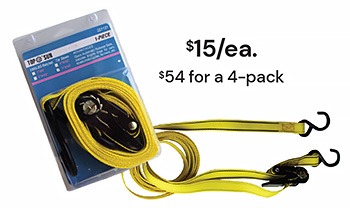 Price: 15.00 each or 54.00 for a 4-pack
We recommend you have ratchet straps and tie downs to secure your items inside your BigSteelBox. Every new BigSteelBox comes with D-Ring Hooks pre-installed on the interior walls of the container. They are located every 4′ along the length of the Box. Ratchet Straps are perfect for securing your belongings in sections by connecting the straps diagonally across the Box in a giant "X".
Moving Blankets
Price: 14.00 each or 79.00 for a 6-pack
Most people have at least a few pieces of furniture that should be protected for a move. Whether it's a dining room table, headboard or piece of artwork, moving blankets are made to protect your most valued possessions from damage.
More Packing Tips
We've helped a lot of people move over the years, so not only can we provide you with moving containers and moving supplies you'll need, but chances are we can also provide you with moving and packing tips that will make the entire process easier for you.
Our BigSteelBox Storage Consultants are ready to answer your questions to help make you feel better about your move. Request your free quote today online or call us at 1-800-373-1187!