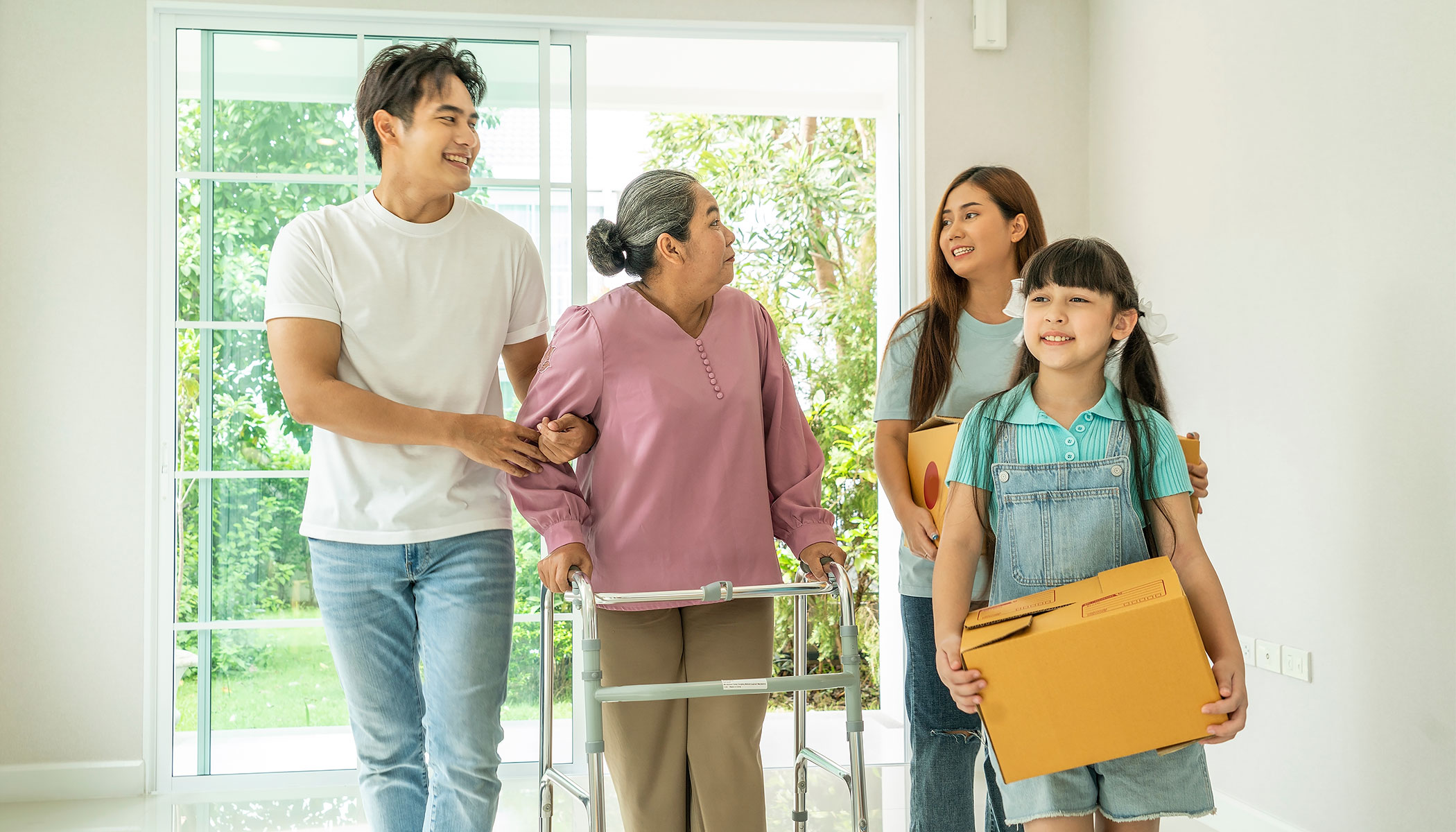 Relocating Your Aging Parents Closer to You
Aging is a fact of life, but knowing that doesn't make dealing with some of the changes that come with aging any easier. One aspect of aging that can be difficult to navigate is having to make tough decisions regarding the living situation of aging parents – especially if the child doesn't live close to them.
Of course the types of decisions and the timeframe in which you have to make them will depend on your situation, but here are a few questions to ask that will affect your choices:
Do your parents need help with daily tasks, like cooking, cleaning and getting groceries?
Are your parents able to drive or safely use public transportation?
Do you feel worried about your parent(s) living on their own?
Do they have an active social life?
Do you think having your parent(s) live closer to you would increase their quality of life (i.e. being closer to grandchildren, saving money on living expenses, getting ongoing health care sooner and more consistently, etc.)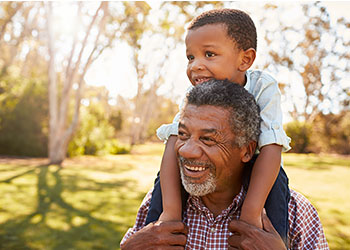 Wanting your parents to live closer to you could simply be because you and your family are busy with work, school and activities and aren't able to visit them as often. In this case, having your parents closer to you will be beneficial to everyone involved because they will be more involved with your everyday life.
However, If your parents are no longer able to drive or safely use public transportation to do daily activities and get to appointments, then you'll likely want to relocate them closer to you sooner rather than later so that you can support them.
The key is to identify potential issues early on so that when your parents have to move closer to you, the transition is more gradual and not too abrupt, or worse yet, required because of an emergency or traumatic event that leaves them injured or unable to care for themselves.
If you notice your parent struggling and having challenges with daily activities, start a conversation with them (and your siblings if you have them) to let them know that you're concerned and you want to make sure they're able to maintain the level of independence they want. Get an idea of how they're feeling and go from there. The more you can do to avoid having to make a decision that neither side is ready for, the better.
Consider Their Lifestyle
Once the decision to move your aging parents closer to you has been made by everyone involved, the next step will be to find the right fit for their new home in their new city or town.
You'll need to factor in a number of things for this decision too, such as:
Do your parents have pets?
Do they enjoy certain activities or hobbies that require them to live near a pool, recreation facility, walking or biking path, etc?
Do they need to be close to a certain health care provider?
Do they need easy access to public transportation?
What is their monthly budget for rent, utilities, food, etc.?
The answers to the questions above will help guide you to an area of town that will work best for them, help you find something they can afford, and help determine the housing type you should be looking for (i.e. if they have pets, you'll need to find a condo or apartment communities that allows animals).
It's important to remember that this move needs to make things easier for your parents and yourself, while allowing you both to continue to do the things you love to do, so making sure that they will be coming into a situation that has them in a better situation than before is key to a successful transition.
Consider the Stress of the Move
If you're reading this post and find yourself in this situation, it's likely that your parents will be moving long distance (from a different city or province) to be closer to you. But, regardless of distance or stage of life, moving is stressful. It's hard to avoid that, but there are things that you and your parents can do to make the process easier.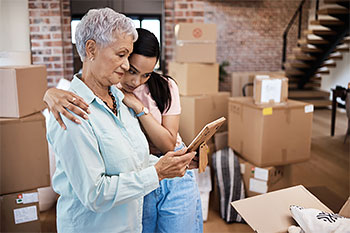 When moving to a new city or province, there is more involved in the process before, during and after the move. From changing your parents' address with multiple federal and provincial agencies, to finding new doctors and specialists, there will be a lot to do, which can make the process even tougher on everyone involved. The key is to plan the move well in advance and keep a detailed moving checklist so you don't forget anything.
One of the decisions you'll have to make is how you will move your parents' things to their new city. This will depend on a number of factors:
Are they living in a single-family home, condo or townhome community?
This will affect the types of moving service that will work for you. Moving containers are great for people living in a single-family home with space on their driveway or street in front of their home to place a container. They are not the best option for those in apartment, condo and townhome communities because of space restrictions in shared parking lots. So, if your parents will be moving from a multi-family community, then renting a moving truck or hiring full service movers who can complete the loading process in 1 day, is probably a better option.
Will you be there to help with the packing and loading portion of the move or do you have friends and family in your parents' current city who can help out?
If you're at a stage where you need to move your parents closer to you, then it's likely they'll need help with much of the packing and loading. In this case, you'll either need to make time to be there in person, enlist the help of family and friends, or hire movers to do the heavy lifting. If your parents are moving on a tight budget, learn more about the cheapest ways to move long distance weighed against the amount of effort required.
How much time do you have to complete the move?
If your parents are moving from a single-family home and have time between the sale of their home and their move out date, then using a moving container is a good option because it gives you more time to pack and load. Moving containers can be delivered well in advance of a move (even while the home is for sale to help with decluttering and getting a head start of packing) so the moving process feels less rushed.
Will you need storage for some of your parent's items after the move?
Once the decision to move your parents closer to you has been made, you should encourage them to start the sorting and purging process if needed. Chances are good that they have accumulated a lot of stuff over the years that they won't need in their new home, so the sooner they start to let things go, the better.
This can be a very emotional process – perhaps just as stressful as the move itself. Be patient with your parent when helping them purge some of their items as they may have sentimental attachments to many of their things. If this is the case, try approaching the decluttering topic in a way that allows them to give their things to a "good home" where they will continue to be appreciated, i.e. ask family and friends if they'd like any of the items and then help deliver them. Beyond that, talk to them about donating some of their things to a charity that will sell and benefit from the profits.
If, however, there is too much to sort through before the move needs to happen, or your parents just aren't ready to part with some of their things, then you might need to look into storage options in your city. The main options are a self storage locker or portable storage container. Again, the type of storage you choose will depend on your situation, but if you're able to move with a portable storage container, like a BigSteelBox, then storage is already built into the moving service so you won't have to load and unload the items multiple times. Learn more about comparing storage options.
Should Your Parent Rent or Buy their New Home?
When looking for a new home for your parents in your town or city, you may need to help them decide if renting or buying is the best option for them. A few of the key factors to consider when house hunting are going to be budget, accessibility needs, location, and maintenance requirements. Here are some of the pros and cons of renting vs buying for aging parents:
Pros and Cons of Renting
If your parents have owned a home for many years, and still own, it may be difficult for them to think about becoming a renter, however, it can be a better option for them in some instances.
Owning a home means they should have some equity in it, or even be mortgage free if they've been in the same home for many years. Consult with a Realtor to find out the value of their home and then calculate the amount they'll come away with after it's sold.
Once you know the amount of money they should have after a home sale, talk to them about their monthly income, personal expenses and anything else that requires monthly payments. From there, you should be able to see what they can afford in their new city.
Pros of Renting
Fewer Financial Risks
You don't have to worry about the cost to fix or replace things like the furnace, water heater, roof and appliances if there is an issue with them. The landlord is responsible for the upkeep of the home, so you'll have fewer unexpected, expensive repair costs that a homeowner has to worry about.
More Flexibility and Less Hassle to Move
While it will depend on the duration of the lease, typically, it's easier to move out of a rental than having to sell a home. Selling a home requires listing it with an agent, preparation, decluttering and constant cleaning for showings. Depending on the real estate market in their area, it could take weeks or months to find a buyer. Then after an offer has been accepted, the closing process often takes a month or more to finalize. You'll also have to work with your Realtor and a lawyer to sign documents and finalize the sale.
If your parents choose to rent, be sure to review the rental agreement to make sure it will work for them to move out if needed. Opting to sign for a shorter term or going with a monthly lease and including a clause that speaks to the number of days notice that are required before moving out is a good idea. Typically, a landlord has to give the tenant at least 60 days notice to end a tenancy, but be sure to review and understand that part of the agreement.
It's also an advantage to rent when considering estate planning. While this is an emotionally difficult consideration, it is much easier to manage an estate that does not include selling real estate. Helping your parents with their estate planning in advance can simplify the execution of their estate and also make sure that they are financially comfortable in their new city.
Cons of Renting:
Less Control Over Your Living Space
When you rent a home you aren't able to do renovations or change much about it. You may be able to discuss smaller changes with your landlord like painting certain rooms and hanging art on the walls, however, it's likely that you will have to live with the space as it is when you move in. In addition, if something breaks or needs minor repairs, you're usually reliant on your landlord to arrange to have it fixed.
Won't build equity
When you buy a home the idea is usually to live there for several years, pay down your mortgage, and have the value of your property increase so that when you sell you get back the money you put into the home (and hopefully plus some if the value has increased!). When you rent, that money is essentially gone, so you need to ensure that you have enough saved or coming in each month to cover your rent and bills and know that when you move you'll come away with no extra money in your pocket.
Pros of Buying
Obviously, your parents financial situation is going to be the most significant consideration regarding whether to rent or buy. If buying is something your parents want to do and can easily afford without jeopardizing their quality of life, then it would be beneficial from a financial perspective.
Another idea that may sound a bit unusual, but is gaining popularity very quickly, is adding a container home to your own property. Shipping container homes are smaller in scale so they are quite cost-effective to build, and they can be completed much faster than a regular build. They are, however, very durable, secure and can look great, but most importantly, they would give your parent their own space while still be very nearby so you can stop in as often as you want to.
Consider the Living Situation that will be Best for Them
A good first question to ask yourself and your parent would be: Is accessibility a factor, or will it be in the near future?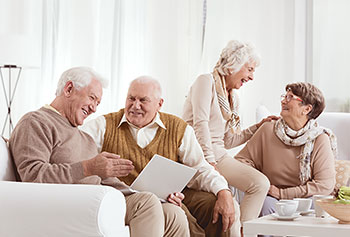 As we age, the ability to use stairs, lift and reach things, and walk long distances gets more difficult. If your aging parents are already having mobility issues, then it's important to find a home that will make their life easier and work for them for as long as possible.
If their level of activity is still high and there is no concern with them living alone, then you'll just have to look for a home or apartment that suits their needs. If it's important for them to meet new friends their age, look into 55+ communities. Better yet, look for communities that have shared common areas like pools, game rooms and fitness facilities if they enjoy those types of activities.
Senior Living Communities
As mentioned above, 55+ senior living communities are a great option if your parents are still very active. Senior living communities usually come with strata or maintenance fees that go towards maintaining the exterior of the home, yard work, snow removal and upkeep of any onsite amenities like fitness facilities or recreation areas.
Senior living communities often feature duplex-style homes or other multi-unit layouts, and may offer an increased level of security, such as a gated entrance or on-site security monitoring. This is a great option for those who are still highly independent, and want a sense of community that is low-maintenance.
Retirement Communities
Retirement communities usually consist of individual apartments in a multi-unit setting. These living areas can vary in size and will have all the amenities of a regular apartment, i.e. kitchens, personal laundry, etc. However, some communities will work alongside non-profit organizations like Better at Home of the United Way that offers support services like meal delivery, light housekeeping, grocery shopping, and even social visits.
Some retirement communities will also offer organized social events and activities, or shared transportation. This is a good option if your parents are still quite independent but want a certain level of support should they need it, while living near others at their same stage of life. If you parent is wondering if downsizing after retirement is for them, check out this post: 4 Tips for Downsizing After Retirement.
Assisted Living Communities
If you have concerns about your parent living alone, but they are still able to do many daily activities for themselves, you may want to consider a senior living community that offers different levels of assistance.
Depending on their situation, you may just need an arrangement where a community employee checks in on them once per day just to make sure they're ok and don't need help with anything. This option allows them to maintain some of their independence and privacy. Some senior living communities offer apartments with small kitchens so they can cook their own meals, and others offer full meal plans where all residents meet in a shared dining room for meals. There are also often daily activities planned, which is great for those who enjoy staying active and socializing with their neighbours.
Assisted living communities will also offer increased levels of care should your parent need help mobility, bathing or grooming. Typically the cost of living at an assisted living facility will depend on the level of care your parent requires.
Nursing Homes
If the reason for having to move your aging parent closer to you is because they require extensive, 24-hour care, then you'll likely need to look into nursing homes, also called Skilled Nursing Facilities, in your area.
A nursing home is the best place for a person who requires high levels of medical care, and who cannot feed, dress or bathe themselves. While some may want to attempt caring for their aging parent on their own, it's often not possible due to the time commitment and safety considerations. While you may be able to find medical home care to support you, a nursing home is the safest option for an aging parent who cannot live alone, so finding a facility that you're comfortable with and that is nearby for frequent visits is ideal.