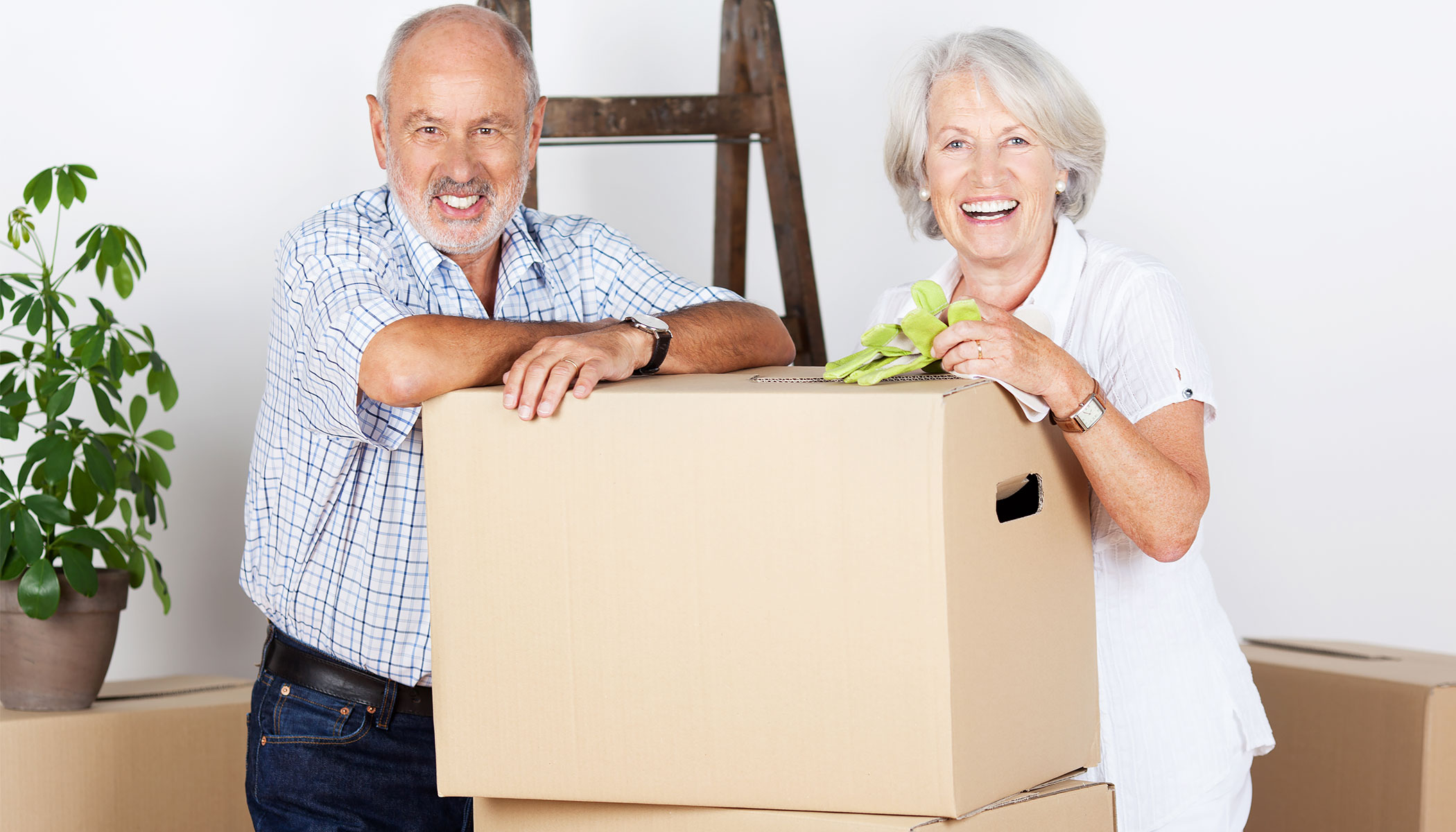 How to Downsize Your Home for Retirement – Top 4 Downsizing Tips
Post updated on February 16, 2022
Retirement sparks a number of changes to a person's lifestyle. It's an exciting milestone we work towards our whole lives, and we look forward to the freedom it will bring, but as with any big change, there are often challenges that have to be faced, questions that need to be asked, and decisions that have to be made.
If you're at this stage in your life, chances are you have big plans! For many of us, those plans may involve moving (whether that's to a new home, a new city or even a new province!), but quite often the common theme that comes with moving after retirement is downsizing your home.
Downsizing your home is a big step – one that comes with its own set of challenges when compared to a regular move. And, like any move, it will cause you some stress along the way. We've put together a list of tip to make the process of downsizing your home a little easier:
---
Top Questions to Ask Yourself Before Downsizing:
---
1) Decide if you're ready to downsize your home.
Sometimes it's hard to know when it's time to pull the trigger on a major life change like selling your family home. If you've raised your family in your current home, you're surrounded by memories, making it harder to leave.
If you've lived in your home for many years, you may have great friends and neighbours nearby that you'll miss. But as we get older, a large home and yard becomes harder to maintain, and it may not fit the care free life you aspire to during retirement!
Whatever your situation, downsizing is probably something you've been considering for some time now, and if you're still not confident enough to make the decision to move, perhaps asking yourself these questions will help:
Where do I really want to live?
If you have children and grandchildren who don't live close by, you may find yourself wishing you lived closer to them so you can see them more often. Or, if you've always lived in the suburbs, you may want to live somewhere that's more pedestrian-friendly so you can walk to appointments, grocery stores and other amenities.
However your ideal living situation looks after retirement, be sure to research your desired neighbourhood to learn more about it and find out what homes cost. It may be a good idea to connect with a licensed Realtor who is familiar with both your area and the new neighbourhood to help you with this process.
But, in the end, if you believe changing your home and neighbourhood will make your life happier, easier and more enjoyable, chances are that downsizing is a good option for you.
Do I still need this much space?
Many people have the mentality that "bigger is better", so sometimes we need to take a step back and really look at our needs in a home. If you often host large family gatherings and need several bedrooms, then downsizing may not make sense for you just yet. But, if you're the one who has to travel for most get-togethers, then a large home may not be practical anymore.
In addition, you have to consider your ability to take care of a larger home. Are you starting to find it hard to keep up with the cleaning or yard work? Are you cleaning and maintaining rooms that nobody uses? If so, living in a home with two bedrooms and two bathrooms instead of four of each, and a smaller yard will make daily maintenance easier on you. Plus, less work at home means you'll free up some of your time to do the things you want to but never had time for!
Will downsizing improve my financial situation?
After retirement most people begin living on a relatively fixed income. You'll also have more time to do things and go places than you did when you were working. This is where the topic of cash flow will come into play as you'll want to make sure you have enough to do all those things you love.
Crunch some numbers to figure out your current monthly cost of living versus what it might be in a smaller home. A smaller home will most likely mean that your energy costs will go down, as well as monthly mortgage or rent payments and property taxes. But, don't forget to factor in the cost of the move and things you'll need after the move. Read on to learn more on this topic.
2) Determine if downsizing will help save you money.
There could be a number of reasons you're planning to downsize: maybe you want to travel more (which can be expensive!); maybe you plan to move closer to your children or grandchildren or to a warmer climate; or maybe you're moving to a smaller home on your dream property. Whatever your plans, it's likely important for you to reduce your monthly cost of living in order to free up cash for more important things.
The cost to heat and cool a large home can get expensive, and it seems that energy costs are going up all the time. A smaller home will use less energy, which means lower utility bills.
But, while downsizing to a smaller home usually means you'll cut your monthly cost of living, it will depend on the location. Staying in the same city and moving to a smaller, less expensive home will typically mean you'll be better off financially. This would be the case if you sold your larger home, took that equity and put it into something smaller. But there are a couple of other factors to consider as well…
If you're looking for a lifestyle that allows you more free time and requires less yard work and home maintenance, then moving from a single family home to a townhome or condo community is a great idea. However, when looking at monthly costs, you'll have to take into account that living in a community comes with a monthly strata or building management fee on top of your mortgage payment. This fee will vary from building to building and depends on the amenities offered in your community. It will also often increase over time, so be sure to ask your Realtor or a community representative questions about community fees before buying.
If you're currently a homeowner, but you're looking for a lower cost of living with more flexibility, another route that might work for you is renting. You'll have less control over your home in terms of being able to renovate or make major cosmetic changes, but if it happens that an expensive issue arises with your home, like the furnace needing to be replaced or faulty plumbing causes a flood, those costs are the responsibility of your landlord.
3) Follow these tips to stay organized and on track when downsizing your home.
OK, you've made the decision to downsize your home… Now what?
Try not to panic or overwhelm yourself by thinking about what needs to be done! There are things you can do before, during and after your move to make it easier, but it all hinges on planning. If you're prepared for your move, there will be fewer surprises, you'll feel more confident in your decision, and you'll be able to enjoy the process more.
Here are a few ideas and tips on how to downsize your home: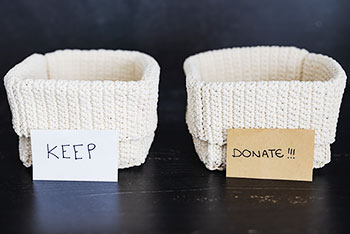 Give yourself a lot of time to sort and pack.
If you've lived in your home for many years, there will be a lot to do. Don't feel like you have to sort through everything in one day! If you're moving to a smaller home, decisions will have to be made about what will go to the new home, and what won't.
The process of parting with personal belongings can be emotionally draining, so give yourself some time. See the "Prepare yourself to purge" section below for more tips on this.
If you have a lot of stuff to sort through, using a BigSteelBox for your move can help enormously because secure storage is built into the service. Your moving container can be delivered as far in advance as you need it, so you can pack at your own pace.
Having the ability to pack over a number of days or weeks will help eliminate some of the stress caused by making rushed decisions, and you'll feel less overwhelmed by the entire process. A BigSteelBox is weather and rodent-proof and extremely secure, so you can gradually load your items and have peace of mind knowing they will stay safe and dry inside.
Need some extra hands? Professional moving companies like Two Small Men with Big Hearts can provide labour to pack your BigSteelBox, or even offer complete packing and moving services if needed.
Remember to update your address
Moving is exciting, but it comes with some administrative tasks you won't want to forget about, such as changing your address. If you're retired, there are some specific changes of address you might have to do. Two are particularly important – you may have to inform the Canada Pension Plan (CPP) and Old Age Security (OAS). Fortunately, it's easy to change your address with the government online through My Service Canada Account.
That said, there are other changes of address that are important to do as well, such as your bank, doctor, dentist, and subscription services. Nowadays, there are free online moving concierge services, such as MovingWaldo, that can assist you with completing moving tasks including, but not limited to, updating your address with providers (i.e. TV, phone and Internet), purchasing or changing home insurance, and finding moving boxes, all in one place.
Prepare yourself to purge
Moving to a smaller home means there are going to be items that just can't go with you. Paring down your things means tough decisions will have to be made. Below are a few questions to help make this a little easier.
Can it be donated? When sorting, take a step back and think about how often you use an item. Can you remember the last time you used it? If not, that's an item you could donate to a charity or secondhand shop. Knowing that someone less fortunate will have an opportunity to receive or purchase that item at a discounted rate can make you feel better in your decision.
Here's a tip: If you're donating large items to a charity, find out if they offer free pick up. Not having to arrange the moving, loading and delivery of items will save you a lot of time and energy.
Is it trash? If it's broken, toss it! If you cannot use an item and it's in no shape to donate, don't waste time and energy bringing it to your new home. If the pile of items headed for the trash starts to add up, you may want to consider hiring a company to get rid of it for you. Removal companies like 1-800-GOT-Junk or JustJunk may be very helpful if you have a lot of stuff to dispose of.
Can you give it a new home? Do you have a large piece of furniture that has a lot of sentimental value? Maybe it's an antique china cabinet your grandmother gave you, or a dining room table that was the centrepiece to countless big family dinners during the holidays. If this is the case, you may not feel comfortable donating that item, or selling it to just anyone.
Put some thought into where you might want that item to go. Has a family member expressed interest in an antique piece of furniture that has been passed down from generation to generation? Do you know someone who would really enjoy having that piece in their home? If so, consider giving it to them before your move. Not only will you make someone happy, but you'll rest easy knowing it will be well-taken care of.
Know your new space and have fun decorating!
Moving to a new home means you will have a new canvas to make your own. Measure the rooms in your new home carefully and assess your current furniture.
Will your large dresser fit in your new bedroom? Will your sofa take up too much space in the living room? If what you have won't fit, don't worry! Take some time researching new home décor ideas or the latest trends in furniture. There are so many ways to make a smaller space work for you.
Treat yourself to a few fun, but efficient new pieces of furniture that will maximize the use of space in your new home. There are all sorts of trendy items out there for smaller living spaces.
4) Consider if  storage will help during the downsizing process.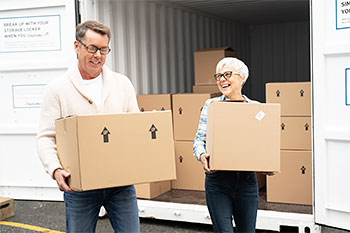 During the moving process there is often a need for temporary storage in between homes. Whether it's because your new home won't be ready when you need to move out of your current home, you need a little more time to sort through your items, or you need to keep your things in storage while you look for a new home in a new city, portable storage can be very handy.
With BigSteelBox, you can keep your portable storage container at your home as long as you need it, or we can move it to one of our secure locations until you're ready to unload. It allows you to pack and unpack at your own pace, and because you keep the key, no one else will have access to your things.
If you're trying to decide whether you should use a traditional moving company, or a moving container company like BigSteelBox, check out this comparison of moving services. But if you're ready and looking for more detailed information about how BigSteelBox can make downsizing your home feel better, give us a call at 1-800-373-1187 or request your free quote online and we'll be happy to help.