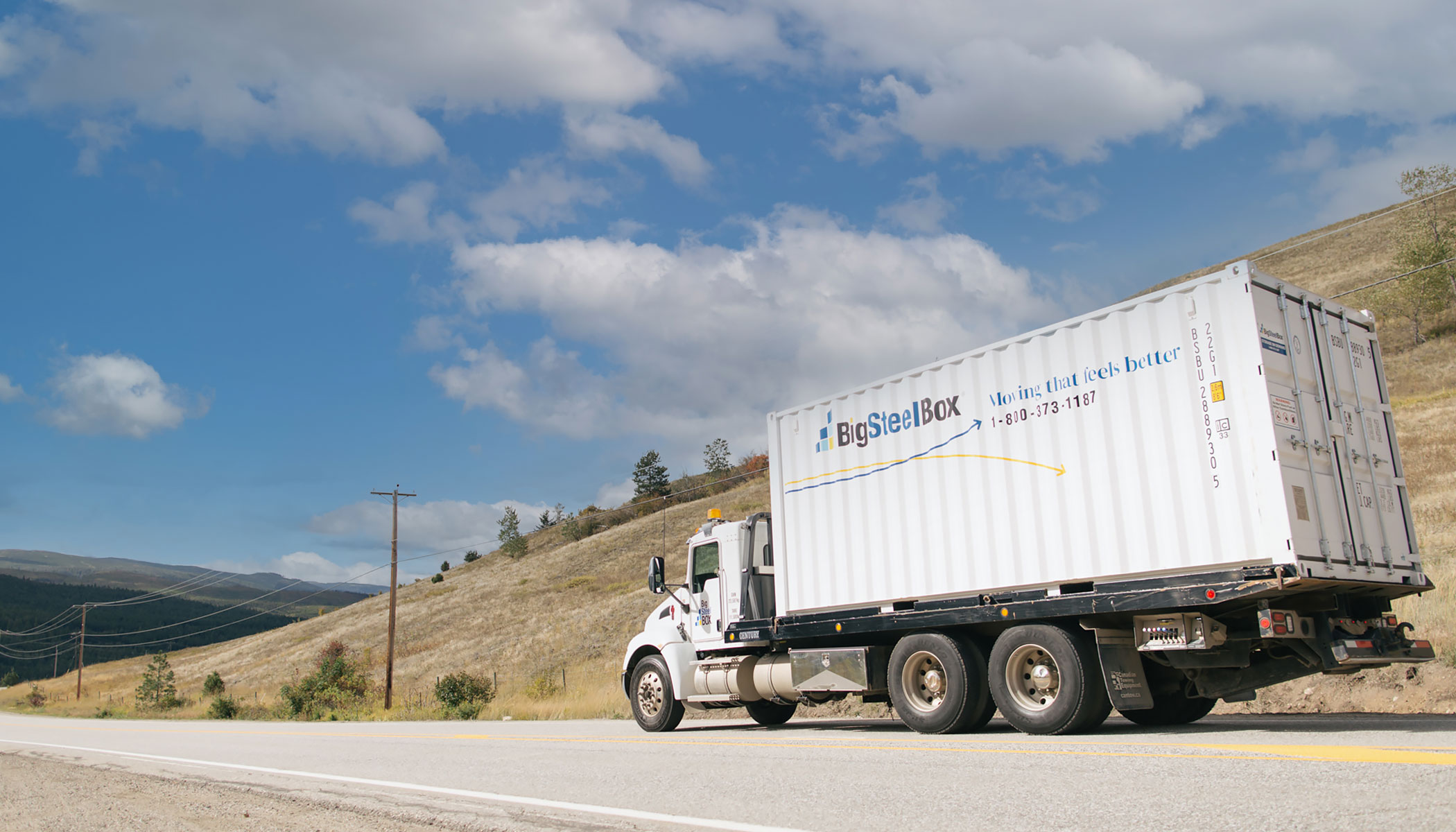 Long Distance Moving Survey Uncovers Good and Bad News for Canadians
Post updated on May 12, 2022
In late 2020, BigSteelBox conducted a Canada-wide survey to examine customer satisfaction with the long haul moving industry. One long-standing issue that the industry continues to face is the perception that long distance moving companies consistently charge more than they quote. But, is this really the case? That's what we wanted to find out.
With the issue of overcharging being a central theme, the goals of the survey were to learn more about the experiences of Canadians who had moved at least 500km in the previous 24 months, and to answer these questions:
What type of service are people using to move long distance?

Does the practice of charging by the weight influence how often customers are overcharged?

If they moved with a traditional, full-service moving company did they know they'd be charged by the weight of their belongings?

How was the weight of their items estimated?

Were their quotes accurate after the move was complete?
This article examines our findings from this long distance moving survey, offers some insights into the moving trends we've seen over the past few years, and uncovers some challenges long distance moving customers are experiencing.
---
Table of Contents
---
Highlights of the Long Distance Moving Survey
After reviewing the answers from 400 respondents to a survey conducted by Sentis Market Research, we found that there is some good news, some bad news, and some surprises we weren't expecting.
Here are the key findings of our research that we will examine more closely throughout this post: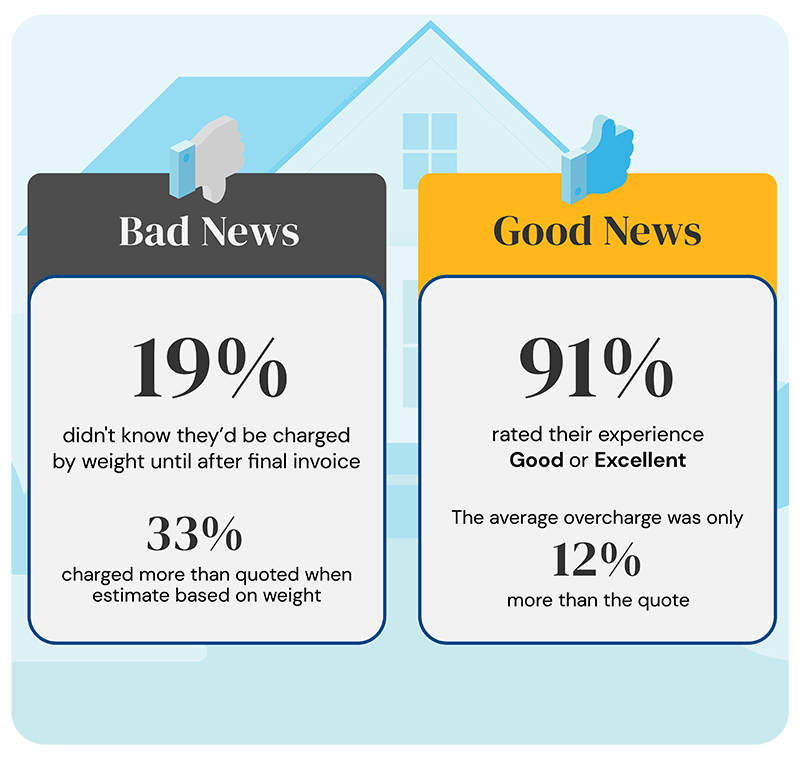 Long distance moving has skyrocketed!
Before we do a deeper dive into the results of the survey, it's important to take a high level look at some recent data for long distance moving in Canada, and the trends we saw in 2020 and 2021.
From mid-2020 to the end of 2021, BigSteelBox saw a huge increase in the number of long distance moves we completed for customers across Canada. Since 2015, the average growth in the number of long distance moves we complete each year was 12%. However, from 2019 to 2020, the increase was 33%, and we expected to see an increase of 25% from 2020 – 2021*.
Total Number of BigSteelBox Long Distance Moves by Year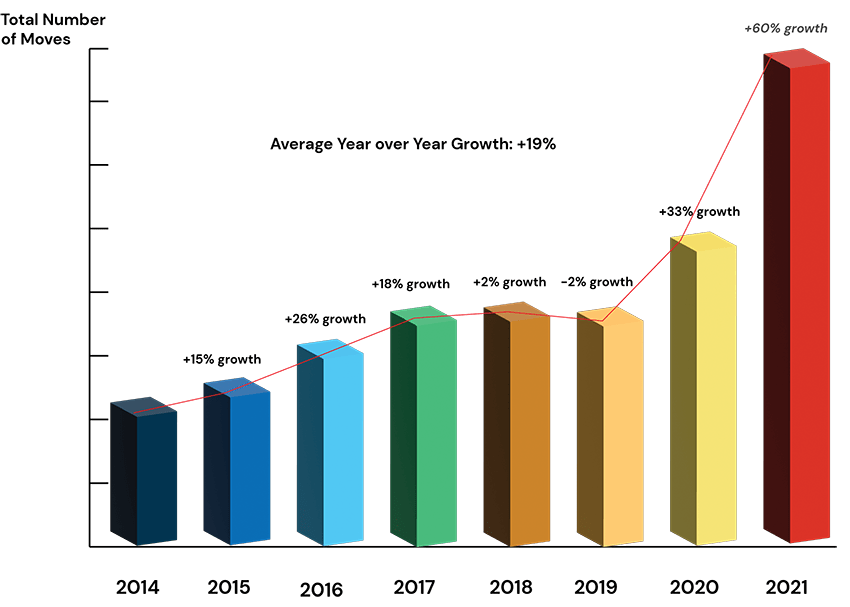 Compared to the 5-year average annual growth rate of 1.47% in intraprovincial moves, which was reported in the last Census in 2016, this indicates there has been a significant increase in moves. Obviously, this comparison doesn't take into consideration our growth in market share, but it is further evidence of the significant growth in long distance moves.
Things have changed significantly since 2016, and the onset of the COVID-19 pandemic created an influx of long distance moves – mainly from larger cities to smaller centres, which many realtors have seen firsthand.
This is what we're seeing, but it's only one piece of the puzzle…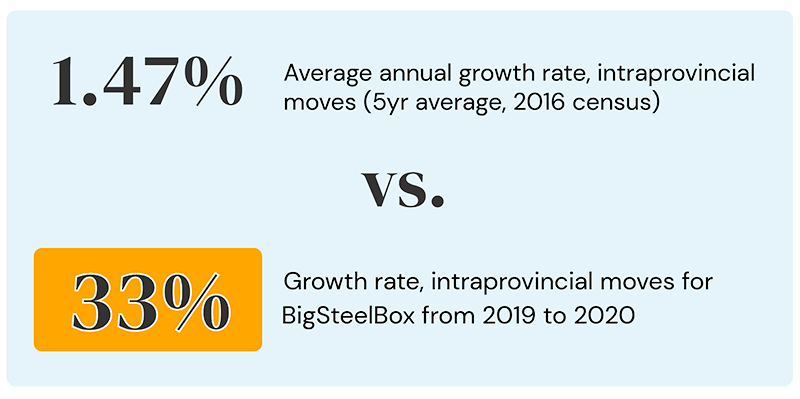 Why are so many Canadians moving to a new city?
A popular theory that supports the reason for the upward trend of Canadians leaving large cities for smaller centers is attributed to the COVID-19 pandemic that first forced people to work from home. And then, even after restrictions were relaxed, many employers continued to offer the option of working from home.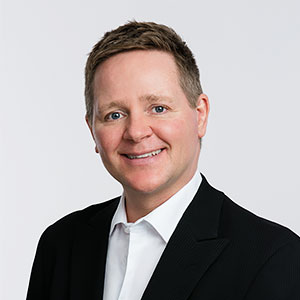 We're seeing a lot of people from Vancouver and Toronto cash out on their higher priced homes.
"Now that many industries will be permanently working from home, we're seeing an influx of people from Vancouver and Toronto that can cash out of their higher priced homes and spend a smaller portion of their equity to come to the Okanagan and live this dream lifestyle. It's a win-win for them."
Ultimately, this shift in how we work and the more widely accepted option of working remotely, has given people more flexibility to live where they want to, even if that means moving to a new city or province. And as such, many people have chosen to move to smaller cities and towns for a variety of reasons including a lower cost of living, being closer to family and friends, and enjoying a more relaxed lifestyle.
If you're considering this type of move, check out this post: 6 Tips for Moving to a Small Town or Smaller City
While there isn't a lot of data available to support this theory yet, housing sales hit all-time highs in 2020-2021. This is best illustrated by the stats published by the Canadian Real Estate Association (CREA). The graph below shows monthly housing sales over the past 10 years, showing the 10-year low of April 2020, and the all-time high of April 2021.
How are most people moving to a new city?
When people need to move to a new city or province it appears that the traditional movers are still the most common method chosen. In our survey we asked respondents how they moved, and the top three answers were:
1. Full Service Mover: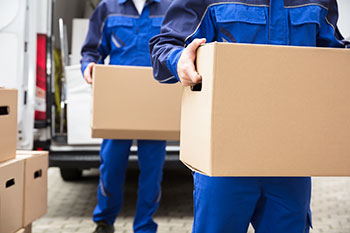 These are moving companies that provide packing/loading and unpacking/unloading services and transport your items by truck.
These moves usually allow for 1-2 days of packing on either end of your move and spend 8-18 days in transit depending on the distance, but require the least amount of effort on the customer's part.
Quotes from full service movers are most often based on the estimated weight of your items (with or without an in-person visit to the home) but the final bill will reflect the weight recorded by a scale once the truck is loaded and on the highway.
2. Rented Moving Truck or Trailer: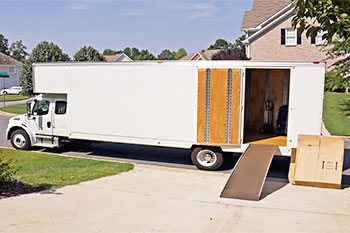 This method is a completely DIY (do-it-yourself) method unless you hire packers/loaders separately from the truck rental.
These types of moves are charged based on the size of truck/trailer you rent, the amount of time it takes and the distance driven. Moving with a truck or trailer gives you the least amount of time to complete your move – usually only 1-2 days to load/unload on either end – and it requires the most amount of effort on your part.
Quotes for rental trucks and trailers will be based on the rental duration and the kilometres travelled, but keep in mind that it will not include the cost of fuel. It's also a good idea to know the extra costs if it takes longer than you expect.
3. Moving Container: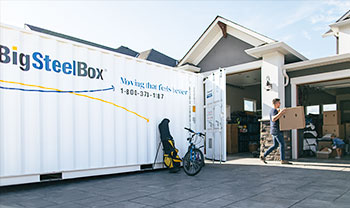 This method is partially DIY, in that you're required to pack/load and unpack/unload the container yourself, unless you hire moving help separately. A container moving company will deliver a container to your current home and move it to your new home for you, so you're not required to drive a large truck or pull a trailer long distance.
This method gives you the most amount of time to complete your move because most companies charge for the rental of a moving container by the month, so you can have it delivered well in advance of your move and keep it as long as you need it at your new home.
Container-based moving companies, like BigSteelBox, quote and charge based on the size and number of containers you need, and the distance of your move. So, unless you need more containers or the distance of your move changes after the quote, the price you're quoted is the price you'll pay.
Our research showed that most people are still choosing to use a full service moving company for their long distance moves, followed by rental trucks and trailers. If you're interested in learning more about the cost of different long distance options, check out this post: What is the Cheapest Way to Move Across Canada?
Why do most long distance moving companies charge by weight?
If you check the "Freight Rate Wikipedia page" you'll find out everything you'd ever want to know about transport costs and how they are measured. Weight is a consistent part of most transport cost formulas which look like this: Rate ($) x Distance x Weight
Because long distance moving is tied very closely to the transport industry, and most companies are using long-haul trucks to move their customer's belongings, it makes sense that the industry charges mostly by weight.
Sometimes they will include other variables, such as the transport method (ship, rail, truck, plane), the priority and the volume of the cargo, but those items are usually a factor in the "rate". In the moving industry, it's common to have distance ranges that will impact the "rate" Shorter distances will have a higher rate per kilometre.
In many ways, charging by weight is better for the consumer. Knowing that weight is the measure that will determine the final cost allows customers to make more informed choices about whether or not to move really heavy items with the rest of their belongings. The antique cast iron sewing table that belonged to your grandma may have a lot of sentimental value, but it's much heavier than a more modern machine and will increase the weight of your load – so keep that in mind!
Charging by weight can also be a trust factor for consumers. All commercial vehicles with a licensed Gross Vehicle Weight (GVW) exceeding 5,500kg are required to report to scales. This means that the consumer should have confidence in the final weight reported at the scales.
Knowing that the scale never lies and it's something that will dictate the final price you pay for a move that's being charged by weight, it's not surprising that final bills don't match the quote. The challenge for moving companies is lure of underestimating the weight to make their quote look cheaper than their competitors. Our research indicates that this is the exception and not a common practice.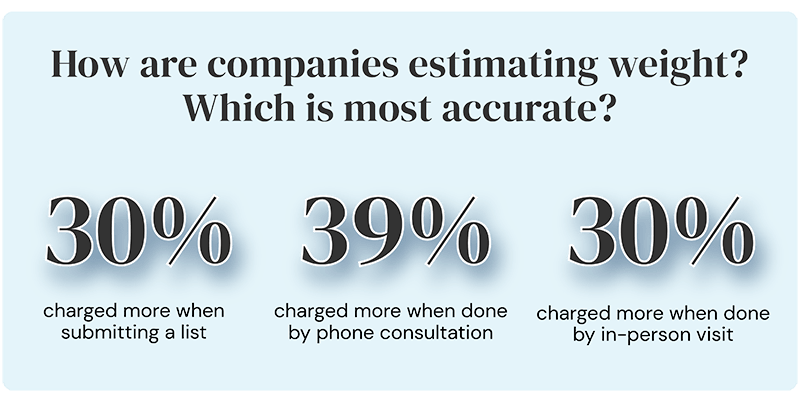 How accurate are weight-based moving quotes?
Now that you know WHY companies charge by weight and which moving methods base pricing on weight, the big question is how often are weight-based moving quotes accurate, or more importantly, how often are they inaccurate? Here's what we found:
Inaccurate Weight Estimates are Common
Our research showed that weight-based moving estimates are still the primary method used by traditional moving companies to quote customers. And while the COVID-19 pandemic made in-person estimates much less common, even quotes from companies who made home visits before creating a moving quote were often inaccurate.
Here's what our study revealed:
The inaccuracy in quoting ranged from 30 to 39% regardless of the method of quoting (phone consultation, supplied item list or in-home visit)
Among movers who had a phone consultation to estimate their contents, 39% were charged more than they were quoted
Even when the mover had a company representative visit in-person for an estimate, 30% were charged more than they were quoted
When the mover submitted a form or a list of contents, they were charged more 30% of the time (the same accuracy as when a representative completed a house visit)
It's pretty easy to look at the 30% inaccuracy stat above and think that estimators aren't doing a very good job, but that is doing them a disservice. On the flip side, 61% of phone consultations are either accurate or overestimated and 70% of item lists and in-home visits are accurate or overestimated. That means that the majority of the time estimators are being conservative in their approach.
The problem is that this exercise is extremely difficult to do with a high level of accuracy. If the customer forgets a few heavy items on their list, or the in-home inspection misses a shed outside or a storage room under the stairs, then the quote will obviously be underestimated.
In addition to the majority of estimates being accurate, the margin for error when the weight is underestimated is still pretty small (the average was only 13% over the quoted weight in these instances).
We now have reliable technologies for estimating moving quotes that weren't available a decade ago.
"The moving industry has had one way of doing long-distance moves for the better part of a century, but we can now utilize software to streamline and capture relevant information to create a precise flat rate price."
There are many reputable moving companies (who charge by weight) that take extra steps and utilize technologies to help them achieve the most accurate estimate possible. Two Small Men with Big Hearts President, Stu Starkey, recognizes the uncertainty that some customers feel around long-distance moving costs calculated by weight.
"One of our main goals is to take the stress out of moving," says Starkey. "Our team completes over 10,000 moves annually in Western Canada alone, and as a result we're constantly learning about the most common issues and concerns our customers face. Two Small Men has a history of being innovative with our solutions: for example, across our Western Canada locations we've been trying out flat-rate pricing on long-distance moves to give customers peace of mind."
Starkey also credits advancements in technology to improving Two Small Men's quoting accuracy.
"With ease of access to cost-effective digital solutions, we can offer proven, reliable technologies to our customers and move coordinators that simply weren't available a decade ago," continues Starkey. "The moving industry has had one way of doing long-distance moves for the better part of a century, but we can now utilize software to streamline and capture relevant information to create a precise flat rate price."
The positive news here is that the moving industry is performing better than we expected and that some companies are taking steps to provide quotes that are as accurate as possible, however, it's clear that there are still issues and improvements that need to be made. The best way to avoid unexpected charges after a full service move is complete is to ask as many questions as possible to the company you're working with before you sign a contract.
You could even request prices based on higher weights so that you're prepared for different scenarios. This should also be easy to do on your own, because the estimated weight will be provided on your quote along with a rate/cwt on the items (CWT=cost per 100lbs). By changing the estimated weight and multiplying that by the rate/cwt, you can see how much more (or less) you would be charged at the end.
Learn more about how to compare moving company quotes.
How many moving customers didn't know they'd be charged by weight?
Perhaps the most concerning issue our survey uncovered is that some long distance moving customers either don't know they will be charged by weight, or they don't completely understand what it means to be charged by weight.
Among moving customers who ended up being charged more due to the weight of their contents, the data showed that:
36% did not know the cost of their move was based on weight before they booked.
19% did not find out they'd be charged by weight until they received the invoice.
Among all movers who were charged by weight (not just those over-charged):
25% did not find this out until after they booked.
10% were informed upon receiving their invoice.
While this certainly doesn't sound positive for the moving industry, it should be taken with a grain of salt.
There will always be people who are confused or simply don't pay attention to quotes and contracts. While people who were surprised when they received their invoice were more likely to report a poor experience, the industry still had very high satisfaction levels in the survey regardless of how they were charged.
Even though satisfaction levels are high, it's still really important for companies to understand that they should be making this much more clear in their quoting and billing process.
What are moving quote discrepancies costing Canadians?
Our research showed that 29% of Canadian long-haul moving customers using any moving method were charged more than they were quoted. That overcharge was typically about 12% (or $250) more than they expected based on their initial quote.
Among those whose moving cost estimate was based on weight, 33% of respondents were overcharged. Among this group, the typical overcharge was 13% (or $400) more than stated on their initial quote. And 90% of the time, the extra cost was at least in part because their contents weighed more than estimated.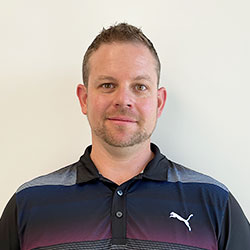 We're happy our research showed extreme 'moving horror stories' are quite rare occurrences.
"There is a common perception that the moving industry can be untrustworthy and regularly overcharge customers, however, the reality is that most people have positive moving experiences. We're happy our research showed that extreme 'moving horror stories' are, in fact, quite rare occurrences."
So, while some moving companies lack policies that offer compensation for damaged goods which can also contribute to a higher end cost of a move, the scenario of under-estimating weight is often the source of the "moving horror stories" that often reach the press and create mistrust in the industry. And unfortunately, while the satisfaction levels may be quite high as our survey results suggest, one scathing story that receives lots of media coverage, can undo years of good will.
Even though there are clearly areas for improvement, we view the findings of our long distance moving survey in a positive manner for the moving industry overall because of these key factors:
Overall satisfaction of customers is very high regardless of service type: 91% gave 4 or 5 stars
A high % of quotes were accurate: 61 to 70% regardless of method
Average overcharge amount was relatively low: 12-13% depending on the quoting method
All in all, we're quite happy that our research showed that these extreme "moving horror stories" where the final bill is $1,000-$2,000 over the quote are the exception and not the rule.
Ultimately, people are going to choose the moving service that works best for their needs, and we hope this examination of the how the moving industry charges and how Canadians feel about their past moving experiences will help them make more informed decisions.
Long distance move pricing model that offers peace of mind
At BigSteelBox, our pricing model is "all inclusive". Our quotes are not based on weight, as long as the customer does not exceed the maximum contents weight of 10,000lbs (the average contents weight of a fully-loaded 20' BigSteelBox is approximately 7,500lbs).
The quoted price will not change unless customers end up needing more containers or something changes in regard to the distance of their move. We strive to make our pricing as transparent as possible, and ultimately make moving feel better for our customers.
If you think a BigSteelBox would be a good option for your long distance move, we'd love to help! Request your free quote online now or call us at 1-800-373-1187.
Data presented in this article was the result of a survey conducted by Sentis Market Research in December, 2020.