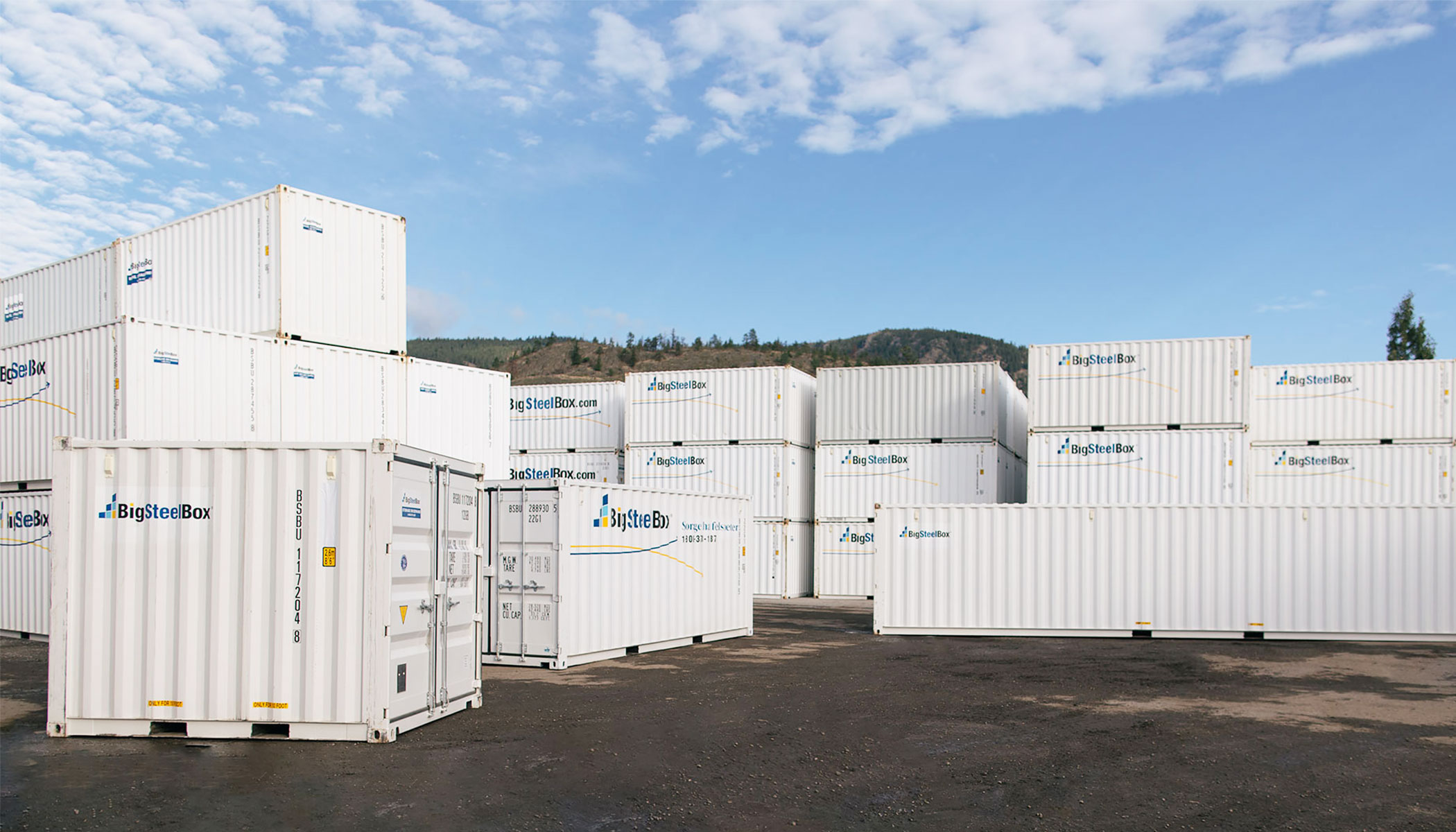 Top 5 Questions to Ask When Looking for Self Storage
If you've done online searches for "self storage near me", you've realized that there are several options out there in most cities. And, you probably have a lot of questions about most of them.
From storage pods to storage lockers, and mini storage to portable storage containers, each offers something a little different.
We invite you to look at these storage option comparisons we've put together:
For this article we asked our BigSteelBox Storage Consultants for the most common questions they get from customers when they're shopping for a storage provider. This is what they said:
1) Are my items safe from theft while in storage?
Every storage facility has its own security measures in place such as locked gates, security cameras, 24-hour lighting, and even on-duty security guards. When doing your research, be sure to ask each company about the specific security features of their facility as well as the individual storage units (i.e. storage locker with roll up door, or steel container with swinging door).
When you store your items at a BigSteelBox location, your container is kept inside a fully fenced area with a locked gate. Our storage staff are on site from 8am-5pm Monday to Friday. Because we stack containers in our yard (usually 3-4 containers high), most containers are not accessible from ground level.
As the loaded containers are stacked they are placed with doors facing each other. This makes it impossible for the doors to be opened without forklifting one of the containers out of the way. This is why we ask customers to give us at least 24-business hours' notice if they need to access their BigSteelBox, which gives us time to place the container in our customer access area.
In terms of the security of our containers, a BigSteelBox is actually a shipping container, so it's made entirely of steel and built to withstand the harshest weather and constant movement. It won't bend or shift under the weight of its contents.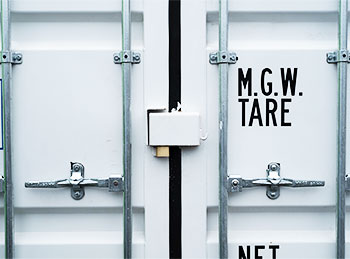 Plus, each BigSteelBox storage container is equipped with a steel Lock Box that protects your padlock from being accessible to bolt cutters. You put the padlock on your container, so only you can get in. It's a simple thing that will give you peace of mind.
If you choose to store your BigSteelBox container at one of our secure storage facilities you don't have to worry about anyone having access to your belongings because you keep the key.
Learn more about the safety features of a BigSteelBox.
2) When I need customer service, will I be able to get a hold of a person?
This is another point that will vary between storage providers. Your initial interaction with the company will be the quoting process, so be sure to ask plenty of questions about the communication process for service requests, storage unit access policies, and how they schedule deliveries and pickups.
What we can confidently say is that good communication is very important to us at BigSteelBox. Our goal is to make storage feel better for our customers, so providing responsive and caring service is one of our top priorities and something we're proud to say sets us apart from our competitors.
In fact, one of the BigSteelBox Company Values is:
"We Genuinely Care for People: Our customers are real people with busy lives. By listening to them and understanding their needs, we strive to deliver the right solution. We are fair, we are kind, and we look for opportunities to show compassion."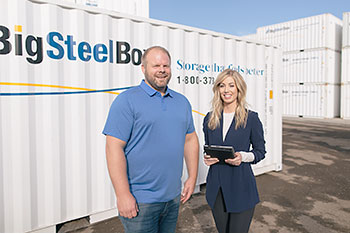 We have more locations across Canada than any other mobile storage company, which allows us to serve more customers in more places. While this obviously benefits customers moving to a new city, it also gives us an advantage for storage services because we have a vast and diverse fleet of shipping containers at our disposal.
We also have a Canadian Contact Centre that is available to take calls for extended hours Monday to Friday, and on Saturdays. As such, it's very easy for our customers across Canada to connect with a live, helpful person when they need to.
3) Will I pay what I've been quoted or could there be hidden or additional fees on my final bill?
Much like the security measures and customer service can vary between storage companies, the same goes for price. Monthly rental rates will vary based on the size of the storage unit you need and whether or not it's heated. There will also be differences in on-site storage and handling fees and delivery fees if applicable to your situation. You'll also find that some companies charge by the week rather than calendar month, so be sure to clarify all of these points during the research and quoting process.
As we mentioned, providing a great customer experience is very important to us and part of that is being transparent about our fees and pricing.
Container rental prices and transportation fees vary from city to city, so we have outlined basic prices for each of our locations in the Storage and Moving sections of our website. Just make sure you've selected the BigSteelBox location nearest you from the geo-location field in the top right of your screen:
Once we have all the information about your storage needs or your move, we'll provide you with an "all-inclusive" price that breaks down all the portions of your service by item (i.e. delivery fees, rental rate, pick up fee, optional add-ons, etc.). Once you accept and sign your rental agreement with BigSteelBox, it's pretty simple… as long as you don't require more containers or additional moves at some point, the price we quote you is the price you will pay.
(Note: The weight of an average loaded 20′ BigSteelBox is 7,500 lbs. If you need a loaded container moved and the weight of the contents is over our 10,000 lbs weight limit, there will be an additional cost as a crane will be required to safely move it.)
4) What are your hours, and can I access my items when I need to?
Office hours are usually pretty standard between storage facilities (i.e. 8am-5pm), but some will offer after hours, or even 24-hour access. So, you'll have to think about your needs when weighing your options, and balance that with the level of security provided.
If you choose to go with a container option and store it at the facility rather than your home, accessing it can be a little less flexible because it will need to be brought to a specific customer access area.
Before a customer chooses to store their items with BigSteelBox at one of our locations, they often ask our Storage Consultants if it's possible to access a container stored at a BigSteelBox location, and the answer is, YES!
Even while your BigSteelBox is stored at one of our storage facilities, you can still get access to your things when you need to. We just ask our customers to call their BigSteelBox Store 24 business hours before they need to get into their storage container. With notice, we'll make sure your storage unit is brought down to our safe customer access area on the day of your visit. Please note, we charge a small storage and handling fee to keep your container at a BigSteelBox yard, which your Storage Consultant will explain during the quoting process.
5) Will my contents be at risk from the elements if they're stored in a steel storage container all year long?
A common misconception is that heated storage is a major benefit to long-term self storage. This is actually not true for the vast majority of our customers. Heated storage will cost you more with little benefit to your stored items.
A shipping container, like a BigSteelBox, is weather and rodent-proof, so your items will be protected from the elements. In fact, many major retail stores like Walmart and Home Depot use our storage containers year-round to store their excess inventory, so a typical homeowner's contents will also be safe.
If you're worried about any specific items, you should be able to find information about storing the item by doing an online search. For example, it is recommended that an LCD TV is stored at temperatures above minus -28 degrees Celsius, so if you live in a city that sees temperatures get that cold in the winter months, a temperature-controlled storage unit would be a better choice for you.
Another exception to this rule would be for the storage of flammable products, such as paint, solvents, or chemicals. If you plan to store items like this, heated storage with proper ventilation will be a safer option.
In some cases, modifying a shipping container to suit these needs is the best solution, and that's also something we offer to customers who choose to purchase a container from us. You would need to add vents to low and high points on both ends of a container to provide cross-ventilation that will allow pressure to release and fumes to escape outside of the container. Without proper ventilation, pressure can build up inside the container and cause a serious safety risk in the event of a fire inside, or near the container.
Learn more about shipping container storage safety.
Still have questions about self  storage with BigSteelBox?
Have more questions about self storage? We're here to make your storage experience feel better, so please contact us by requesting your free quote online or by giving us a call at 1-800-373-1187.