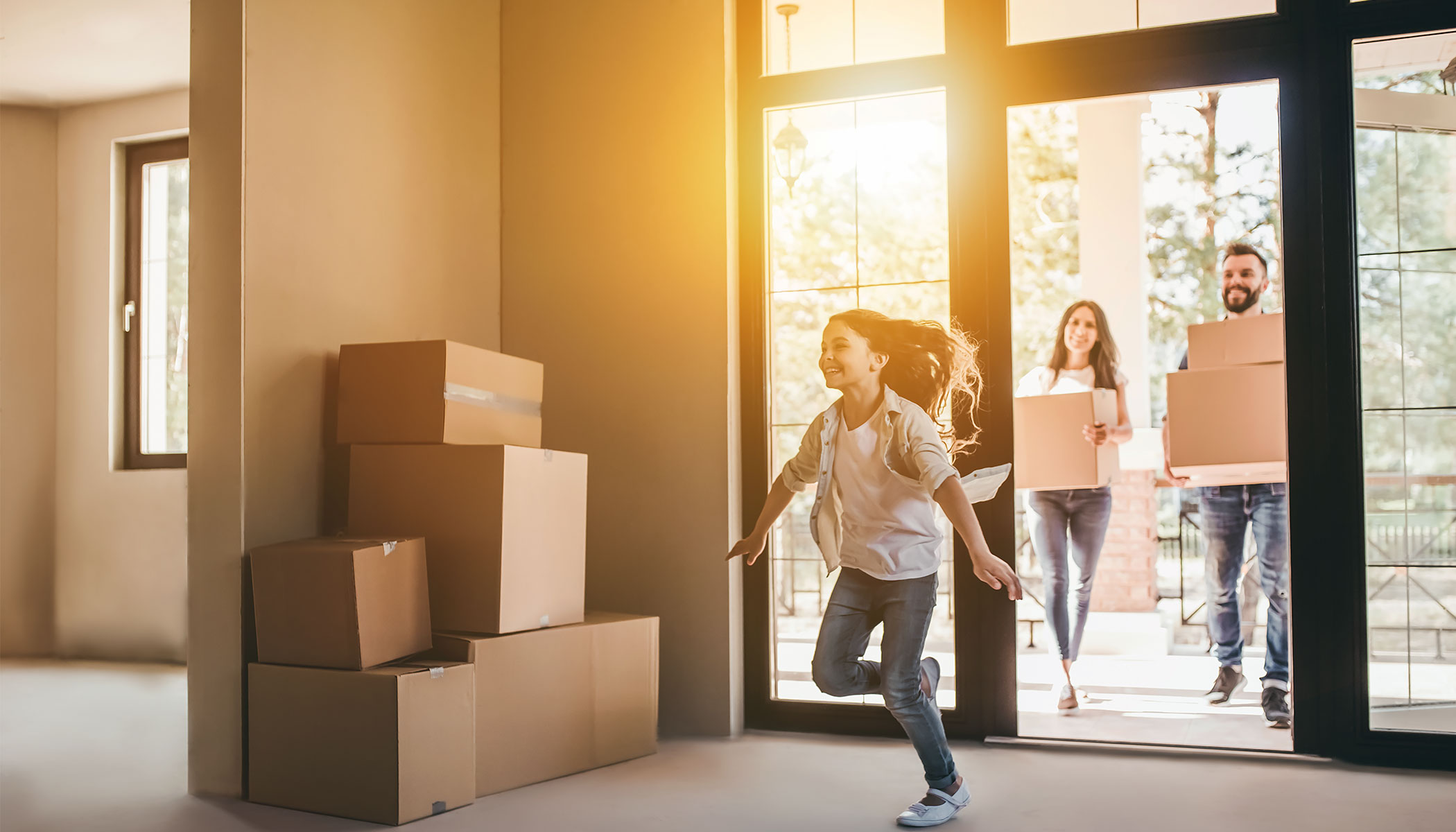 6 Tips for Moving to a Small Town or Smaller City
Perhaps it's a result of the COVID-19 pandemic, which forced many of us to work from home and caused us to rethink our living situations, but many people living in larger Canadian cities like Vancouver, Calgary, Edmonton, Winnipeg and Toronto, are now considering moving to a small town or smaller city like Kelowna, Kamloops, Red Deer, Lethbridge, and London.
In addition to changed working situations, the pandemic has also affected the income of many Canadians, and made a lot of us re-evaluate what we want "home" to look like.
As such, moving to a small town or smaller city is attractive to some for a few reasons such as:
Lower cost of living
Less expensive child care
Less traffic
Shorter commutes
Larger homes and yards for less money
Slower pace and quieter surroundings
We've helped thousands of Canadians move over the years, so we're experts when it comes to long distance moving, and recently we released a report with the findings of a national long distance moving survey we conducted to learn more about the health of the long haul moving industry in Canada. You can see the full report from that survey here.
More specifically, we've completed hundreds of moves from larger cities to smaller centres. Check out the graph below as an example of the number of moves we've done for customers moving from cities the Lower Mainland like Vancouver, Port Coquitlam and Langley, to smaller cities in the Interior of BC, in just the past 2 years:
Number of BigSteelBox Moves from the Lower Mainland to Interior BC
March 2018-April 2020
If the benefits of moving to a small town or city listed above sound appealing to you, here are 6 tips to help make the process easier for you:
1) If you're moving without a job, research employment opportunities.
For some people who were forced to transition to working from home because of the pandemic, using a home office may be a situation that carries on for several months, years, or indefinitely. For those who find themselves in a more flexible working environment, moving to a small town or city to take advantage of many of the benefits listed above is an easier decision.
However, if you'll be making the decision to move away from a big city without secure employment, be sure to research possible career opportunities in your new town or city. Depending on your area of expertise, smaller centres usually have fewer job options to choose from, so be sure to look at online employment resources like Indeed, Workopolis, or LinkedIn before you take the leap.
2) Investigate real estate pricing and options.
The cost of real estate is typically lower in towns and small cities, which can make a big difference to your income and even change your lifestyle. But, before you make the decision to move to a smaller town, be sure to look into the housing market there. Whether you plan to buy or rent, do your research on its neighbourhoods to find the one that might work best for you.
If you're looking to buy a home in your new city, here are a few examples of the price differences for an average home in large and small cities according to the Canadian Real Estate Association and based on data from the Multiple Listing Service Systems (MLS®):
Average Home Purchase Price in 2020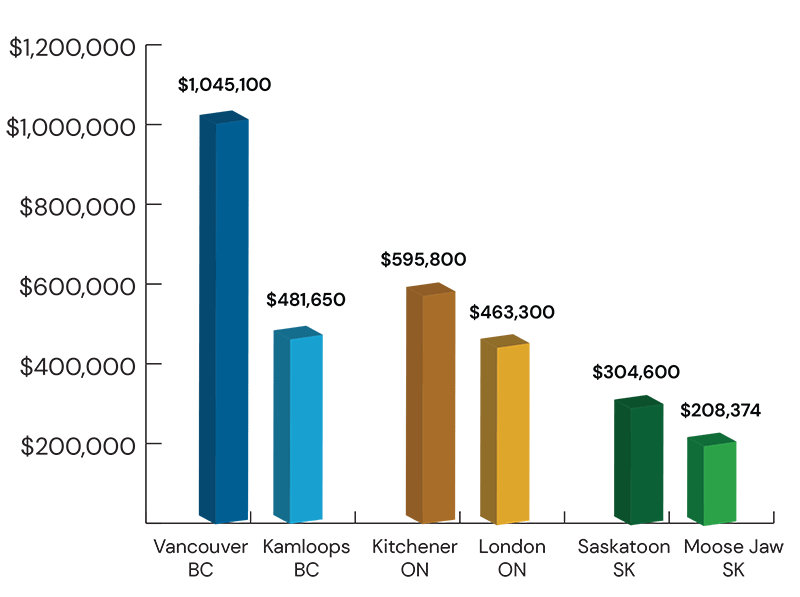 If you're planning to rent in your new city, chances are good you'll still save money each month. Here are a few examples of the approximate average monthly rental rates for a 2-bedroom unit based on national rent reports conducted by Rentals.ca and PadMapper for 2020.
Average Rental Price for 2-bedroom Units in 2020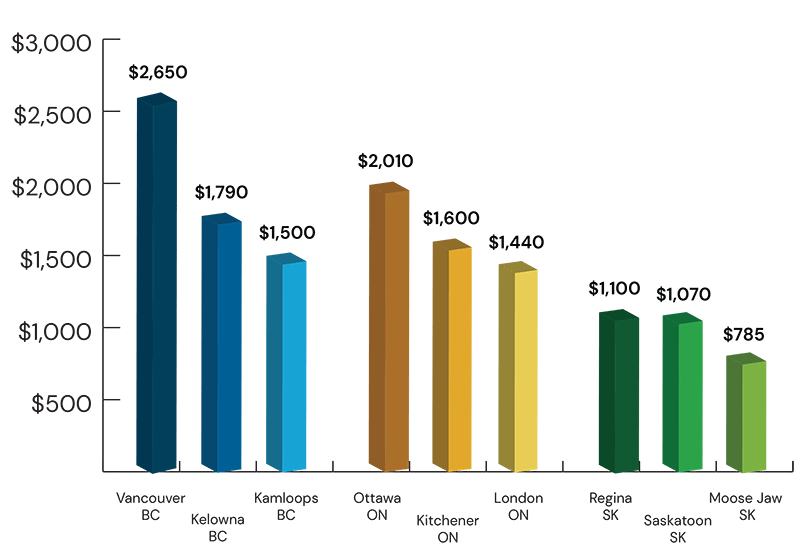 Obviously, pricing gaps fluctuate from province to province, but by moving to a small town or city from a larger centre, you'll likely find less expensive housing options. And remember, if you need to store some of your things in between homes, we can help by providing secure storage at one of our locations.
3) Consider the cost and availability of child care.
If you'll need child care in your new town or city, that's something you should research in advance as well. Of course costs will differ based on your needs (full-time or part-time and the age of your child/children), but according to research done by Statistics Canada in 2018, these are some examples of the average monthly cost of full-time child care in various cities :
Average Child Care Costs in Canada for 2018
So, while child care is typically a little less expensive in smaller cities compared to larger ones, the other factor to consider is availability and options. Small towns and cities may have fewer child care providers than larger cities, so it's important to understand the situation you'll find in your new location.
4) Consider your new transportation needs.
Do you own a car? Getting around a big city like Vancouver or Calgary with their reliable and affordable public transit means it's pretty easy to live without a car – or only one! However, that may not be the case in some smaller centres.
Most towns and smaller cities have less robust public transportation options compared to what you might be used to in a larger city. So, once you know what you'll be doing for work, where you'll be living in relation to services like grocery stores and restaurants, and where your kids will go to school (if that applies to you), you may need to buy a car in order to be comfortable with your daily activities, which is a cost you'll need to take into account when making your decision to move.
5) Prepare for a slower pace and quieter surroundings, but consider your social options.
The pace of everyday life is probably one of the most obvious differences between living in a small town vs a large city. Fewer people means less traffic, less noise, and an overall slower pace.
Some people thrive on being close to restaurants, pubs, live music, theatres, etc. However, the draw back of having so many entertainment options nearby means more crowds, noisier streets and a lot more time in traffic.
If you're looking for a slower pace then moving to a small town or city would be a good move for you. And, keep in mind that the size of town or city you choose can mean a different lifestyle. While small towns may have limited options for certain types of amenities, many smaller cities like Kelowna, Regina, Saskatoon, and London, still have several great restaurants and entertainment options available, so there is likely a city that could give you the best of both worlds.
6) Choose a moving company that will work for your needs.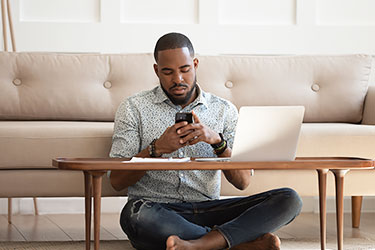 If, after considering all of the pros and cons, you still think moving to a small town or city is the best decision for you, we'd love to help you get there! BigSteelBox has more locations across Canada than any other mobile storage company so there's a very good chance we can help with your long distance moving needs.
As long as your current and new homes have space for us to deliver a moving container (at least 70′ of space in a straight line) and a spot to leave it while it's being loaded, we're a great moving option. Smaller towns and cities are usually very easy for us to service because more houses have driveways or space on the streets in front to place a BigSteelBox.
Note: If your current home is in a larger city or you live in an apartment or townhome community and you don't have space to place a BigSteelBox, we can usually offer you the option to load a container at our yard. Ask your Storage Consultant about this for more details.
Many customers choose to use a moving container when moving to a small town or city because it's less expensive than hiring full service movers and it's less stressful than renting a truck because it allows you to take your time and move at your pace. Plus, storage is built into our moving service, which is very helpful if your new home in your new city isn't ready right away. If you're not sure which moving service is best for you, check out this comparison of moving options.
We're here to make moving and storage feel better for you! Contact us today to learn more and get a quote at 1-800-373-1187 or request your free quote online now.