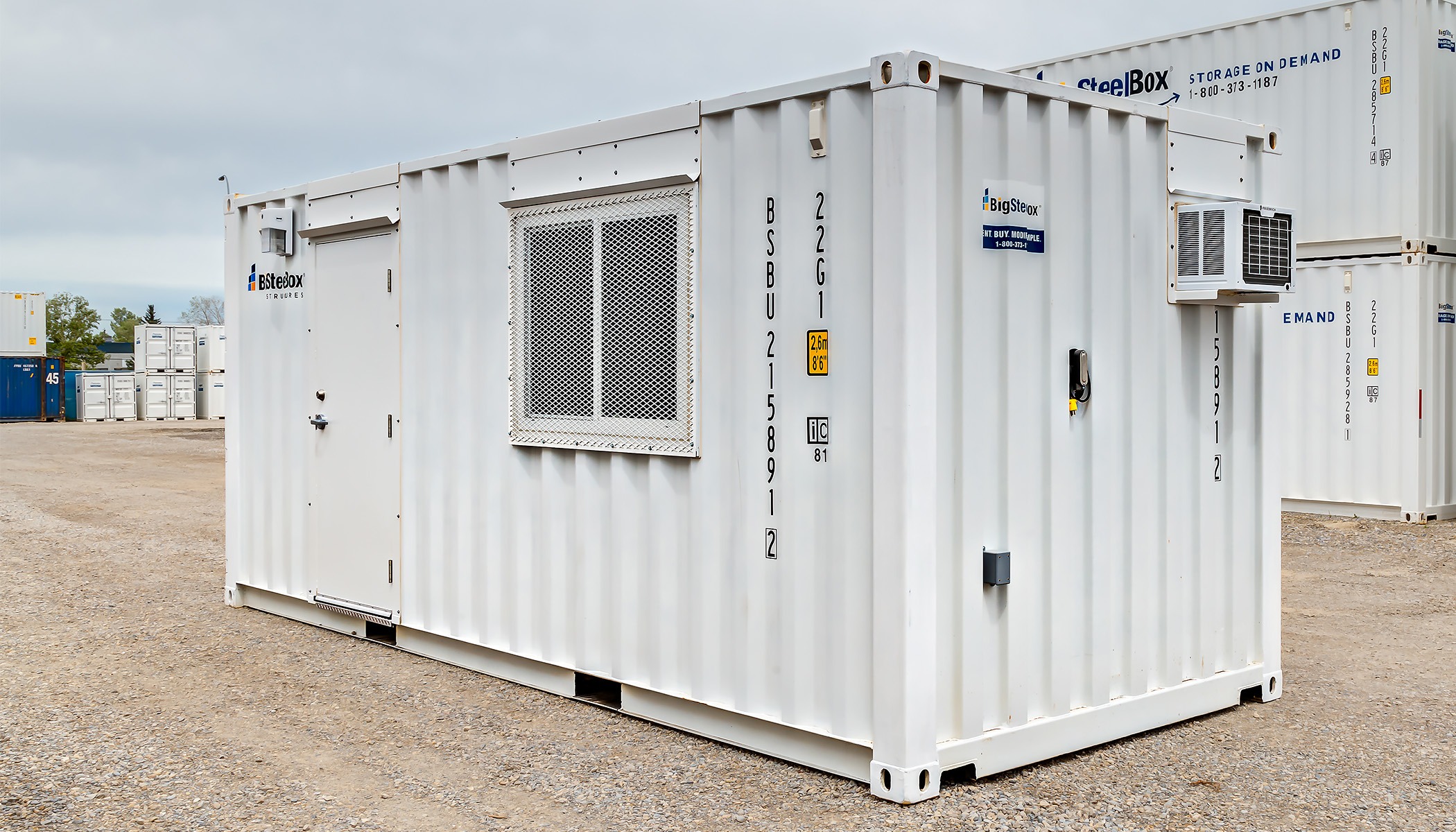 A Guide To Shipping Container Workshops
With building material and labour costs skyrocketing across Canada over the last couple of years due to challenges in the shipping and transport industries that have resulted in limited supply and higher than usual demand, many are looking for alternative options when it comes to construction. In addition, the price of property has gone up in most provinces, so many are looking for other options when it comes to the size and type for structures they need and can afford.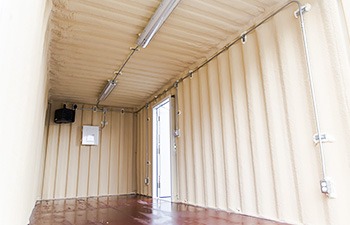 In the search for cheaper ways to create extra space (for work, storage and even home), modifying shipping containers has become more popular than ever. While shipping containers are used mainly for portable storage, long distance moves and transporting goods, they are actually much more versatile and can become anything from an office to a tiny home.
Because shipping containers are so structurally strong and secure, and thanks to their unique industrial look, people are converting them into all sorts of useful spaces, including workshops either to make space in their garage, or to use as a dedicated area to hone their craft.
Benefits of a Shipping Container Workshop
A shipping container workshop has numerous benefits and can be a great solution if you need a dedicated workspace. Here are just a few reasons why modifying a shipping container for your workshop is a great option:
Superior Security
Shipping containers are built to stand up to the harshest weather conditions and to protect their contents from the elements, specifically during transport on land and sea. Containers are built tough and can withstand strong winds, rain and snow, and even major temperature fluctuations.
This same security translates to a modified shipping container. Anything that's inside will be safe from the elements if it's constructed properly.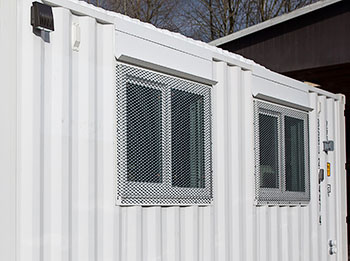 When BigSteelBox modifies a shipping container for a workspace that has windows and doors, it will come with a locking passage set and even a man door lockbox to keep your belongings safe. Plus, you won't have to worry about compromising its security by adding windows because we offer the option of adding a Vandalism Guard, which is an added steel mesh that prevents the window from being broken from the outside.
Inexpensive
Using a shipping container as your workshop is much more cost effective than traditional construction, or renting a workspace. The cost to modify an 8'x20' (160 square feet) shipping container (including the purchase of the container) can realistically cost anywhere from $15,000-$25,000 (which is about $93-$156/sq ft), depending on a few factors such as the size of container, whether a container is new or used, and the number or type of modifications you require.
According to RenoAssisntance, the average cost to build a basic 12'x20′ (240 sq ft) wood-frame single-car garage in 2022, including materials and labour in Toronto, will cost from $56,000-$68,500 (which is $233-$283/sq ft).
In Calgary, AB, Smart Reno says a 12'x20' single-car garage costs on average between $45,000-$70,000 ($187-$291/sq ft).
Obviously, costs will vary from city to city, and this estimate is for a larger wood frame structure, but the difference in cost per square foot is quite significant.
If you're just looking for a basic storage or garden shed that won't house expensive tools or equipment, you can purchase ready-built sheds of a similar size to the examples above from a number of big box stores, like Home Depot or Rona in the $2,000-$7,000 price range. These types of sheds will be constructed from high density polyethylene (HDPE) panels or plastic, or from wood, such as cedar, and will not be insulated or come with the electrical options built in. So while they are a much cheaper option, they will be less secure, versatile and durable than a modified container or wood frame structure.
Portable
Another benefit to modifying a shipping container for a workshop is that it's easily portable should you ever want to relocate it on your current property, or move it to a new location.
As we mentioned earlier, shipping containers are built to be transported by land on trucks and trains, and on cargo ships by sea. They're made from 8-gauge corten corrugated steel, with thick, steel posts on all 4 corners, and heavy duty rubber gaskets on both sides of the doors to create a tight seal and prevent leaking. This superior construction means that they won't bend or shift under the weight of their contents, or while being lifted by a forklift or crane to be transported, regardless of how often they are moved.
Durable & Low Maintenance
Shipping container workshops require very little maintenance because they're made from steel. They are already built to withstand the elements, you can also add security measures to your container to make it harder to tamper with and prevent break-ins. And of course, their construction also makes them extremely durable because they're designed to withstand significant wear and tear.
"Shipping containers have an average lifespan of 25 years thanks to a design that ensures their durability when traveling by sea. After manufacturers modify cargo containers and transform them into container-based structures, the container's longevity remains." Falcon Structures
So, while you can modify a used shipping container into a workspace and have it last well past its 25-year lifespan, building a structure from a new container, keeping it rust-free and maintaining its integrity will ensure that it lasts much longer than the usual 25-years of ocean transport.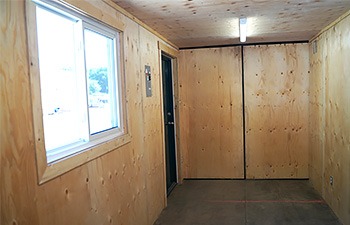 Shipping container workshops can also be durable and low maintenance on the interior. For the interior of the container workshops, we recommend including the following options:
An Electrical Package (heat, lights and cooling)
Vents and an Exhaust Fan (requires electricity)
Spray Foam Insulation
The plywood wall package is great for workshops because plywood is durable and has a great strength to weight ratio. This makes it ideal for mounting things to the walls, like shelves and hooks for tools.
Adding vents and an exhaust fan is a great way to promote air flow, and prevent condensation from occurring on the inside of your container which will further protect your space.
A complete electrical package from BigSteelBox is one that includes heat, lights and cooling add-ons, however, you can also choose to add lights only or just lights and heat. Your full electrical package will come with an electrical panel, lights, plug-ins, a 6,000 BTU air conditioning unit and a ceiling mounted forced air heater that doesn't get in the way of wall space. With any of our heating and cooling electrical options, we recommend adding spray foam insulation as well. These options will provide you with workability in your container and basic comforts for all-season use.
Versatile
Shipping container workshops can be used for a variety of purposes – the sky's the limit really! It makes great storage for your lawn equipment or tools of course, but it can do those things AND be an actual workspace. You can design it to make the most of your square footage and even add built-in furniture.
Converting a Shipping Container into a Workshop
First you'll need to find the right container.
You can make modifications to both new and used containers, which come in multiple sizes, but the most common sizes used for a container workshop is a 20' or 40' shipping container.
If you want your container workshop to be aesthetically pleasing, you'll probably want to purchase a new container. However, if you're ok with your workshop have a few dents and imperfections here and there, a used container will work for you (plus, it will save you money!). Check out these tips for buying a new or used shipping container.
Then you'll need to customize your container to meet your needs in a workshop.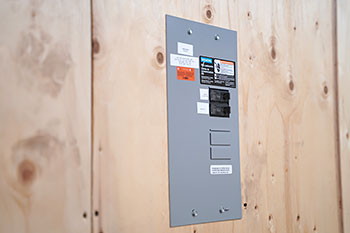 In order to convert a shipping container into a workshop that will meet your needs, you will need to decide what you want your container to do for you. Here are a few questions to help guide your decision:
Will you be working in it year-round? (If yes, then consider adding insulation and a heating/cooling package)
Will you need a workbench, shelves, or racking to hang tools, etc.?
Will you need electrical outlets for power tools?
Will you need enhanced ventilation? (If you'll be painting or working with chemicals in your container workshop, this is highly recommended for your health and safety).
Once you know the answers to these questions, you can work with a container modifications expert to choose the add-on packages you'll need and create the container workshop of your dreams.