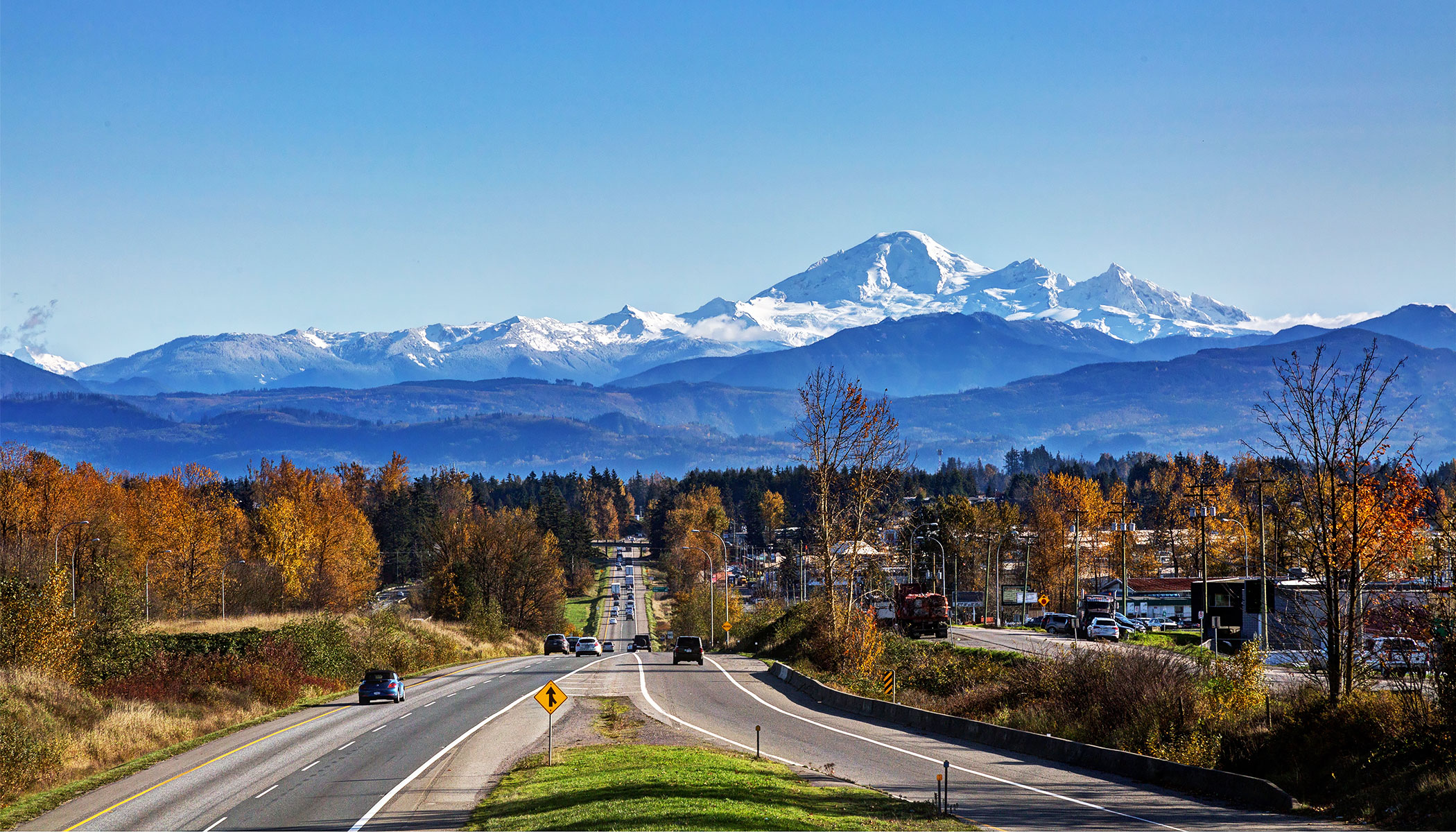 6 Things to Know Before Moving to Abbotsford, BC
Nestled in the Fraser Valley between the Coast Mountains to the north and the Cascades to the southeast, Abbotsford is the largest municipality in BC outside of Greater Vancouver. Abbotsford and the surrounding area are attractive options for people who are looking for an affordable alternative to Vancouver and for a number of other reasons as well (read on to learn more about that!).
If you'll be moving to Abbotsford, BC, from a different province, be sure to check out this post: Moving to a New Province? Here's What You Need to Know.
Here are 6 common questions and answers to the things you'll want to know before moving to Abbotsford:
1) What is Abbotsford Known For?
One thing you'll never get tired of are the amazing views of Mt. Baker (pictured above), which is actually located in Washington State, USA, but visible from Abbotsford. Presiding over the valley, Mt. Baker is a constant reminder of how close Abbotsford is to some awesome outdoor adventures.
Did you know that Abbotsford is geographically the largest municipality in BC, and about 70% of it is designated Agricultural Land Reserve (ALR)? It's also home to over 1,300 farms! This means that fresh food options are everywhere, from fruits and vegetables, to meat and dairy products.
It's also known to host some great events. While many local events had to be cancelled in 2020 due to the pandemic, there are often amazing food festivals held in the area, such as Taste of Abby and Food Truck Festivals, as well as the famous Abbotsford International Airshow, which usually happens in August.
2) Transportation Options and Commuting: Are Things Easy to Access in Abbotsford?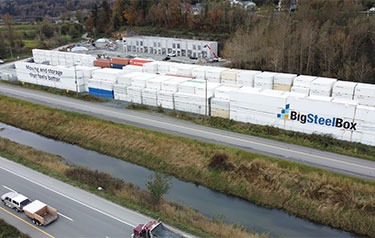 Many people who move to Abbotsford are leaving Vancouver or some other area in the Lower Mainland. The high real estate prices in Vancouver, and comparatively low prices in Abbotsford, make it a desirable destination for young families and retirees.
For those moving from larger centres in the lower mainland, it doesn't mean you have to completely leave the big city behind. Downtown Vancouver is still only an hour's drive away (non-rush hour) and it can also be reached by public transit or a combination of car and train.
If you're still planning on commuting to the city for work, you probably already know that it will be a grind to drive to work each day. One alternative would be to drive to Mission (about 15 minutes from downtown Abbotsford), and take the West Coast Express, which runs every weekday morning and evening.
While there are no documented plans to extend commuter rail systems out to Abbotsford and other parts of the Fraser Valley, this is part of the BC Ministry of Transportation's long term plan. While it may not help your commute in the short term, this type of investment in the region bodes well for long term property values and quality of life.
In addition to access to Vancouver and the Lower Mainland, Abbotsford also boasts an International Airport that offers flight options to many North American and International destinations.
As for Abbotsford itself, the city is pretty spread out, so owning a car will certainly make getting around easier. Once you're on the road, you can easily escape to the Interior of BC, and you're only a few minutes from the Sumas border crossing into the USA.
3) Is Abbotsford an Affordable Place to Live?
Abbotsford does offer more affordable real estate compared to Vancouver, which makes it a very attractive destination for people leaving Vancouver. If you have been in the market in Vancouver for a reasonable amount of time, you should be able to afford to buy in Abbotsford.
Depending on your financial situation (i.e. whether you already own a home in Vancouver or have been renting and able to save some money for a down payment), moving to Abbotsford could allow you to upgrade your home, and still put some money in your pocket. (You probably already know that though!)
The average price of a detached home in Abbotsford is currently in the low $900,000s, while a townhome generally costs between $500,000 and $600,000. Prices to buy a condo or apartment in Abbotsford average in the $300,000s.
While these prices may not seem so affordable if you're moving from other parts of the province or from somewhere else in Canada, they look like a bargain compared to Vancouver.
Average Housing Price by Home Type
Vancouver vs. Abbotsford – November 2020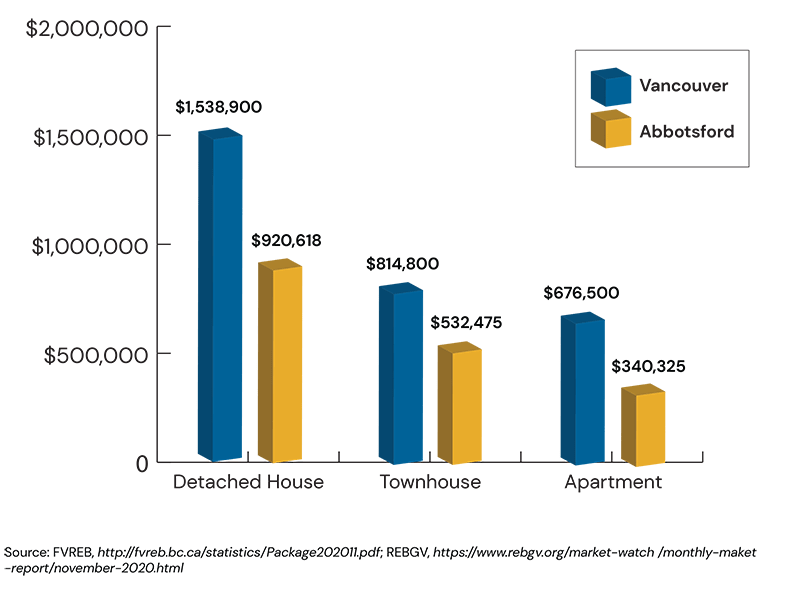 4) Should I Rent a Home in Abbotsford?
If you're planning on renting, you should be aware that vacancy rates in the Abbotsford-Mission area have hovered around 1% over the past 10 years. It may be a challenge for you to find a suitable rental, but renting does provide you with more flexibility if you have any uncertainties about whether or not the move will be right for you on a long-term basis.
Rental rates have also increased considerably over the past couple of years (since 2019), especially for 1 and 2-bedroom homes. According to PadMapper the average rate for a 1-bedroom apartment is now $1,260/mo, with a 2-bedroom coming in at $1,480/mo. These rates rank Abbotsford as the 15th most expensive rental market in Canada.
The good news is that Abbotsford is still far more affordable than Vancouver, where a 1-bedroom would set you back $1,950/mo or a 2-bedroom would be $2,680/mo!
5) Is Abbotsford a Good Place for Young Families?
This probably sounds obvious, but most young families are looking for a safe community and neighbourhood where they can raise their children and create some meaningful connections with other families. So, we'd say 'Yes' to this question as well because Abbotsford offers many great communities and neighbourhoods where young families can find exactly what they're looking for.
From relatively new master planned communities like Augustan, where you can find a variety of housing styles and a real sense of community, to rural properties with more space for a growing family, you'll likely be able to find a home that meets your desires.
Proximity to good schools is usually one of the top requirements for any young family as well. Like most areas in the Fraser Valley and Lower Mainland, the schools in the Abbotsford School District provide excellent educational opportunities.
For many young families, looking at school rankings can really influence their decisions on where they want to live, but they should be taken with a grain of salt. There is usually a strong correlation between household income and other demographics of the catchment area and the ranking of the local school. This doesn't mean your children can't get a good education at a school that doesn't rank in the top 5!
Regardless, the Auguston Traditional Elementary school typically receives high rankings in the Abbotsford School District, which is another reason why the Auguston community is such a draw for young families.
In addition to good schools and safe communities, Abbotsford also offers many great recreation, arts and cultural opportunities that would be attractive to young families and anyone else (see more details on this below).
6) What types of Outdoor Recreational Options Does Abbotsford Offer?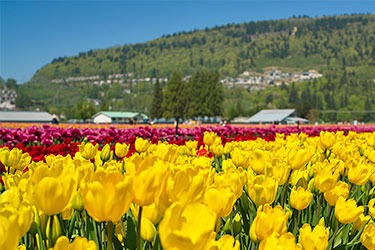 Whether you're looking for outdoor adventures, family fun activities or organized sports for your aspiring athletes, Abbotsford and the surrounding area has pretty much everything you could ask for.
You may never get tired of looking at Mt. Baker from the Valley, but it also offers some of the Cascade's best skiing. When we're able to cross the border again, the Mt. Baker ski area is only a 1 hour and 20-minute drive from Abbotsford (border crossing time excluded).
If you don't want to cross the border, Manning Park is only 1 hour and 30-minute drive east along Highway 3. Manning Park also has nordic skiing and snowshoeing trails in the winter, and great hiking and biking in the summer.
At both Mt. Baker and Manning Park, you'll find a much more affordable and laid back experience compared to the hustle and bustle of Whistler.
If skiing isn't your thing, no worries! There also are many beautiful lakes and rivers within a short drive (or walk in some cases), so if you're into fishing, camping, hiking or water sports, there's no shortage of adventures nearby when you live in Abbotsford.
If you're looking for larger lakes for boating, both Harrison Lake and Alouette Lake are about an hour's drive in opposite directions. Cultus Lake is a closer, but busier option.
Did we mention the hiking? Whether you want to take a day long trek in the Cascade or Coast Mountains, or a short nature walk close to home, you'll find plenty of options in the surrounding area. Visit Tourism Abbotsford to find some of the best walking trails and hikes the area has to offer.
If organized sports and indoor recreation are more up your alley, Abbotsford offers everything you would expect from a city of its size. Highlighted by the Abbotsford Recreation Center, the city boasts a number of facilities suitable for a variety of activities.
Well, that wraps our list of top things to know before moving to Abbotsford! If you're planning a move to the area or anywhere else in BC, we can help! With locations across Canada (including one in Abbotsford) we can provide reliable and affordable moving and storage services. Contact us today for your free moving quote at 1-800-373-1187 or request your quote online.