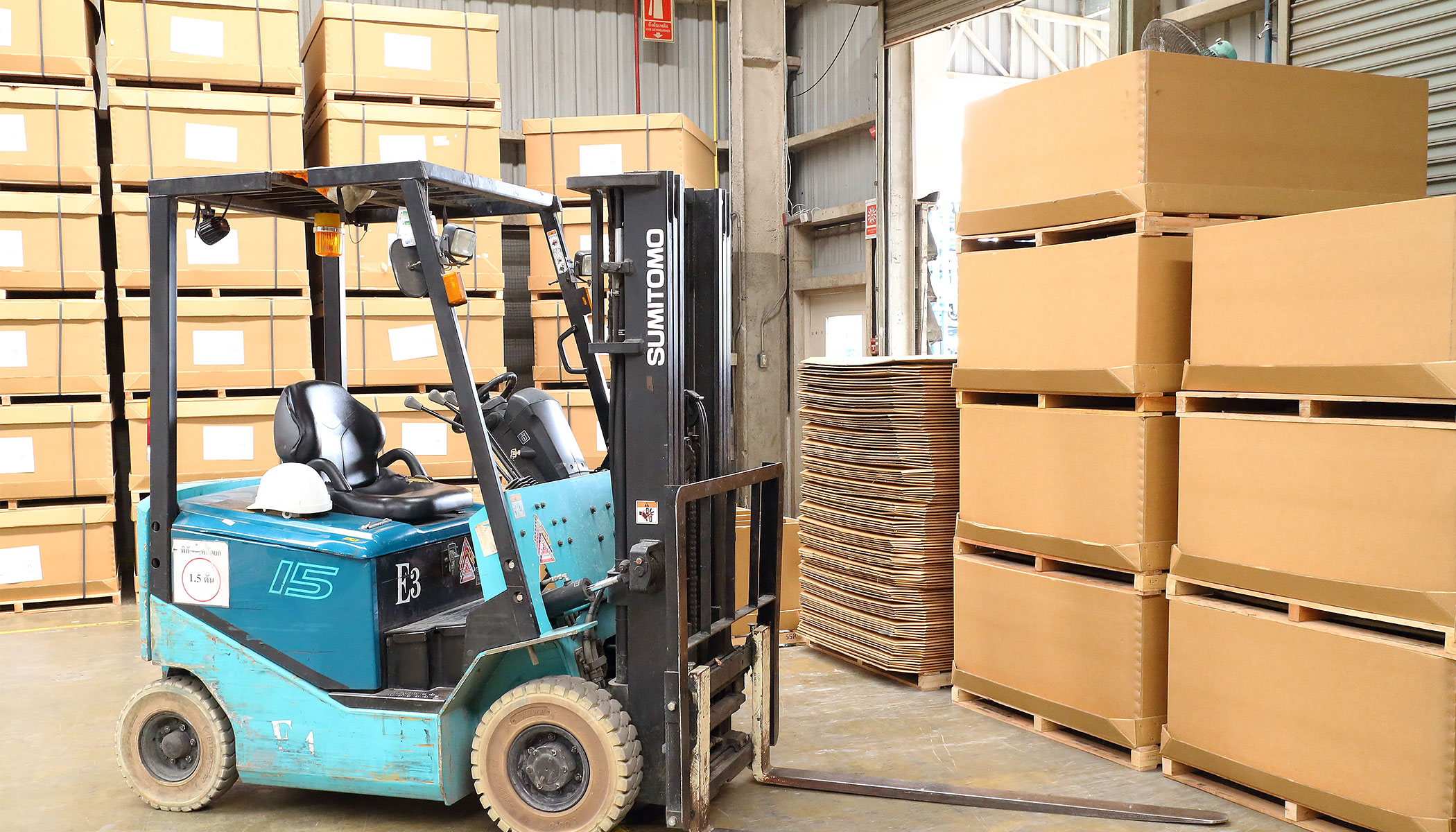 4 Reasons Portable Storage Containers are Better than Renting Warehouse Space
Post updated October 26, 2022
Finding storage that works for your business comes down to managing space, time and costs. Many businesses assume renting warehouse storage space is their only option, however, renting one or more shipping containers can be a much more affordable, flexible, and efficient option.
During the pandemic, many businesses experienced supply chain issues. Shipping lines slowed significantly and orders of all kinds were backlogged for several months, or even longer. With supply chain operations starting to return to normal, many businesses have started to receive an influx of stock and inventory they don't have room or an immediate need for, such as seasonal items like tires, bicycles and furniture. This means they will need secure temporary storage, and renting storage containers can be a great solution.
Managing cash flow is another a big concern for any business, but it's even more important for small businesses and startups. This is magnified even further if your business goes through seasonal cycles. If this is the case for your business, then having reliable storage will become increasingly important as your business grows.
Shipping Container Storage vs Renting Warehouse Space: What's best for Your Business?
Here are the top 4 reasons portable storage containers are a better solution compared to renting or leasing warehousing space:
Affordability: Portable storage containers are cheaper and more cost-effective.
Flexibility: Easily transport, change sizes, or add additional storage units when needed.
Security: Shipping containers are an extremely secure form of storage.
Efficiency & Convenience: Get storage where you need it. Don't waste time transporting items, unloading and reloading at a warehouse.

1) Affordability: Save Money When Renting Business Storage Space

Plain and simple, renting a portable storage unit, like a BigSteelBox, is cheaper than renting or leasing warehouse storage space. Obviously every business has different needs and requirements, but if you're simply comparing cost per square foot, renting a shipping container is far more affordable.

How exactly does the cost of renting a container compare to renting warehouse space? Read on…

Many warehouses will charge based on a Triple Net Lease (Triple-Net or NNN), which is a lease agreement on a property where the tenant or lessee agrees to pay all real estate taxes, building insurance, and maintenance (the three "nets") on the property in addition to any normal fees that are expected under the agreement (rent, utilities, etc.).

For example, in cities across Canada, including Calgary, Edmonton, Saskatoon and Winnipeg, space in large warehouses rents for $8-$10 per square foot (sq/ft) per month. Plus, some warehouses charge operating costs (property fees/taxes, utilities, etc.) on top of that, which can cost you an additional $4-$5 per sq/ft per month. So, for 20′ x 8′ (160 sq/ft) of warehouse space, you'll likely be paying between $1,200 – $2,400 per month!

If you're looking to rent space from a smaller warehouse, chances are the costs will be even higher than those mentioned above.

Compare that to the monthly cost of renting a BigSteelBox storage unit, which in most cities is $159/month for a 20′ container (160 sq/ft). That's only about $1 per sq/ft each month to rent your storage container if you keep it on your property!

NOTE: If you choose to keep your loaded BigSteelBox at our secure location, you have a couple options for loading your storage container. Let us break that down for you*:

Option 1: Load at Our Site
You can bring your items to our yard and load a BigSteelBox on site. This will save you the transport costs, but for most businesses, this is not as convenient as having a BigSteelBox delivered.

In this scenario your first invoice will include: The first month's rent of a BigSteelBox ($159 + taxes for a 20′ container) and an onsite storage fee of $29-$59/month (varies by location) + taxes = $1.25 per sq/ft.

Option 2: We Deliver a Container to Load at Your Site
We bring a BigSteelBox to you so you can load at your pace. When you're ready, give us a call and we'll pick up your container and move it back to our secure location.

In this scenario your first invoice will include: The first month's rent of a BigSteelBox, the cost of delivery and the transport back to our location (Delivery fees range from $100 – $175 each way depending on your city) and the onsite storage fee of $29-$59/month at most locations.

Breakdown of 20′ Portable Storage Container Rental Costs:
Delivery of a 20′ BigSteelBox + 1 Loaded Move + 1 Month's Rent + On-Site Storage Fee + taxes = $3 per sq/ft just the first month.

Each month after will be: Monthly Rent ($159) + taxes + On Site Storage Fee = $1.25 per sq/ft.

In short, renting a BigSteelBox instead of paying for warehouse space is going to free up a lot of money in your monthly cash flow and bring down your overall monthly operating costs.

2) Flexibility: Storage that Grows with Your Business

The beauty of portable storage is that it moves where you need it, and it's easy to change if you need more or less storage. Look at a BigSteelBox as your own personal mini warehouse. Don't fuss with renting hundreds of square feet if you don't require it. Just rent what you need, when you need it, to manage your inventory.

Even compared to renting a storage locker or mini storage, a portable container is much more convenient because it comes to you. There's no need to load your items into a truck, drive them to the storage facility, and then unload them – just to go through that process all over again when you need to access those items!

With BigSteelBox, we'll deliver a storage container to your location for you to load. You can either keep it on your property or move it back to one of our secure storage yards. If you need to access your storage unit at one of our locations, just give us 24 business hours' notice before you plan to arrive, and we'll have your BigSteelBox placed in our customer access area*.

We know that storage needs change over time. If you find that you need more or less storage space, you can easily change the size of the BigSteelBox(es) you're renting – you can choose from 40′, 20′, 10′ or 8′ units. It's also easy to get additional containers delivered at any time. We have a vast inventory of shipping containers at our locations across Canada, so we can get the container you need quickly.

3) Security: Safety Features of a BigSteelBox

BigSteelBoxes are actually shipping containers, so they're made from 8-gauge corten steel and built to stand up to the harshest elements. They are weather and rodent-proof, so your things will stay safe and dry inside all year around.

As an added level of security, all our rental containers come equipped with a steel Lock Box that protects your padlock from bolt cutters. Plus, we offer affordable vandalism protection, which gives many businesses peace of mind from additional costs that may happen unexpectedly.

Learn more about the security features of a BigSteelBox.

4) Efficiency & Convenience: Portable Storage When and Where You Need It

It may be a cliche, but, "time is money"! Businesses can save a ton of time by choosing portable storage over renting warehouse space.

When you rent a BigSteelBox, the storage comes to you. And, it can be kept wherever you choose, whether that's right outside your business's location, or at one of our storage facilities. You could even have containers placed in strategic locations that provide easy access in more remote areas.

Don't waste time loading your items, transporting it all to a warehouse, and then unloading them, only to have to reload them again the next time you need them. Have your storage unit nearby so it's easy to load and access when you need to. And, if you ever need to move items or inventory to another city, we can help with that too.

We're here to make storage feel better for your business! Give us a call at 1-800-373-1187 or request your free quote online, and one of our knowledgeable Storage Consultants will be happy to help you.
*Please note that pricing is subject to change without notice and varies by location.