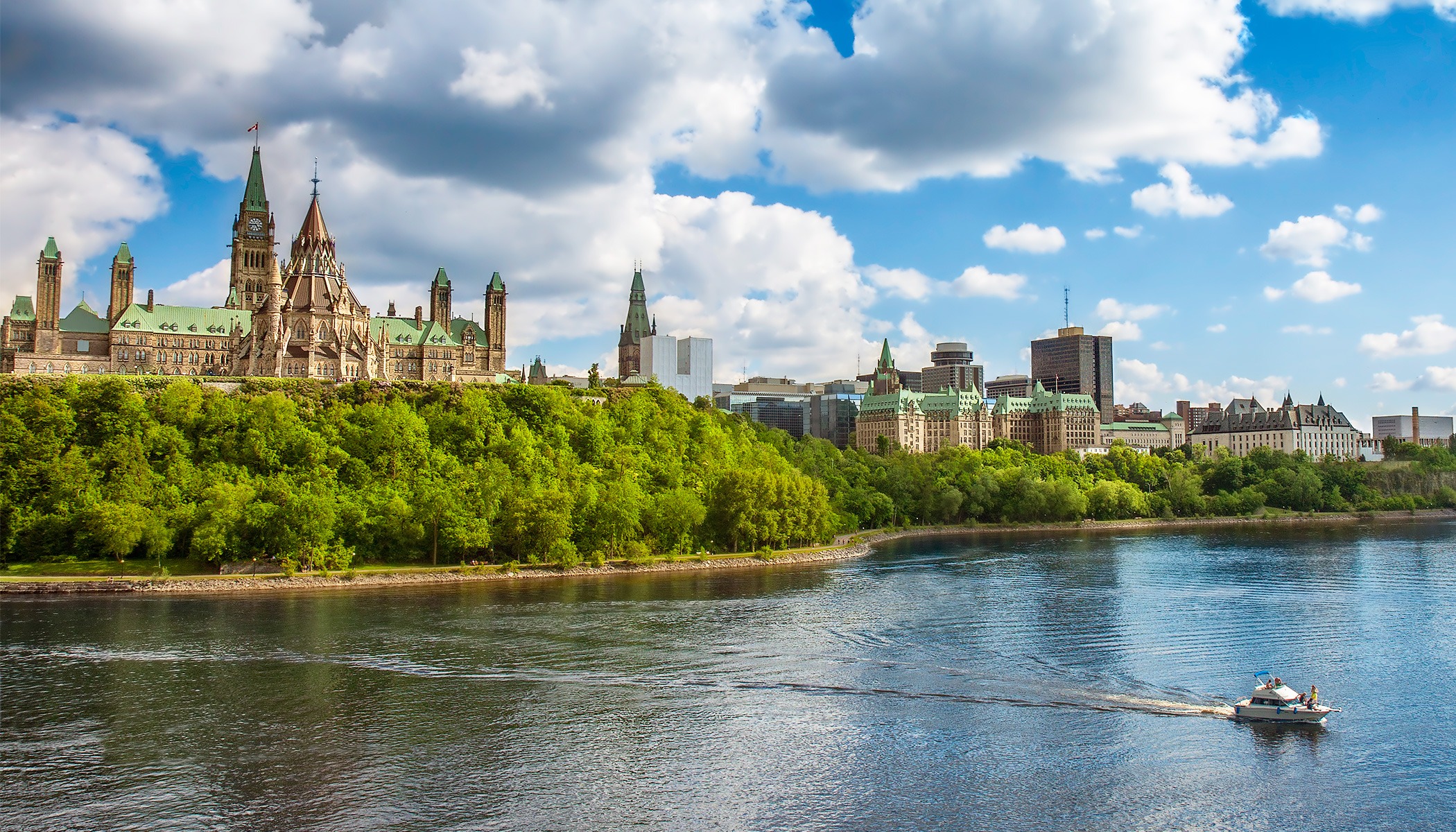 What You Need to Know Before Moving to Ottawa, Ontario
Located in southeastern Ontario, Ottawa is situated on the south bank of the Ottawa River across from Gatineau, Quebec. As the capital of Canada and the sixth largest city in the country, Ottawa offers many opportunities for its residents and plenty of things to do.
Ottawa is home to one of BigSteelBox's newer locations. Since opening in early 2020, we've been excited to be able to offer affordable and reliable moving and portable storage services to more cities in southern Ontario than ever before.
If you'll be moving to Ottawa from a different province, be sure to check out this post: Moving to a New Province? Here's What You Need to Know.
But, if you're still thinking about making the move to Ottawa, you may be wondering whether it's right for you. Here are 6 common questions people have about moving to our nation's capital:
1) What is Ottawa known for?
In 1857, Queen Victoria of Britain chose Ottawa to be the capital of Canada. Parliament Hill, known locally as "The Hill" lies on the southern bank of the Ottawa river in downtown and attracts over 3 million visitors each year. The National Capital Region actually includes the neighbouring city of Gatineau, Quebec, and with a short walk across a bridge, you'll actually find yourself in Quebec! As a result, bilingualism is a part of the city's culture and both English and French are widely spoken.
Ottawa has one of the youngest populations in the country with nearly half its people under the age of 35. It's also a melting pot of many cultures and its cuisine reflects this. You can find foods from around the world as well as a few Ottawa classics, including maple syrup and 'Beaver Tails', the city's national treat.
What's an edible Beaver Tail, you might ask? It's whole wheat dough stretched into the shape of a beaver's tail, and then deep fried. Once golden brown it's then brushed with hot butter and topped with cinnamon, sugar and almost any other sweet, delicious topping you can dream up.
Ottawa is also famous for having the world's largest outdoor ice-skating rink, Rideau Canal Skateway. In the winter, people can skate along the Rideau Canal, which spans 7.8 km from Ottawa's Parliament buildings to Carleton University. That's the equivalent of 90 Olympic ice hockey rinks! Along the canal you'll find numerous kiosks that sell snacks, beverages, and of course, Beaver Tails.
2) Is Ottawa a good place to live?
While the definition of "a good place to live" is different for everyone, living in Ottawa has a lot of advantages. A study by Canadian Business ranked Ottawa as Canada's best place to live. This ranking was based on income, car ownership, unemployment rate, housing, weather and lifestyle. It was also rated #19 in the world in The Telegraph's '20 Greatest Cities to Live In'.
As the nation's capital, there is a steady and stable amount of provincial and federal government employment. There is also a wide variety of other employment options and opportunities in industries such as restaurants, hotels and tourism, as well as manufacturing of many products from cars to everyday household items.
Ottawa has excellent medical facilities and world-class health care with four major hospitals in the city. Ottawa is home to a number of high-end research centres and operations by major international companies. It has a number of top-notch academic institutions including the University of Ottawa, Carleton University and Algonquin College.
The violent crime rate is the lowest in the country which makes it attractive to individuals and families alike. Plus, their public transit system is great, with a fifth of the population taking buses to work. It's also an affordable place to live when compared to many other large Canadian cities (more on that below!).
So, after taking all of these points into consideration, we think it's safe to say that Ottawa is a good place to live!
3) Is Ottawa an affordable place to live?
Buying a Home in Ottawa
Although housing costs have increased over the last year with people leaving bigger cities, overall, Ottawa still has a fairly low cost of living, especially when compared to Vancouver or Toronto. So, if you already own a home in a larger city and want to buy in Ottawa, you may be able to upgrade your home and still put some money in your pocket.
As of December 2023, the Canadian Real Estate Association listed the average price of a detached home in Ottawa was around $680,000. On average, townhomes cost about $556,000 and condos are $395,000, so most homebuyers are able to find something in their price range.
Renting a Home in Ottawa
If you're considering renting, vacancy rates in the city are around 1.8%, which is about the average in the province of Ontario. While rental rates have increased slightly over the past year, they've increased much less than the cost of buying a home. Renting also gives you more flexibility than buying if you aren't sure exactly where you want to live.
In 2023, the average monthly rent for a 1-bedroom apartment in Ottawa was about $1,892, a 2-bedroom was about $2,075, and a 3-bedroom apartment or condo was about $2,363. If you're looking to rent a house, you should be able to get a 3-bedroom home for about $3,000-$3,500/month. Of course this will depend on which area of the city you want to live, with the downtown core costing more than the outskirts of the city.
Home Services and Utilities in Ottawa
Whether you decide to rent or buy a home in Ottawa, several other costs must be taken into consideration, such as the cost of gas, electricity, TV and Internet services. Learn more about gas and electricity providers in Ottawa.
As for TV, Internet and home phone providers, another great thing about living in Ottawa is that there are a lot of resellers that provide services as good as the those offered by the bigger players (like Rogers, Bell, Telus and Shaw), but at a lower price, making it easy to find more alternative Internet providers in Ottawa and lower your costs.
4) Do I need to own a car in Ottawa?
Generally, it's fairly easy to get around in Ottawa. While there is a rush hour, it's nothing like what you'd experience in bigger cities like Toronto, Montreal or Vancouver, and outside of rush hour you can usually get from one end of the city to the other in 20-30 minutes by car.
The city has an award-winning public transit system that includes regular bus service, rapid transit buses and a light rail system (the O-train). This public transit will take you almost anywhere you need to go in the city, so many residents are able to get away without owning a car, especially those living in the downtown core.
Ottawa also has a new international airport, two train stations and a major bus terminal so getting in and out of the city is quite manageable.
Ottawa is a great city for biking and walking as there are many pedestrian and cycling paths within the city. You just might want to avoid cycling in the dead of winter as Ottawa can get pretty chilly and have a lot of snow for a few months of the year.
For times when a car is needed, Ottawa has a car sharing service called VRTUCAR. With this service you have access to hundreds of cars that you can rent by the minute, hour, day or even longer. So if you don't require a car everyday, but still like the flexibility a car provides, this service might be a good option for you. Although the downtown is pretty accessible with public transit, if you want to venture outside of the city or if you live in the suburbs then you'll probably want to own a car.
5) Is Ottawa a good place for families?
Ottawa ranked second in Reader's Digest's 2020 study of the best Canadian cities to raise a family. As we already mentioned, it has the lowest violent crime rate in the country. Ottawa also has one of the highest percentages of city parks to residents in Canada, with most neighbourhoods within walking distance of a park.
The city offers a wide variety of neighbourhood settings from downtown urban lifestyles, to well-planned family-style communities. Some of the highest ranked neighbourhoods for families include Orléans, The Glebe, and Kanata. The schools in the city provide a top-notch education with Ottawa students scoring higher on average in most areas of reading, writing, and mathematics.
There is no shortage of things for families to do here. From organized youth sports to arts and music, there is always something for the kids to be involved with. Ottawa has more space per person than other big Canadian cities like Toronto and Montreal, and is surrounded by farmland, rolling hills, and areas of natural wilderness so activities are always close by. All of these factors considered make Ottawa a great place to raise a family.
6) What is there to do in Ottawa?
Although Ottawa is a smaller and slower paced city than Toronto or Montreal, there's still plenty of fun things for everyone to do in Ottawa! It's an active city with tons of indoor and outdoor activities to choose from, regardless of age and season.
As we mentioned above, in winter, the Rideau Canal downtown becomes the largest skating rink in the world. Ottawa is loaded with festivals (35 major festivals to be exact) at all times of the year. The Canadian Tulip Festival that takes place every May is one of the most famous, as is the Ottawa Bluesfest, the Ottawa International Children's Festival, the Ottawa Dragon Boat Festival, the Canada Day Celebrations and Winterlude. Learn more about events in Ottawa.
Ottawa's famous ByWard Market, or "The Market" as the locals call it, is a great way to spend an afternoon. Located in the downtown district, this indoor and outdoor market is loaded with produce stands, specialty shops, cafes and restaurants and is open throughout the summer and winter.
If you're into more adventurous outdoor activities, the Gatineau Hills in Quebec are only a 10-minute drive away. Activities here include hiking, downhill and cross-country skiing, snowmobiling and snowshoeing.
Not only is Ottawa surrounded by water, but it's also in close proximity to over 900 lakes, so you'll have your choice of water activities. Everything from swimming and boating to rowing, kayaking and canoeing can be done here. Within 30-60 minutes in any direction, you can find a great selection of camping and cottage destinations and activities such as golf, fishing, hiking, biking and climbing are never far away.
Well, that wraps our list of top things to know about moving to Ottawa! If you're planning a move to the area, we can help! With locations across Canada (including one in Ottawa) we can provide reliable and affordable moving and storage services. Contact us today for your free moving quote at 1-800-373-1187 or request your quote online.