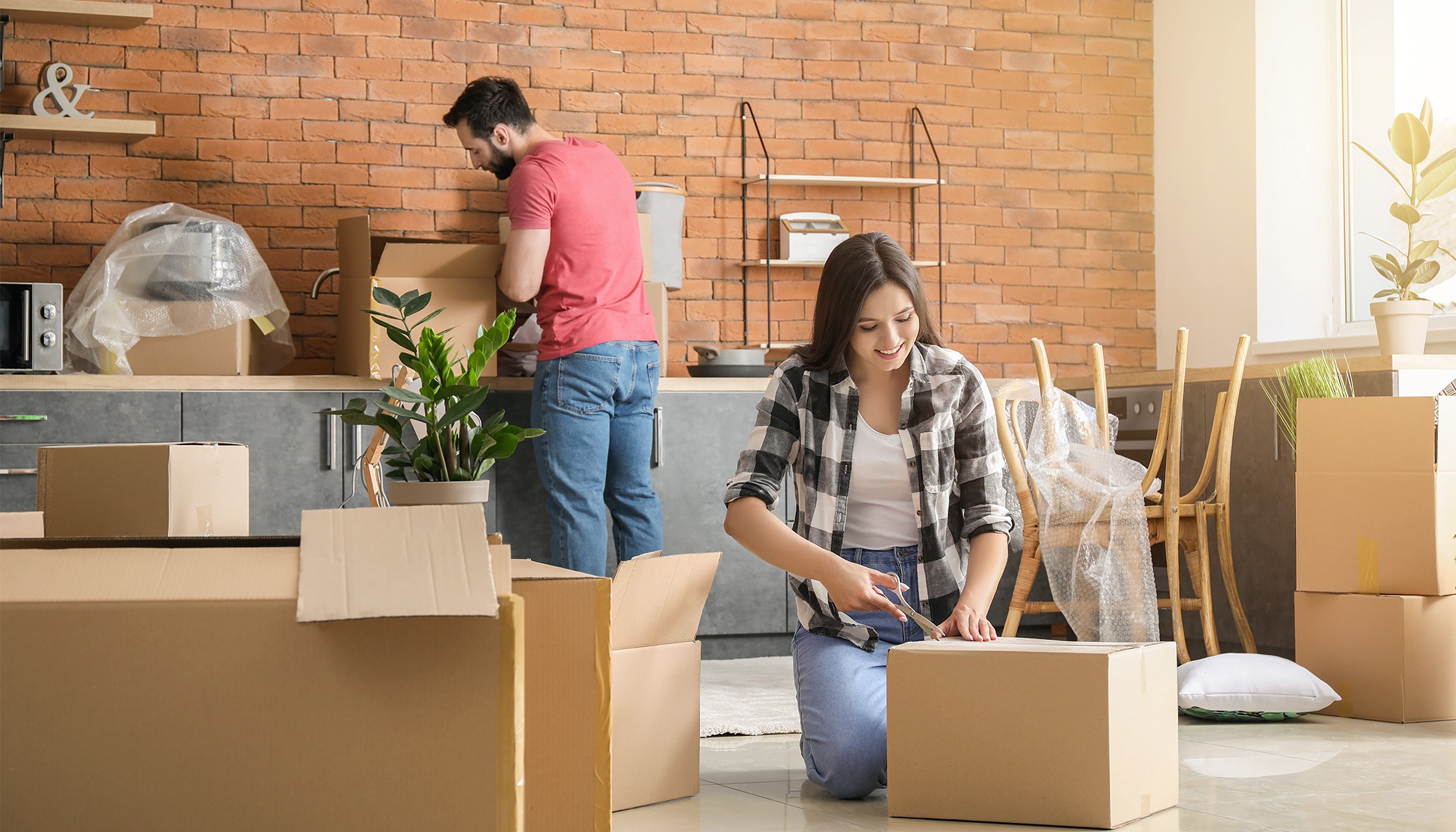 Things to Know Before Moving from the Country to the City 
Since the onset of the global pandemic that caused a major shift in how and where people work and live, there's been a lot of talk about the trend of people moving from big cities to small towns. This is definitely something we've noticed with our moving customers, but we've also seen a lot of the opposite trend with people moving to the city from more rural areas. So, if you're thinking about moving from the country to the city, read on for the pros and cons of that decision.
There are many reasons why you may be planning a move to a bigger city. Maybe it's for a new job. Perhaps you're starting your post secondary education at a university or college. Or, maybe you just wanted to be closer to family and friends. Whatever your reason might be, you'll need to prepare for a shift in your daily life in general, and take into account some more tangible changes as well.
If your move to a bigger city is in different province than your current home, be sure to check out his post: Moving to a New Province? Here's What You Need to Know.
Here are some things you should know and questions you should ask before moving to a large city:
Be prepared for a faster pace.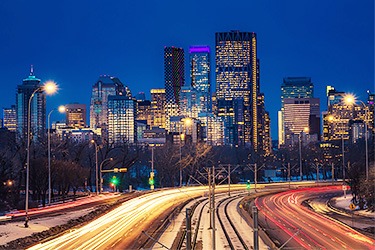 If you're moving from a small town or rural area, one of the biggest adjustments you'll have to make is getting used to the faster, more intense pace of daily life in a big city. In cities with large, dense populations like Vancouver, Toronto or Calgary, there are just more people moving around all the time.
Whether you'll mostly travel around your new city by car or public transportation, you can expect more traffic, crowds, and noise, which for some can be stressful. It's likely something you'll get used to over time, but the more you're prepared for it, the easier it will be for you to adjust.
Generally, it also takes more time to do your daily activities outside of the home. This will vary depending on where you live and work, but most people living in larger cities have longer commutes and will spend more time simply getting around the city.
What can you do to prepare for a faster pace?
If possible, it's a good idea to visit your new city (ideally, more than once!) to actually walk in your future shoes. If you'll be living in a downtown area, go there at different times of the day and week to get a sense of what you can expect.
Here are a few things you should try out before your move:
Test out the public transportation system.
Drive common routes during key times of the day.
Talk to locals and ask questions.
Locate amenities and services you'll need, i.e. grocery stores, doctor offices, banks, coffee shops.
Are there different safety concerns in your new city?
Safety is an important topic, and one that you should research. In larger cities, there's more likely to be issues with illegal drug use, homelessness, and crime – especially in the more dense areas, like the downtown core.
In some rural areas, people may not even lock the doors to their vehicles on a regular basis! So, you'll likely have to get into a new routine to avoid theft or damage to your things. It may even mean you'll need to purchase more robust locks or a security system.
The bottom line is that you'll need to take the steps to take care of yourself by doing your research to identify the safest areas for you to live, and make sure they'll work for work or school and your daily activities.
Be prepared for a higher cost of living and less space.
The cost of living is usually higher in big cities compared to small towns. Things like groceries and gas are typically more expensive, but real estate is probably the biggest difference you'll encounter.
Of course it will depend on whether you plan to live in the dense, downtown core of the city, or the suburbs, but regardless of location, the cost to buy or rent a home will be higher compared to a smaller centre. And, in addition to higher monthly costs, you'll probably also have to prepare for living in a smaller space.
Space is a luxury in big cities like Toronto and Vancouver, so chances are good that you'll be living in less square feet than you are now. So, be prepared to purge some of your items or even buy new items to fit in your new living space.
The alternative to selling or giving away a ton of your stuff is to plan for interim storage in your new city. If you pack a BigSteelBox portable storage container at your current home and have it moved to your new city, you can keep your loaded storage unit at one of our secure storage facilities. Then you can stop by your BigSteelBox store to take the things you need out of your container and leave the rest there until you need them again. You can store your a BigSteelBox one of our locations long-term, or at least take advantage of the option to give yourself some time to decide if you still need certain items or not.
Average Rental Price for 2-bedroom Units in 2020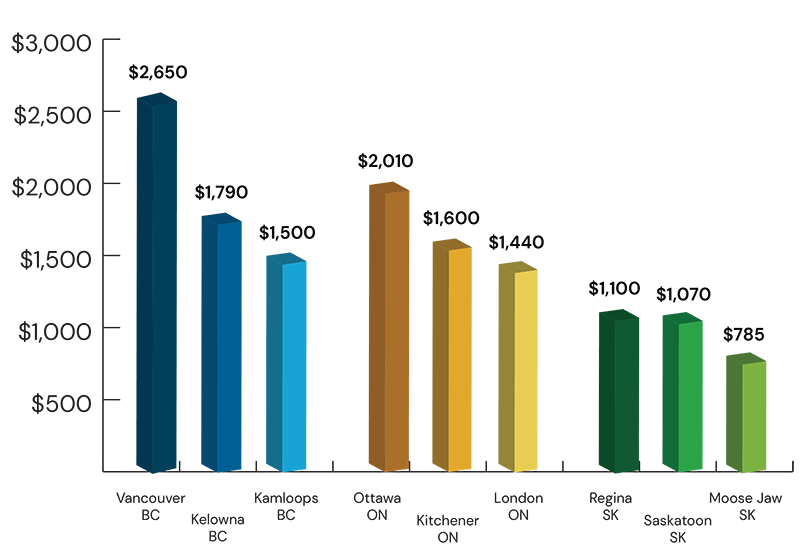 *Approximate average monthly rental rates for a 2-bedroom unit based on national rent reports conducted by Rentals.ca and PadMapper for 2020.
Take advantage of the benefits of living in a big city.
So far, we've highlighted some of the less desirable things you'll need to prepare for when moving from a small town to a big city, but it's not going to be all bad! Big cities offer a lot of opportunities and conveniences you won't find in rural areas.
Most large cities offer more ethnic diversity, which is great for learning about other cultures, meeting interesting people and experiencing new things, like new foods, activities, art and music.
You'll also be closer to more opportunities to advance your career, or even try a different career. Big cities are home to so many different businesses and organizations that you'll be opening up a world of possibilities when it comes to job opportunities.
You'll also have better access to medical care. If having the peace of mind knowing you live close to hospitals and other medical care providers is important to you, then living in a big city is a good fit. It also might be an advantage to those with medical conditions who might need more frequent care or access to medical specialists.
And, if you're looking to enhance your social life, you like to shop, or you like taking part in major events, a big city will offer endless options. From restaurants, pubs, and nightclubs to shopping malls, theatres and cultural and sporting events, there's bound to be plenty to keep you busy and allow you to meet new people in a big city.
Have a plan to make new social connections.
Having lots of options to explore new things in a big city doesn't necessarily mean that it will be easy to meet people and make friends. If you're not going to have the opportunity to make friends in your new workplace, it can be difficult to make social connections in a new city.
Joining sports teams and volunteering are two great ways to meet people who share a common interest.
Start by taking stalk of your own interests and then doing some research to find groups that are open for new members. Depending on what you do for work, you can also consider joining industry associations and volunteering for smaller committees.
You can also seek out friends or relatives who may be able to make introductions to other people in their networks. It's a small world after all. Regardless, the onus will be on you to reach out and take some social risks.
What's the best way to move to a bigger city?
A moving container service is suited best for single-family homes (and some townhomes) with adequate space on a driveway or street to place a BigSteelBox moving container. If you're moving to a condo or apartment, you may have to look at renting a truck or trailer as there are often restrictions for placing a container on those types of properties.
One way around this is to fill a BigSteelBox at your current home and then have it moved to the BigSteelBox location in your new city. You can then visit the yard to move things from your container to a vehicle and unload in smaller batches over time. This is a great option if you know you'll need storage for a while after your move because you won't have to unload and load your stuff into a storage unit a second time.
We have locations across Canada that can service large and small cities alike, so contact us today to see if we can make your move to the city feel better: 1-800-373-1187 or request your quote online.