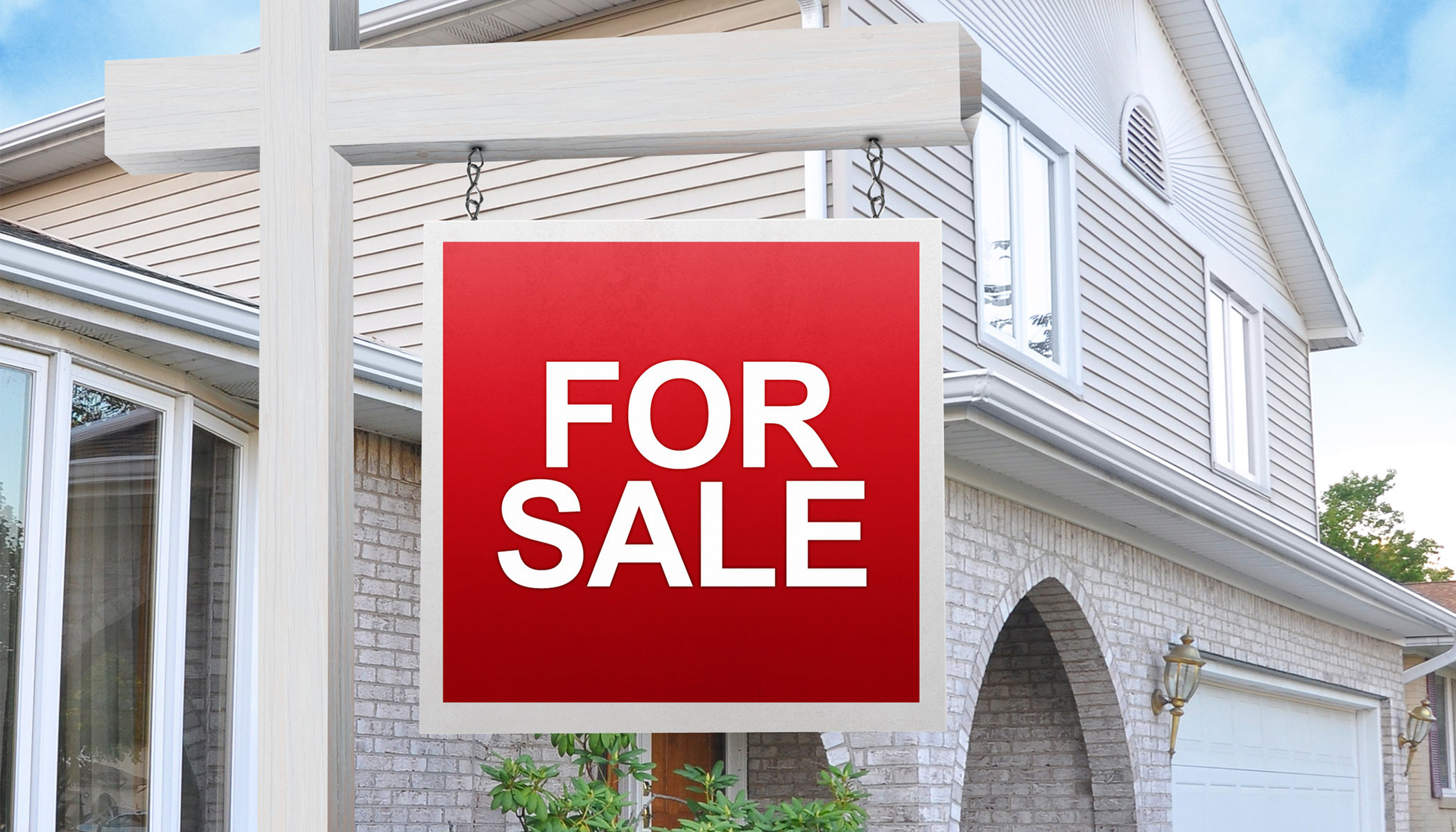 How to Prepare to Sell Your Home in 4 Steps
Has there been a new addition to your family? Are you looking to downsize your home? Maybe considering a new job in a new city? Any of these reasons may have you asking yourself, 'How do I prepare my home to sell?'
Asking that question means moving may be in your near future and no matter what your reason, there are many things to consider before you make the decision to put your home on the market.
Doing your research and putting in the work to make sure your home is as marketable as possible, finishing home improvement projects or home renovations to increase curb appeal, and decluttering/staging your home all take time.
Before listing your home, read through this post to make sure you'll get the best price at closing and possibly sell your home faster.
1) Consider When You Should Move
If you don't have a deadline to be out of your current home and into a new one, you can look at the best time of year to sell. Deciding when you want to move will help you plan your moving timeline and give you an idea of when certain things need to be completed to prepare your home to sell. While making this decision there are many things to take into consideration.
Time of year
Do some research on the housing market in your area and check the slow and busy seasons. In many parts of Canada, the spring is the busiest time of year for buying and selling real estate.
If you have a flexible schedule, choose based on the best times to list a home for sale in your area. Listing your home at the start of the busy season sounds practical, but being a 'new listing' at the very peak of the market is also a good strategy. Talk to your realtor about these strategies, but keep in mind they may be motivated to secure a listing as soon as possible.
Current competition
Research homes that are currently for sale in your area to see if there are similar homes for sale in your area and compare them to your property.
If possible, make sure your home has something unique to offer based on what is currently for sale. You want to stand out!
Check similar neighbourhoods with similar amenities such as schools, proximity to parks, restaurants, hospitals, and transportation.
If you've already selected a Realtor to help with the selling of your home and new home search, ask them to create a list of the closest comparable properties, and get a ballpark range for a list price. A Realtor will be able to provide the "sold" prices for recent sales, and this should be part of their listing proposals. While listing prices are valuable, the actual "sold" prices on comparable properties is a better indicator of what your home will ultimately sell for. (If you still need a Realtor, you can find one on Realtor.ca).
State of the real estate market
Check on the current state of the Canadian housing market, read local papers, and do your research. Market statistics are available on most Regional Real Estate Board's websites, along with some commentary.
If you can, look at the Sales to Active Listings ratio for the prior month. If it's less than 18% it's a Buyer's Market, and if it's more than 22% it is a Seller's Market (18 to 22% is a Balanced Market). Make sure you're looking at the right category, because ratios can vary significantly between Single Family, Townhome and Condos. (*Please note: this ratio will vary depending on your city and province, but here's an example of what it looked like for the first half of 2020 in the Central Okanagan BC region.)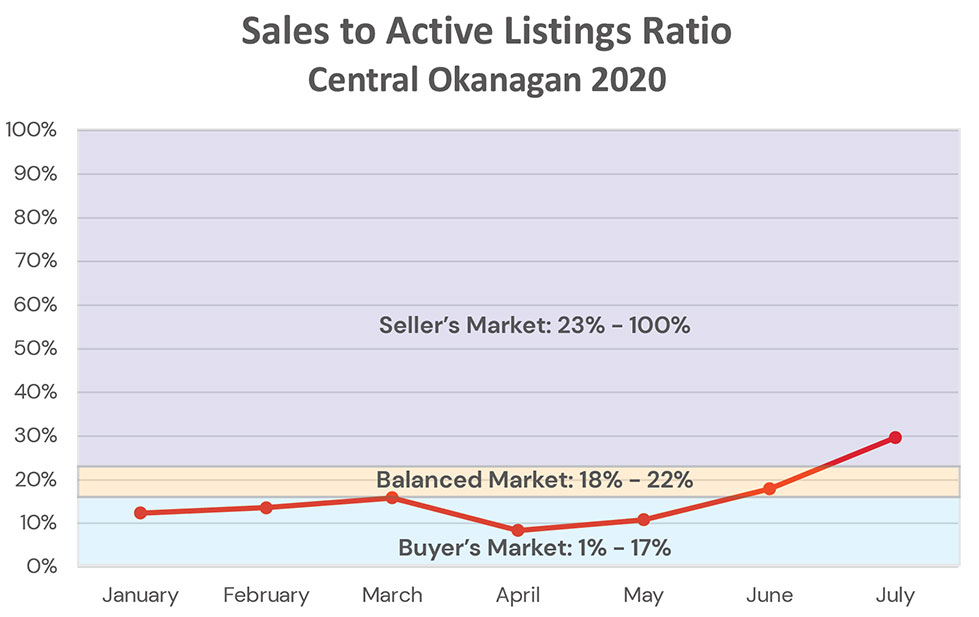 Personal needs
What does the next year of your life look like? Planning a move can be stressful and takes time. Think about your future plans and goals and consider how they will be impacted by selling or buying a new home.
2) Prepare to Declutter & Stage Your Home
Once you've decided to sell your home, you need to think about getting it ready to show potential home buyers. There are many things to consider such as decluttering and staging your home or improving it with minor renovations.
Some ideas when getting ready to stage your home to sell quickly are:
Decluttering
You want potential buyers to be able to imagine living in your home. This means removing your personal items and anything that can distract a buyer.
Box your knick-knacks and make sure surfaces can be cleaned and are clear of clutter.
Removing some decorative items from your home, or replacing large pieces of furniture with smaller ones, will help make it look bigger and allow buyers to see the true possibilities of the space. This is where a BigSteelBox portable storage container can come in very handy as it's the perfect place to store these items right outside your front door and get a head start on your packing.
Plan a garage sale
Having a garage sale is an excellent way to get rid of personal items you don't need anymore and don't want to move with you.
Go through everything and sell whatever you can. Old clothes, books, furniture, and old electronics are great things to pare down, and if there's stuff left over, consider donating it to a local charity.
Curb appeal
Make sure the front yard, gardens and entry are tidy and look their best.
Pressure washing the exterior of the home is a simple way to brighten up the home without much of an investment.
A fresh coat of paint on the fence, or hiring a landscaper to reshape the gardens can go a long way to creating a great first impression.
Renovations
The two rooms that really sell homes fast are the kitchen and the master bedroom. If your home needs an upgrade in either of these two rooms, a renovation is definitely something to consider.
Simple upgrades such as new faucets, better lighting, removing/updating cabinets, or increasing closet space can do wonders for a room's look.
Renting a portable storage unit like a BigSteelBox to store your items on-site during a renovation will make it go most smoothly and provide storage to declutter and stage your home while it's for sale. PLUS you'll have a head start on packing because you can have your loaded BigSteelBox moved directly to your new home when you're ready!
Touch-ups
Go through your home and inventory small issues that need to be taken care of (a leaky faucet, fresh coat of paint, plant new flowers in the yard, fix a broken step, etc.).
Is it worth it to hire a tradesperson for a day and add value to your listing price?
3) Get Organized and Be Prepared for Buyers
Now that your home is looking its best it's time to take a full inventory of what your house can offer and make sure you know every detail of your home.
Know exactly how much you pay on average for utilities (heating, electricity, water) and if there is a current warranty on any part of the home (water heater, roof, furnace).
Make a list of the renovations you have completed and what repairs have been done since you moved in. Include dates if possible. Note any issues you need to disclose to your realtor.
Make an extra set of keys (you'll need them later while your home is listed).
Get a home inspection in advance if you want peace of mind that your home is ready for sale and to have answers to any questions a buyer may ask.
4) Consider Selling Costs and Price Your Home For Sale
Make sure to have a couple realtors come into your home for an assessment and to give a suggested list price. You'll want to confirm you're correctly reading the market in your area. You can find a realtor on Realtor.ca.
A licensed real estate agent can help you determine the right price, but they also come at cost. Traditional real estate agents usually charge a commission fee that's 7% on the first $100,000, and 3% on the balance. So, on a $400,000 home, you're looking at a $16,000 bill that is shared between the listing and selling agent – that's a tough pill to swallow for some homeowners.
Some think a flat fee MLS service is a good alternative to a traditional agent, but then sellers need to be prepared to handle pricing, negotiations, showings, and paperwork by themselves. Also consider exploring low commission brokerages that offer full service at a reduced rate to be price competitive.
Here are a few more things to consider when pricing your home for sale:
Recent home sales on your street
Recent home sales in your neighbourhood
Current real estate market conditions
Ongoing real estate trends in your neighbourhood (how do people expect your neighbourhood to change in the short or long term?)
The size, condition, style, and age of your home
Home extras (garage, finished basement, storage, new appliances, etc.)
Your proximity to key amenities (schools, transportation, nightlife, etc.)
Reviewing this information will help you decide on a strategy for pricing your home and allow you to start the hunt for the new home of your dreams!
We're here to make moving and storage feel better for you! Contact us today to see if our services might help when preparing your home for sale: 1-800-373-1187 or request a free quote online.