DIY Planning and Storage for an Outdoor Event
Planning an outdoor event can be a daunting task, especially if you have never done it before. However, with a little bit of organization and planning, you can create a memorable event that everyone will enjoy.
Plan Ahead for Your Event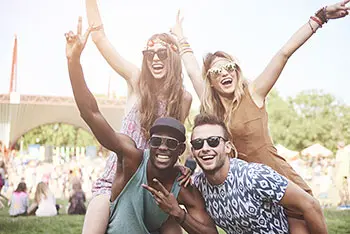 It may seem obvious and over-simplified, but the key to pulling off a successful outdoor event really is thorough planning and preparation. And in the end, the best events are those where none of that planning is obvious to the event goers.
While the focus of your outdoor event could be music, food, art, children, sports, or anything in between (which will of course affect the details of your planning) there are a few things EVERY event planner needs to think about.
Assemble a Great Team
Before you get too far down the road in your planning, think about who you want on your event planning team.
You'll need to assemble a reliable committee of people to cover off every aspect of your event and empower them to own their part of the process. And while the types of committees you need and the people you bring on board will depend on the focus of your event, you'll want to look for experienced, organized and assertive people who are great communicators, because planning a large event has a lot of moving parts.
Determine the Budget
One of the most important aspects of planning an outdoor event is determining the budget. You'll need to know how much you can spend and what items or services are necessary. Some expenses to consider include:
Venue rental and permit fees
Decorations, amenities and site preparation (including tents, portable washrooms, signage, etc.)
Entertainment costs
Storage needs
Advertising and communications
Staffing and security requirements
Insurance
Contingencies (i.e. need for additional equipment or changes due to weather)
Choose the Right Location
Once you have a clear idea of the purpose and type of event, you need to choose the right location. Consider factors such as:
Size of the venue
Will it accommodate the number of attendees and vendors you expect? Is there space for the things you need to make your event a success, like a stage(s), food vendors, a dance floor, beer gardens, etc.
Parking
It's common for outdoor events to be held in or near a city's downtown area, which also happens to be the same area where parking can be a challenge. It could get even tougher to provide enough parking if your event is closing down roads to be used as space for the event.
The best plan of attack for parking during an outdoor event is signage and good communication (more on this below). Let event goers know about parking challenges if there are any, give them tips on their options, and in extreme cases, encourage them to use public transportation, take cabs or use ride share options.
Amenities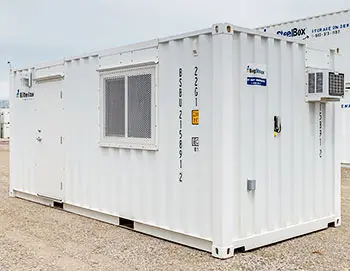 Does the location have the necessary amenities such as restrooms, electricity, and lighting? If not, you'll need a plan to bring in portable washrooms (i.e. "port-a-potties"), and generate the electricity you'll require.
Are there pre-existing structures to use for ticket booths or temporary onsite offices? If not, you'll need to investigate mobile workspaces (i.e. container offices).
Investigate Permit Requirements
Every city has its own rules and regulations about larger, outdoor events. Obviously, if you'll be holding your event in a public or city-owned place, you will need to go through an approval process for that type of location, but there are other permits to consider as well.
Things like getting a liquor license if you'll be selling and serving alcohol, understanding fire code regulations, having a waste management plan, knowing and enforcing capacity limits, etc., are just some of the things you might need a permit for.
Be sure to research requirements for outdoor events in your city very early in the planning process so that you have all the necessary permits and paperwork completed well in advance.
Have a Communications Plan
Regardless of the size of your outdoor event, one of the most important things to have in place is a communications plan. There are always many details to communicate to event goers prior to and during an event that will help keep everything running smoothly. Plus you want to keep your event top of mind and generate excitement about it!
Large public events especially should have a website with up-to-date information and social media accounts for updates, but they can actually benefit any size event. Offering an option for people to sign up for email updates is also a great way to keep people informed. Be sure to have a couple of people on your planning team dedicated to maintaining online information, sending and posting updates, and responding to questions across all the platforms you've created to ensure clarity and avoid confusion throughout the process.
Have a Plan for Weather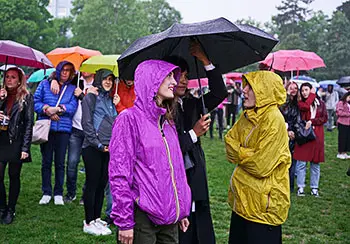 We live in Canada, so if there's one thing you can count on it's that the weather is unpredictable!
If your event will be held entirely outdoors, or even partially, prepare for all weather scenarios for that season. This may mean having extra tents in case of rain or extreme heat, ensuring there's a covered area for people to work and wait at the entrance, having portable heaters available during colder seasons, and even preparing for weather that will affect the ground (i.e. cause mud or water that could limit access to certain areas or affect things like electrical sources).
Evaluate the Space and Storage Needs
There will likely be many things you need to keep on site during an event that you'll need to keep safe overnight or even during the event.
If you'll be using tents, signage, decorations, fencing or anything else that's moveable, you will want to have secure storage for those items. In addition to needing storage that keeps items safe from vandalism and theft, you should also choose an option that protects them from the elements.
Because most outdoor spaces do not offer ample indoor storage, portable storage is the next best option. There are different types of portable storage container solutions available, but the most secure is a shipping container because they are made from steel, they're weather and rodent-proof, and many come equipped with a lockbox that protects a padlock from bolt cutters.
You've got this!
Planning an outdoor event requires careful planning and organization, but by following these tips and doing your own research you can ensure that your event runs smoothly and is a success!