Heated Storage Units a Perfect Solution for Year-Round Storage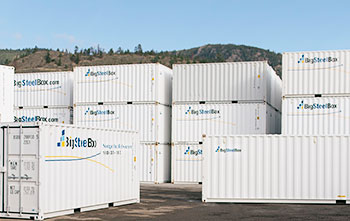 Regardless of where you live in Canada, cold weather is a fact of life for at least part of the year. But, that doesn't mean you can't have a portable storage unit that is suitable for storing temperature-sensitive equipment and supplies year-round.
The superior strength and durability of a shipping container is well-known. Because shipping containers have an all-steel frame, treated hardwood floors, and 8-gauge corten corrugated steel walls, they won't bend or shift under the weight of their contents. Plus the heavy-duty rubber gaskets along both sides of the doors ensure a tight seal that holds up in any climate and keeps rodent out.
But, the advantages of a BigSteelBox storage container don't stop there. If you're looking for temperature-controlled storage, we also offer container modification packages for your purchased BigSteelBox, such as:
Spray Foam Insulation (R7 insulation value)
Heating
Lighting
Air Conditioning
Doors and Windows
Vents and Exhaust Fans
Our standard 20' heated storage unit package comes with a man-door, heating and lighting, and 1" of spray foam on the ceiling and four walls.
See detailed detailed specifications for the electrical packages that we can add to 8', 10', 20' standard and high cube, and 40' standard and high cube shipping containers.
We can also make individual modifications depending on your needs. We offer various electrical package options, including:
Heating, Lighting and Air Conditioning
Heating and Lighting
Lighting only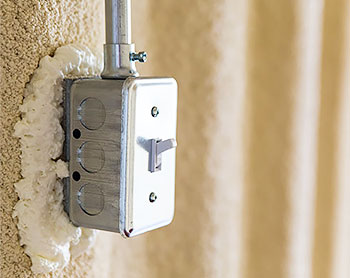 If you choose to add heating and/or cooling to your BigSteelBox, we recommend that you also add insulation in order to make the space as energy efficient as possible, as well as proper venting to promote air flow and to avoid issues with condensation.
Condensation happens when the walls of a container become cooler than the dew point of the air inside the container. Proper ventilation can reduce moisture build up by equalizing interior and exterior temperatures, which will prevent issues like mould and mildew from developing.
Whether you need a tool crib solution, a warm place to work during the colder months, or a place to keep your gear and supplies warm and dry, a heated storage container is a great option.
BigSteelBox has 13 modification service centers across our network and a 1-year warranty that covers all the work to give you a little extra peace of mind. Give us a call today at 1-800-373-1187 to speak with a Storage Consultant, or request a quote online here and we'll be happy to create a heated storage solution that will work for you.