Best Free Kitchen Design Software Options & Home Design Tools
Planning to move into a new home or figuring out your redesign can be hard to imagine without seeing the rooms in person or having a drawing in front of you.
Not long ago, if you wanted to design a kitchen, you needed to rely on architects and designers to make a detailed floorplan. So, unless you have an architect or designer in the family, you may think your only options are hand drawing some blueprints or designing off pictures or rough drawings. However, you'll be happy to know these are no longer your only options.
There is free kitchen design software available that is specifically designed to help you lay out furniture for a remodel, or play with different appliances or colour schemes, to build the kitchen (or any room) of your dreams.
Many large houseware stores, like IKEA, have built their own free interior design software to help homeowners design using IKEA products, while others help layout rooms using generic sizing and a broader selection of items.
We have collected the best FREE kitchen design software options available (plus some of the best free home design software online) and will run down users' experience testing them all out.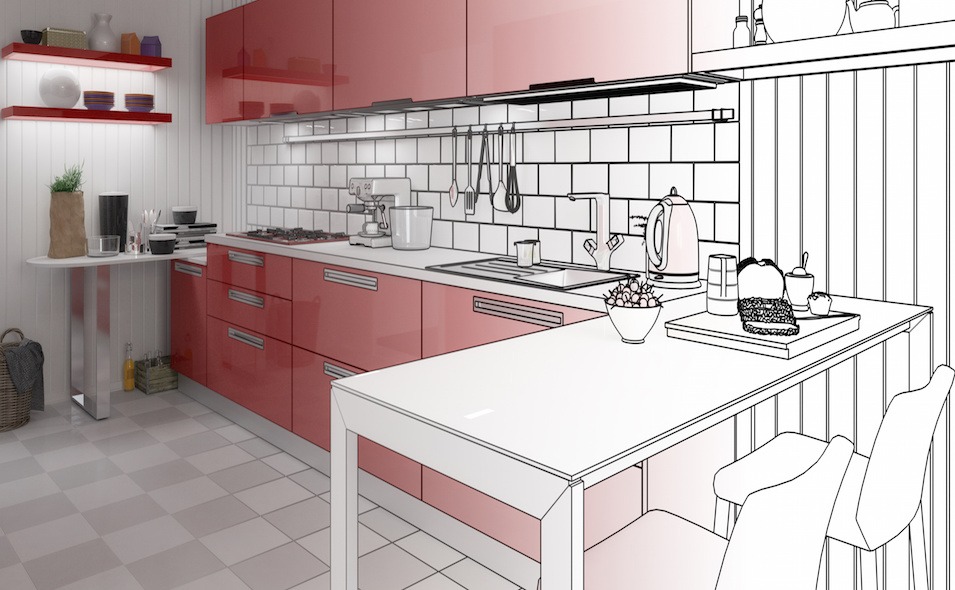 Why Use Free Kitchen Design Software?
The kitchen is generally the most popular and well used room of the home so whenever you are renovating or planning a new kitchen, home interior design software can help you to make sure you are not hindering the flow, accessibility, and organization of a well-designed kitchen.
Planning using software for interior design can give you a place to start and can help you visualize the room in 3D rather than a 2D blueprint or drawing. The best interior design software can help you bring your ideas to life and make them easier to show and describe to potential designers, contractors, and other specialists like cabinetmakers.
With so many free interior design program options to choose from it is always best to plan and organize so everyone is on the same page. The ultimate goal is to bring your family's vision of a dream kitchen to reality!
Once planning your renovation is complete, make sure you have decided on a storage container to store your stuff while you renovate. A BigSteelBox can sit on your driveway or property for easy access.
Best Online Home Interior Design Software Programs (FREE & PAID)
IKEA 3D Kitchen Planner
If you are going to be buying IKEA furniture and furnishings to complete your remodel, then using programs for interior design like the IKEA planner is your best bet for kitchen remodelling software
Online interior design: free software platform, no downloads
Designs saved online so they can be accessed from any IKEA store, specialists in store can help you even if you have forgotten your design at home
You can be sure that all appliances, cabinets, and doors will fit the measurements of your kitchen because you only work with IKEA products
It does not allow you to design items to overlap or merge, so if cabinets do not fit in the room in the design software, they will not fit in real life
Once you are done you can print a detailed product listing or save it, knowing you can access it in store
Any products you use are on file, which will help if making exchanges or returns
Able to price out your new room easily
One of the easiest and best free kitchen design software programs for homeowners looking to spruce up the home with IKEA products
This tool is obviously less helpful if you do not plan on using IKEA furniture. Regardless, it would certainly help you visualize some of your ideas. Make sure to create an account before you start. Sometimes trying to make an account and save after working on a project can lead to losing your design. Check out IKEA 3D Kitchen Planner
Planner 5D
Online interior design software platform, no downloading
Create an account or sign in to get started
Available on Apple and Android devices
You can use already preloaded online interior designing templates or create your own layout from scratch
Very realistic designs, has some of the best 3D graphics available for interior design software online
Easy to design rooms down to small details
Specific module just for kitchens
Design ideas from online library and other home templates
Online design can be downloaded to Android or iOS app
Generates 3D rendering
This is not just for kitchens so some of the design aspects are limited in the kitchen model when compared to other software. It also may seem difficult or daunting to use for a beginner. Check out Planner 5D for desktop
Homestyler
Very popular interior design software
Design a room online free, no download
Specific kitchen module
Starts with the basic layout and lets you gradually layer in items like cabinets, countertops, sinks, and appliances
Interior design software generates 3D picture
You can upload a picture of your floorplan so you can trace over it, which will save you time recreating your home's layout
Room layout software templates for basic layouts in library
User-friendly even though it is very close to a professional program
Associated with certain products and brands, which will help you find costs and availability of certain items (e.g. Kohler, Flor, Sherwin-Williams)
Easy to understand how-to online videos with detailed instructions
This interior home designer tool has a lot of options and takes a while to understand how to use all the features. The final drawings are quite basic and the software has no walk through ability. Check out Homestyler
Home Hardware
Online free interior design platform, no application download but may require a plugin download
Dedicated kitchen section of program
This interior designer software includes some things you may forget like switches, outlets, and vents, and shows how they are placed in the room
If items are sold by Home Hardware you can create a shopping list directly from the program
This program for interior design can create a room from scratch or use basic templates
Like many programs built by large home improvement stores, the tool links to the Home Hardware website so products which are not sold by Home Hardware may not be included in the product menu. Check out Home Hardware
Lowe's Virtual Kitchen Designer
Free room design software platform, no application download but may require a plugin download
Specific kitchen designer, no need to scan through other room appliances or specifications.
Can use own specs or pre-drawn designs
Products are for sale at Lowe's, things not offered in store may not be listed
Similar to Home Hardware designer, but specific to kitchens
One of the best kitchen design software tools online
Check out Lowe's Virtual Kitchen Designer
Roomstyler.com
This interior design 3D software is similar to Homestyler but has a better layout and may be less complicated for a new user
Excellent floor plan software, and allows the upload of your own floor plan or to use preloaded templates
This interior design software can design any room in the home, but it has kitchen specific modules
Extensive colour selection
One of the only interior design free software options that includes additional kitchen accessories like utensils, glassware, dishes, small appliances, and cookware
Can completely design the kitchen down to last detail
Online videos and tutorials for the interior design software (free)
You can use the house interior design software without joining and there is an associated free app available
Check out Roomstyler 3D Planner
Top Paid Options
If you're still unconvinced that you can get your planning done with one of the free options listed above, here are some of the top options to buy:
Offers 2D and 3D options
Create your room to the smallest detail and you can import your own pictures to see what your old furniture will look like in the new design
Features and large object library
Easy to learn but cannot export into PDF
HGTV Ultimate Home Design Software
Very comprehensive
Good for planning the majority of the job yourself
Can save to PDF
Check out HGTV Home Design Software
Other Interior Home Design Software
Now that you're set with your kitchen planning you may be looking for other resources to help you with your remodel or home building project. We have collected some of the best home plan software tools available.
The majority of the house designing software options are free to use. Some offer a free trial or have a cost for additional features.
Because these home remodelling software resources are free, you can try out your options before you find the one that is best for you. Many have online tutorials or videos that demonstrate the functionality of the professional interior design software. These videos will make it easy for you to use the program and make sure you use it to its full potential.
If you're looking for some help with planning the design of other rooms near your new kitchen (like living rooms next to open concept kitchens) here are some great designer tips, examples and checklists to keep you on track.
Online 3D Interior Design Software: Room Design
Can help you choose and view furniture for any room
Presents floor plans in 2D or 3D so you can show your ideas to contractors and designers
Furnish and Decorate with our easy-to-use, drag-and-drop Home Designer
Another easy-to-use room design program, but a little bit more interactive
You can upload a sketch and the system will suggest a floor plan template to match
Once you have designed your room you can share it and receive feedback on your design
This kitchen design software is specific to back splashes and countertops, trying to make sure all the aspects of your kitchen work together
This online program lets you choose from hundreds of colour and pattern combinations so you can visualize how your cabinets will look with your new countertops and back splash
You can test out and price your products before you buy
This is a helpful online software that helps to make sense of something many people struggle with keeping organized… your closet. You enter your closet dimensions and they recommend an organization system that works for any kind of closet.
Decorating Software for Painting Rooms
By uploading pictures of your room, you can paint the room by applying any of the colour palettes available. Popular brands Benjamin Moore and Sherman Williams have multiple colour palettes to choose from, but you only get three different colours per picture upload with the free version.
Sherwin Williams Color Snap Visualizer and Benjamin Moore Personal Color/Colour Viewer
These two are very similar, both allow you to fully browse the colour catalogue of each brand while uploading your own images to modify. Each are free and do not require registration.
Lighting Design Interior Decorating Software
This interior design software free download helps make it easier to decide if your newly designed room will have enough light. This free interior design program for planning lighting calculates lighting design both inside and outside of the home and gives specific product specifications and data sheets with all the information you need. This will be helpful when dealing with electricians or deciding between products.
Window & Door Design Interior Decorating Software
With this program, you can upload your own image or use existing ones to see how different styles of window will look from the outside of your home. This tool is great when beginning to design a new home or looking to change the exterior of your existing structure.
Exterior Design Software Online
Eldorado Stone Outdoor Design Tool
This tool allows you to play around with different features to see how they fit together and decide if they are compatible with each other in two pre-loaded designs. You cannot upload your own picture, but you can see available items and connect with local dealers to request quotes on your design.
This resource is provided by Cambridge Pavingstone, so you are limited to using their products and solutions, but it is a great tool to design, layout, and envision your exterior project. You can use your own photos and modify as you like. It's great for driveways, walkways, and landscaping projects.
Garden Design Software (Free Online plus Paid Version)
This free 15-day trial lets you plan out different greenery along with paving, paths, and fences to create the garden of your dreams. It is $38 to upgrade to the full version once the free trial has concluded.
This is great for the serious gardener who wants access to any kind of tree, shrub, or flower. This tool lets you choose from more than 150 types of greenery and flowers while adding buildings, sheds, fences, ponds, and decks to your layout.
DIY Tips and Tricks
This tool can help you learn how to do just about anything for your home renovation. It can help with things as simple as painting tips and installing ceramic tile, to things more complicated like constructing a simple deck. It even gives you a quote on time, material, and cost of the project. Great for getting an idea of costs as you shop around.
Need help with a DIY project? Always check Instructables first to see if there is a detailed tutorial already on the site.
The HGTV website is filled with instructional videos on how to do fun design tasks at home and take on some more difficult DIY projects.
We hope that you've found some tools here that will help you to renovate your home to better fit your style or plan a new home that you will love. These programs are built by experts to make sure the designs you have in mind are possible and will look beautiful.
Free kitchen design software will help make even the most dramatic kitchen makeover doable and will help you visualize your ideas. If you are continuing your makeover into other rooms or outside of the house, our list of other free interior design software programs will help you get started.
Renting a BigSteelBox During Your Renovation
Renting a BigSteelBox as extra storage during a renovation is a great option, and one of the most popular reasons why people use our service. You can easily request a quote online or give us a quick call at 1-800-373-1187. We are happy to help you!