Benefits of Using Portable Storage Containers for Restoration Projects
Talking about home restoration projects is never a fun subject for homeowners because it means they're likely dealing with extreme damage that will force them out of their homes for a period of time.
Unfortunately, Canadians aren't strangers to harsh weather conditions and natural disasters that leave our homes damaged and in need of repair. Many Canadians across the country have encountered floods, fires, high winds and tornadoes.
Whether the damage you've experienced was caused by a natural disaster like a flood or tornado, or it's the result of a house fire or water leak, the situation can be very stressful. Here are some situations when using portable storage can benefit your family or business during a home restoration project.
Restoration Storage for Homeowners
If your home has been damaged and you must move out while it's under repair, you're probably going to need to store some of your things. Whether it's furniture, clothing, appliances, or valuables like photo albums and family heirlooms, a BigSteelBox portable storage container is a great option because your things will be safe inside.
Here's how BigSteelBox helps homeowners when their homes have been damaged by flood, fire or other natural disasters:
Restoration Projects as Part of an Insurance Claim
In most cases of extreme damage, homeowners will open an insurance claim. If this is the case, a restoration company will likely be hired to repair the damage to the home.
The vast majority of a restoration company's revenue comes through insurance claims so they have a great deal of experience in managing the repairs in a manner that meets the needs of the insurance company as well as the homeowner.
We work with many restoration companies to provide portable storage for their clients. In these situations, the transportation and rental costs of the storage container are covered by the insurance claim. If you feel a container is the best storage option for your belongings, consult with your insurance adjuster or restoration company to clarify what options are available.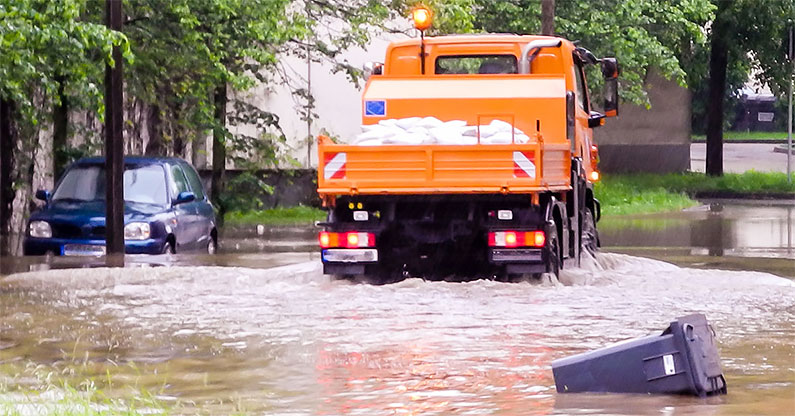 Security that Offers Peace of Mind
BigSteelBoxes are shipping containers made of 8-gauge steel, and have heavy duty steel doors lined with rubber gaskets that create a tight seal. Our containers are weather and rodent-proof. Plus, all of our rental containers come equipped with a Lock Box, which is a heavy steel shield that protects your padlock from bolt-cutters.
So, you can rest assured knowing that your things will be safe and dry inside your Box as long as they are stored. Learn more about the security of a BigSteelBox.
Convenient Storage on Your Property
While most restoration projects are covered by insurance, there are cases where the homeowner will be responsible for the repairs. This can happen if it's determined that the homeowner or tenant was responsible for the damage, if the insurance policy did not cover the cause of the damage, or if the damage isn't significant enough to file a claim.
If you don't have to move out of your home during the restoration project, but feel extra storage would be helpful, having a BigSteelBox on your property during this time is a great option. This is especially true if you want easy access to your belongings while repairs are in progress.
We'll deliver a storage container to your home and place it in a location that is convenient for you to pack and access while you have it on rent. The most common size storage container we rent is a 20' BigSteelBox, however, if you need less storage space or have limited space to place a container, we also rent smaller 8' and 10' BigSteelBoxes.
Secure Storage at a BigSteelBox Facility
If you don't have room to keep a BigSteelBox on your property during a home restoration project, you can have your loaded container moved to a secure BigSteelBox storage facility.
We'll deliver a BigSteelBox to your home so that you can pack it. Once it's full, you place the padlock, so only you have the key. Then, we'll pick up your container and move it to the BigSteelBox Store nearest you.
And don't worry, you can still get access to your things when you need to. Just call your BigSteelBox store 24 business hours in advance and we'll make sure your storage container is placed in our customer access area for the next day.
Storage Solutions for Restoration Companies
We've been supplying secure mobile storage to restoration companies for years. We understand that time is of the essence for most restoration jobs, so we always work to have your BigSteelBox delivered quickly.
Here's why so many restoration companies call BigSteelBox when they need secure storage:
More Locations Across Canada to Serve You Better
BigSteelBox has more locations across Canada than any other mobile storage company. As such, we're able to provide reliable, consistent service to restoration companies that serve many cities and towns across the country.
Storage Delivered Quickly, When and Where You Need it
Because we have so many locations across the country, we also have an extensive inventory of shipping containers ready at all times. This allows us to handle urgent requests efficiently, getting you the container you need as quickly as possible.
It's Easy to Speak with a Person
Our local service representatives and Store Managers are backed by our Canadian Contact Center that works extended hours, so it's always easy to speak to a BigSteelBox staff member when you need to. Our knowledgeable staff will go above and beyond to make sure your storage needs are met quickly and efficiently, giving you peace of mind so you can focus on other tasks.
How to Prepare and Respond to Natural Hazards and Emergencies
The Government of Canada offers extensive information on how you can prepare for weather hazards, as well as what you should do during and immediately after a weather emergency, such as a flood, tornado or wildfire.
If you're in need of storage during a home restoration project, we want to help. Call us at 1-800-373-1187 or request your quote online today.