COVID-19 Updates and Information from BigSteelBox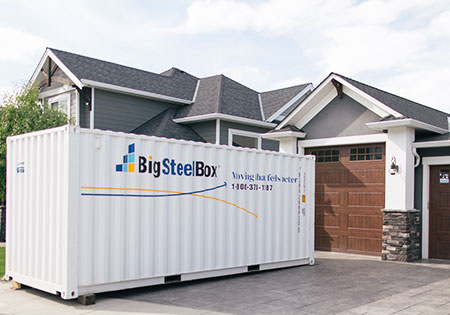 We hope you and your family are staying safe during this challenging time. We understand that moving and having a need for storage are often events that can be stressful on their own. As such, we're working harder than ever to help make our customers feel better about moving and storage.
At BigSteelBox the safety of our team members, customers, and communities is our number one priority. The outbreak of COVID-19 is an unprecedented time in our history, so we're doing our part to reduce the risk of spreading the virus.
Rest assured, choosing a do-it-yourself moving service like BigSteelBox is a very safe moving option because you're in complete control of the handling your items, from packing and loading to unpacking and unloading.
Learn more about moving and storage safety, and special offers here:
Here are the steps we're taking to combat the spread of COVID-19:
Location Operating Hours:
At this time, most of our locations remain open and deliveries and pick ups will still happen, however, we encourage you to call us for details about your BigSteelBox store's hours and possible restrictions before visiting us.
Safety Measures for our Customers:
Although our Drivers will be very happy to see you when they deliver or pick up your BigSteelBox, as part of our COVID-19 procedures we have adopted a social distancing policy that includes no handshakes and trying to keep at least 6-feet of distance between two people. So, please don't be offended if we don't shake your hand this time around.
When your BigSteelBox arrives, please feel free to come outside to talk to us if you'd like, we're happy to answer any questions you may have or give you a quick lesson on how to open and close the doors of your BigSteelBox while maintaining a safe distance between you and the Driver.
If you prefer to just smile and wave at us from your front window, that's fine! When booking the delivery of your BigSteelBox, we should have all the information we need to place it how and where you want it, and if we have questions, we will call you.
In order to maintain safe physical distancing protocols, your local BigSteelBox location may be limiting the number of people allowed to access their contents at one time throughout each day at our sites. This may cause delays in accessing your contents. Normally, we're able to accommodate access to loaded containers at our locations when given 24 business hours' notice, however, some stores may need more notice than that due to these limitations. We're currently allowing customers to access their BigSteelBox at most of our yards Monday to Friday from 8:30am-4:30pm, but please call us to confirm access availability as far in advance your arrival as possible.
We have enhanced the frequency and intensity of our cleaning procedures at all locations.
Safety Measures for our Staff:
Our Drivers and Fork-lift Operators continue to provide our services, but will adhere to strict social distancing during deliveries or when working in our storage facilities.
Encouraged all team members to practice social distancing, proper hand washing, and cough etiquette.
Enabled work from home for the majority of our team members.
Cancelled all non-essential travel for team members.
Required all team members returning from international travel to self-quarantine for 14 days.
All our staff receive fully paid sick days, and we have reinforced our collective social responsibility to stay home if sick.
Implemented strict protocols for reporting illness, self-isolation, and/or self-quarantine.
Stopped the distribution of instructional "door hangers" on our container doors.

We really appreciate you, and we want to make sure we do everything we can to help keep you safe and make you feel better about your moving or storage experience with us. Please feel free to contact us with any questions or concerns you might have at 1-800-373-1187, we're happy to help you in any way we can.
Free Storage for Hospitals & Medical Support Organizations
To help support essential services and supporting organizations that need secure storage during this time, we're offering free up to five 20′ storage container rentals to hospitals and medical support organizations for up to three months, free of charge (excluding transport).

Because we have locations in many major cities in BC, Alberta, Saskatchewan, Manitoba and Ontario, we're able to respond quickly when a safe and secure storage solution is needed.
If you would like to take advantage of this offer, please call 1-800-373-1187 and mention Promo Code B4G-C19-HOSP or send us your storage request online.
Discounted Moving & Storage Rates for Essential Service Workers
Our team at BigSteelBox appreciates everything our frontline workers are doing to keep us going through this difficult time, so helping make their move or need for storage a little more affordable and less stressful is the least we can do.
If someone in your family is currently working to maintain our essential services and you need moving or storage services, please call us today at 1-800-373-1187 and mention Promo Code ESERV1520 to save 15% on your monthly rental rate. You can also request your free moving or storage quote online.