Moving with Pets Across Country: Tips, Tricks, Costs & More
A long distance move can be a stressful event for anyone, including pets. If you're moving to a new city or province, and you're moving with pets, you're likely worried for their wellbeing.
There's no need to panic — we've compiled the following advice to help you turn moving with pets across country into a safe, incident-free, and even enjoyable experience.
Moving with Pets
To start, let's look at some general advice for moving with pets across country:
Prepare your vehicle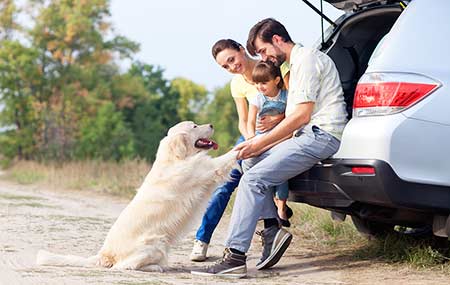 Will you be driving? Take your car to a mechanic to avoid a breakdown in the middle of nowhere. This is a good idea even if you are only traveling with humans, but it's extra important when you add pets to the picture. Explain to your mechanic that you'll be traveling across the country, as this would likely involve different tests than in a regular checkup.
Next, decide how you'll be keeping pets in the car.
The best place is usually the backseat, away from airbags. If your pets are lively or unused to car travel, you'll need a way to ensure they stay put (and stay safe) on the highway.
Options include backseat barriers, travel harnesses, and pet carriers that fasten to a seat belt to avoid movement in the case of sudden stops. Pets should be able to move to shift position and sleep comfortably.
Choose the best option according to the type and number of pets you own. For instance, if you have two or more dogs, they may become tangled in harnesses; however, pets unused to pet carriers may complain. Also, bear in mind that large, persistent dogs can break down a backseat barrier. Whatever you choose, test it before the big drive to ensure you won't have any problems.
Visit your veterinarian
Ensure your pet is in good health before setting out on the journey. Explain the situation to your veterinarian and ask for advice to keep your pet content. It may be a good idea to de-worm pets before you leave, as parasites weaken the immune system, which may already be compromised due to the stress of the move.
Create a pet travel kit
The last thing you want is to be rummaging around in all your stuff to find the things your pet needs on the road. At a minimum, you'll want a basic first aid kit, veterinary records, plenty of your pet's regular food, water from home, bowls designed for traveling, a favourite toy or two, treats, and a blanket — don't go over the top if your car is already crowded!
In addition to your travel kit, it's a good idea to pack extra food, just in case you cannot find your brand at your destination. This will allow pets to adjust gradually and avoid stomach problems.
Identification
Should the worst happen and your pet is lost or stolen, you want to optimize the chances your pet is returned to you.
Update pet tags with your cellphone number and new address, keeping collars (and leashes for dogs) on pets at all times. (It is also a good idea to attach rabies tags to collars.) Better yet, microchip your animals. If they do become separated from their collars, there will still be a way of identifying them. Finally, have recent photos of all your pets.
Feeding times
Reduce the risk of stress by feeding pets at the times they are used to. If you are traveling through different time zones, this will mean calculating the time to eat rather than relying on your watch.
Make frequent stops
Turn moving, even a long journey, into a fun experience for your pet by stopping frequently at interesting places. Dogs, as well as leash-trained cats and rabbits, can all take walks to enjoy different scenery and smells.
Book hotels in advance
Although many hotels are now pet-friendly, this is by no means a majority trend. Plan your route according to reasonable distances you can cover each day and research pet friendly hotels in each destination. Once you've found a place willing to accept your pets, reserve rooms in advance.
Pet licensing and registration
Each province has different rules and procedures for pet licensing and registration. Check the requirements in the province of your new home before you arrive. Gather the necessary paperwork and be ready to register your animals within the first week.
Moving with Cats Across Country
Moving with cats requires special considerations. Take these extra steps to keep your cat relaxed and prevent him or her from becoming a flight risk.
Indoor cats
A cat who lives indoors and is not used to being outside the four walls of its home, may suffer stress on the journey. Indoor cats are also likely to notice changes in the home and may become anxious if you suddenly remove all your belongings. Start packing early, placing your least important possessions into your moving boxes, to help your cat accept boxes in the home as normal.
Outdoor cats
You need to be certain your outdoor cat will be ready to leave when it's time to start moving. Keep it indoors at least two days before the journey, perhaps at the home of a friend or family member or even at a pet daycare to avoid an escape while you're moving your belongings out of your home.
Pet carriers
Most cats will need to move in a pet carrier. Introduce your cat to its carrier a few days before the move, placing it on the top of your cat's bed or lining it with its blanket and leaving the door open.
Entice your cat inside first with a few treats, then with their meals. Teach your cat to become used to traveling in the pet carrier through a few practice drives. If possible, you can also start teaching your cat to walk with a leash and harness.
Other tips to traveling with your cat
Talk to your veterinarian about using a calming flower essence to keep your cat relaxed.
If you're traveling by car, keep music to a low level.
Feed your cat at least one hour before you set out and remove its water to avoid vomiting during to the stressful initial part of the journey.
Never leave your cat alone in the car for an extended time, especially if the weather is particularly hot or cold.
Stop every few hours to allow your cat to use a disposable litter box, which you can throw out after a single use. This is a much better option than a regular litter box, which would stink up your vehicle.
Moving with Dogs Across Country
Preparing for the move
If your dog is used to riding in the car (or, even better, if it has taken long trips before), you should have no problem with the move. However, if you're traveling with a puppy or dog that has very little experience in the car, you'll need to prepare.
Start around a month before, training your dog to make short drives and gradually increasing travel time for each session.
Similarly, you should prepare your dog for the big changes at home, packing over a period of days, or even weeks, to help your dog adjust to the changes.
Ready for the big day
If your dog often suffers from carsickness, talk to your veterinarian about prescribing medication to help with nausea. Take extra precautions, such as limiting your dog's food intake, placing an old towel on top of your dog's blanket, and covering the back seat in plastic — this will be much easier to clean than fabric or leather.
Making stops
Whenever possible, allow your dogs the chance to use the bathroom — ideally every two to three hours. In addition, dogs should have a proper walk at least every eight hours.
Moving with Other Types of Pets
Cats and dogs are not the only pets that form part of the family. You may want to bring small mammals, birds, and reptiles along on the move with you. Each has its own specific needs to stay happy and anxiety-free.
Rabbits, guinea pigs, and rodents
Keep small caged animals away from activity during the last few days of packing. House them in a room already cleared of possessions.
If you're traveling by car, avoid a stressful journey by improving conditions in the vehicle. Some animals, like rabbits, are sensitive to extreme temperatures; heat and cool the car appropriately and make only short stops or take your pet with you — bunnies will appreciate the chance for a little exercise every three to four hours. Secure carriers to the seat and drive slowly over rough patches in the road to avoid excessive movement.
Move pets either in their own cage or place them in a carrier with familiar objects, such as a favourite toy, along with water and sufficient food (although not so much that your pets may overeat and vomit during the journey). If possible, clean the cage or carrier every few hours.
Birds and reptiles

Before you leave, check that it is legal to own your bird or reptile in all the areas of the country you'll be passing through.
If possible, transport your pet in its regular cage. If your pet's regular container is too large, downsize to a smaller cage just for the journey and secure the cage to the backseat using a seatbelt. Cover your bird's cage in a thin sheet or glare guard. Reptiles will prefer being in a dark container with enough space to move around.
Bear in mind that some reptiles, such as snakes, will stop eating when they're stressed. Don't be worried if your pets refuse to eat for a few days after the move.
Ground Transportation for Pets
An alternative to driving with your pets or taking them along with you on the plane is to use a ground transportation service. Typically more expensive than the other options, a ground transportation service can cost between $500 to $2,000 per pet depending on the distance traveled and the type of pet. On the bright side, with pet shipping, you can expect your animal family member to receive top-quality care and attention.
Depending on the service you choose, your pet may travel alone or with animals, you may be able to personalize the service, and you may even be able to receive real-time updates, such as photos and location details. All ground transportation services offer a fast and safe ride, helping you reunite with your pet as soon as possible.
Usually, pets are driven in minivans or SUVs which provide plenty of space, and vehicles are climate-controlled for comfort. Dogs receive walks every few hours and cats' litter boxes are regularly cleaned.
To choose the best ground transportation for moving with pets across country:
Find out if companies provide insurance or if you'll need to purchase your own
Ensure the business is properly licensed
Ask for references
Research the company online
Moving with pets across country can be an adventure for your pets and your family, but you'll have a number of extra considerations to manage along the way.
Moving Pets by Air
You have a few options for moving with pets across country by air:
You can ship your pet separately to reduce the stress of a long car journey — a good option if you want to travel on the road with your possessions.
You can fly together, with your pet in the cabin — suitable for some types of small animals.
You can take the same flight as your pet, but your pet can travel in the cargo hold — necessary for some larger pets.
For any of the above scenarios, the costs will vary depending on the distance, time of year and the competitive nature of the route. In some cases, you could spend less than $100, while other times you could expect to pay over a $1,000. It's worthwhile to call far enough in advance to determine whether or not it would be feasible given your budget. That way you have time to make alternative plans if air travel doesn't work.
Here are some additional factors to consider:
What pets can fly?
As well as regulations determining what types of pets can fly (these vary from airline to airline), you need to consider how your pet will handle the journey. A very anxious pet may suffer undue stress on a plane, making ground transportation a better choice. Similarly, if your pets suffer from health issues, it could be dangerous for them to fly, especially if you are unable to accompany them. Lastly, if you have multiple pets, flying together may be impossible, as airlines restrict how many animals they will take on each flight.
Staying safe
Limit the amount of time pets will be traveling by flying direct. Ideally, you should fly on a weekday to avoid crowds at the airport. If your pet will be traveling in the cargo, opt for a morning or evening flight in summer but midday during cold months. This will give you the best temperature in the plane.
Tranquilizers?
Many dog owners wonder about giving their dogs a sedative or tranquilizer to keep them calm. Veterinarians advise against this practice, as such medication can cause respiratory or cardiovascular issues at increased altitudes. Tranquilizers also affect equilibrium, increasing the risk of falls and injury in a moving carrier.
Health certificates
Some airlines require pets to have a health certificate to board a flight. Even if your airline does not, it is good to purchase one just to be safe. This will reduce complications if your flight is canceled and you need to change to a different airline.
Airline Approved Pet Carriers: Canada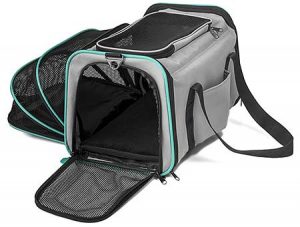 To be airline-approved, carriers must be secure (to ensure there is no risk the animal can escape) and offer good ventilation. Beyond that, every airline has different requirements when it comes to pet carriers, although mainly in terms of dimensions. This means you'll need to have a ticket booked before you go shopping.
In addition, although it is not a requirement of the airline, a carrier should be large enough to allow your pet to stand up, move, and turn around inside. Bear in mind, you'll need a separate carrier for each pet.
Image Source: Sherpa Pet Carrier via Amazon.com
Preparing the pet carrier
Label your carrier with plenty of "Live Animal" stickers, draw "This Side Up" arrows on all sides, and attach your contact information — these precautions are particularly important for pets traveling in cargo holds of planes.
Line the carrier with a blanket and add your pet's favourite toy. Although it will be unlikely to play, the toy will provide some comfort and familiarity. Offer your pet plenty of water before the flight but remove the bowl from the carrier before you fly to avoid spills.
BigSteelBox can move you across town, or across the country! Contact us today to see how we can make your long distance move feel better: 1-800-373-1187.