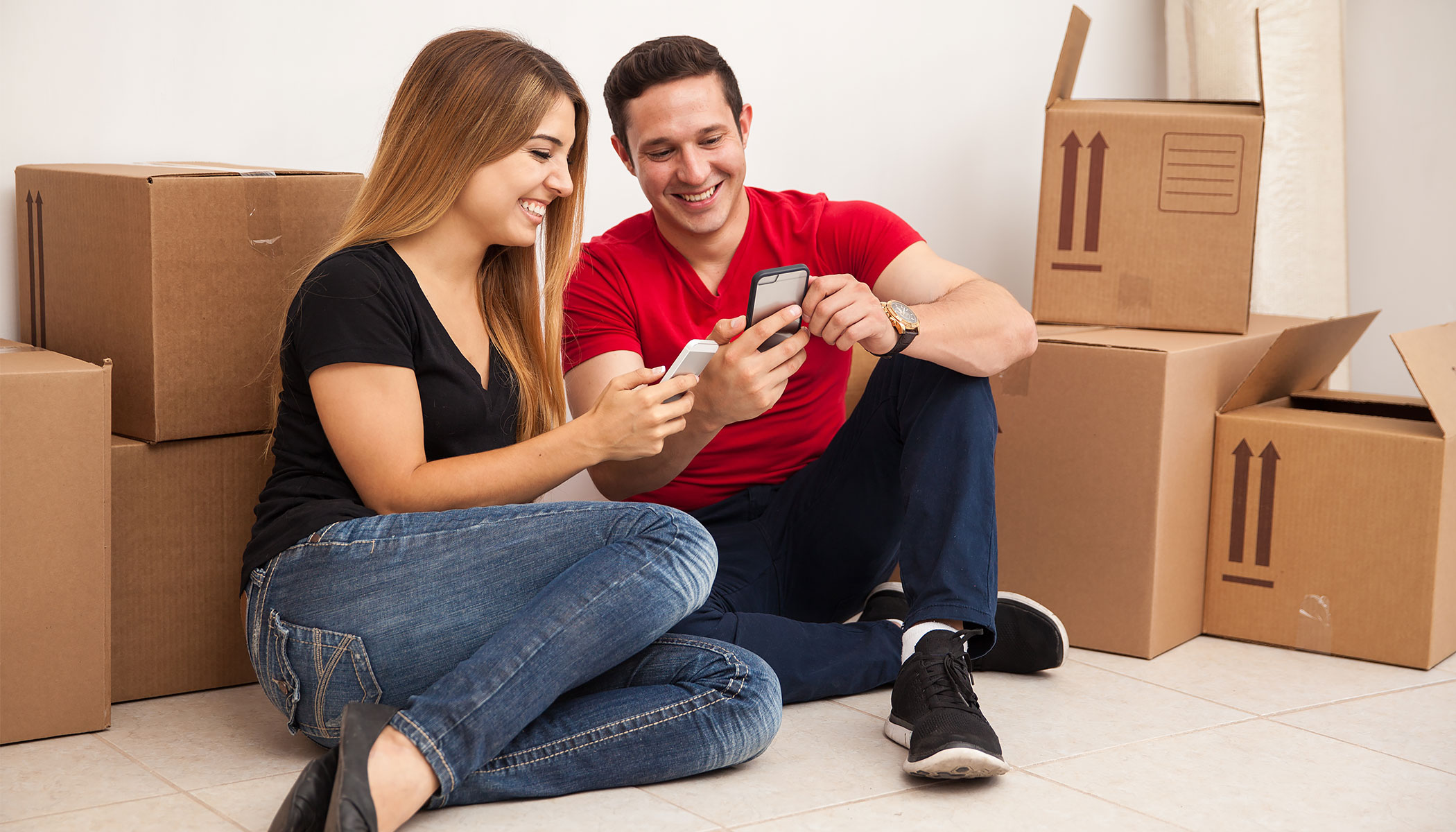 Best Moving Apps for Before, During and After Your Move
Post updated Aug. 19, 2022
Moving can be a busy and stressful time, but it can be made easier when you have the proper tools at your disposal. With today's technology, we're lucky to have countless online resources and mobile moving apps that can help throughout the entire process, including before, during, and after your move.
Read on for some of the best moving apps and learn how they can simplify planning a move.
Best Moving Apps for Before Your Move:
Realtor.ca
Realtor.ca is Canada's most popular real estate app and can be instrumental in helping you find a new home. You can create customized searches based on the things that are important to you, like great schools nearby, number of bedrooms, or a pool in the backyard. You can even receive notifications of new homes listed that match your search.
Browse through the photos of each home and save your favourites to refer to later. Then, when you're ready to start touring homes, you'll already have a detailed list of properties you're interested in to show your real estate agent. It can also help you select an agent if you're not already working with someone.
MovingWaldo – Online Free Moving Concierge
MovingWaldo is a free online platform that helps you organize every aspect of a move to make sure you don't forget anything. This platform guides you through all the administrative tasks that need to be taken care of before a move. With the help of technology and a real human concierge, you can transfer your utilities, connect your new telecom services and compare different plans, update your address, and find the perfect insurance for your new home, just to name a few! Whether you're looking for moving boxes or a junk removal service, this app helps you find the best deals.
When you sign up to MovingWaldo, you'll have access to your dashboard where you'll be able to access a checklist of what needs to be done. Their technology helps you tackle moving tasks in minutes. And if you have any questions, their online moving concierge will help you find all the answers you need.
Sortly – Moving Inventory App
Sortly is an innovative moving checklist that allows you to take inventory of your belongings before you start packing. Simply snap a photo of each item using your mobile phone. You can then organize the items into categories so that you know exactly what you have in your home.
When you begin the packing process, you can assign each item to a specific box and create QR code labels for each box before you load them into your moving container. Once you arrive at your destination and unload the boxes into your new home, you won't need to search through several boxes to find the items you need right away. Simply scan the code on each box to find out exactly what is inside. It's also a valuable tool if you're going to need storage after your move. Not only can you create codes for items destined for storage, but you'll always know what is in your storage container!
Online Classified Apps
Kijiji or Facebook Marketplace: Throughout the moving process, you'll likely find many items that you either don't need anymore or plan to replace once you've settled into your new home. Online classifieds websites and apps are a great way to sell or giveaway unwanted items.
If you've never used apps or sites such as Kijiji or Facebook Marketplace to buy or sell stuff, where have you been? Simply take a few photos of the item, post an ad, and wait for someone to respond. They are also great for promoting garage sales if you have too many items to sell each one individually. You may even be able to earn enough money from selling your belongings to pay for the entire move.
Moving Apps for During Your Move:
Moving Checklist
While there aren't any notable moving checklist apps that are currently available in Canada, we do offer this downloadable Ultimate Moving Checklist to help guide the process. Occasionally referring to this checklist, or creating your own personal checklist in the Notes app on your iPhone for example, can give you peace of mind knowing you haven't forgotten anything important.
MagicPlan
With MagicPlan, you can create customized floor plans of your new home. This app will enable you to virtually plan out where everything will go in your new home, so it's best to go through this process before you've moved all of your furniture into the house.
To create your floor plan, the app will walk you through taking photographs of each room. It can then analyze distances and measurements to create an exact floor plan of the house. Remember that a room looks much larger before there is any furniture in it, so this can help you determine whether or not your furniture will fit in the space, rather than just eyeballing it and being disappointed that your living room couch won't fit.
Moving Apps for After Your Move:
Nextdoor
Nextdoor is available for Android and iPhone users, and is a top pick among apps and websites geared at getting to know your neighbourhood and neighbours.
If you're new to an area, this app will help you learn about local services, safety, and it can even be a way to make friends. Nextdoor is designed to be secure and allow access only to real members of an area. Watch the Nextdoor introductory video to see how it works.
Nextdoor will send you alerts about any crime or other important information about your neighbourhood, so you're always in the loop. If Nextdoor isn't already in your area, request the service. Their team is working to expand quickly on a global scale. If you've made a request and are waiting, use an app like Meetup in the meantime to find local groups that share hobbies and interests.
Mint
Mint is one of the best budgeting apps out there and can assist you in getting your finances back on track after the move. Simply link the app to your bank accounts, and all of your transactions will be imported into the app. Then, you can categorize each expense so that the app can develop graphs and charts to show you exactly where your money is going.
Mint can help you to find areas in which you need to trim your spending so that you can save more or accomplish other financial goals. The app creates tailored recommendations based on your unique needs, giving you everything you need to be a financial whiz.
BigSteelBox Makes Moving Feel Better!
These are just a few of the best moving apps that can make your entire move easier. BigSteelBox is also here to help simplify the packing and moving process. We'll bring you a moving container as far in advance of moving day as you need. Take your time packing. When you're ready, we'll pick up your moving container and deliver it to your new home.
Call us today at 1-800-373-1187 for more information and a free quote, or request your moving quote online now.