Why choose BigSteelBox for your retail business storage?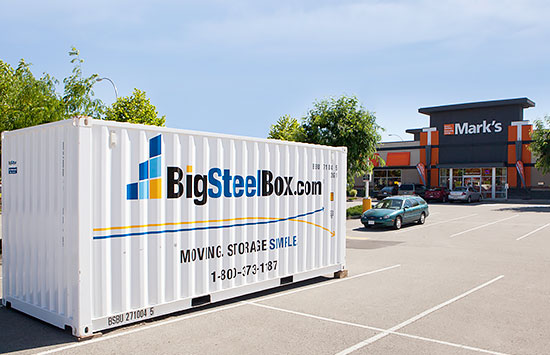 We'll work with you to find a storage solution that works best for your business.
A BigSteelBox is a great solution for retailers who need storage for excess inventory, seasonal items, or business equipment.
Every rental container comes equipped with a Lock Box that protects your padlock from being accessible to bolt cutters, so your things will be safe.
Plus, our BigSteelBox will arrive clean and white, so you can count on us to make a good impression on your customers. Call us today for pricing:
1-800-373-1187
We've got your retail storage needs covered.
Seasonal Storage
On site storage makes it simple for your store to change from Halloween to Christmas to Easter with ease! Keep your displays and inventory close by or store them at our secure location.
Manage Inventory
Impress your customers! You'll avoid clutter and keep your retail space organized when you store excess inventory in a BigSteelBox just outside your door.
Grow Revenue
Our monthly rental rates are very affordable, and portable storage will make your operation more efficient. Plus, you'll free up merchandising space to increase revenue.
I would like to say that big steel was amazing. The girls on the phone and the guys who did the delivery where professional and extremely helpful. I was going through a extremely stressful time and moving wasn't helping. Big steel made my stress level to a zero. I can't say enough great things about this company. This was our second time using them and both times had been an amazing experience Thank you big steel!!! Yours Truly, Darlene k.
These guys have been SO good to me! Shout out to Brooks in the booking department for going above and beyond for me and they guys in the yard for making it happen. Under a very stressful real estate transaction that is going very very wrong these guys helped me with extremely short notice to offset my box being moved to the house I am suppose to own but now do not. They have been the easiest place to work with and even though they had very little wiggle room to accommodate this, a team of wonderful people went above and beyond what they needed to do to take a little stress off my life and I know that is a company that I want to support and work with and if it was my guys would have a big cheers and give a big thank you too for making our clients feel the way these guys made me feel! Thanks!
BigSteelBox made moving from Calgary to Kelowna very easy. Their customer service rep was always available to discuss any concerns I had throughout the process and was always very responsive on any (very minor!) issues that arose. Can't thank them enough!
Store Hours
Monday - Friday: 8:00am - 5:00pm
Call Centre Hours
Monday - Friday: 5:00am - 6:00pm
Saturday: 7:00am - 6:00pm
Sunday: Closed