Why choose BigSteelBox for your restaurant's storage needs?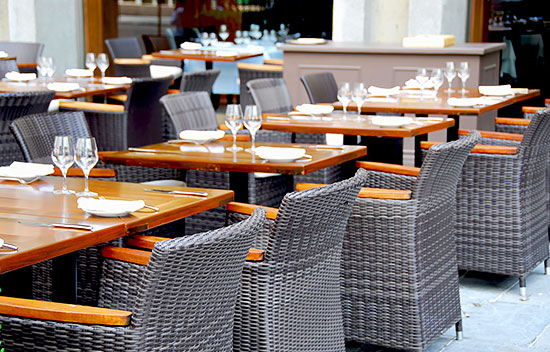 We'll help your restaurant shift from spring and summer, to fall and winter with ease.
Many customers who operate restaurants with outdoor patios will have a BigSteelBox dropped off in the fall. They'll spend a few days loading it with seasonal furniture and decorative items, and then have us move it to our secure storage facility to store over the winter.
This is especially valuable for restaurants who invest heavily in their outdoor furniture. Leaving it outside and exposed to the harsh winter elements will cause damage and shorten the product's life.
As soon as spring arrives, we'll deliver your BigSteelBox again so the patio can be opened for the season. Your furniture will look just as good in May as it did when it was packed in September! Call us today for pricing:
1-800-373-1187
We've got your restaurant's storage needs covered.
Convenient
We'll deliver a BigSteelBox to your location so it will be right outside your door. This makes loading it quick and easy for your staff.
Professional Look
We understand that image is important to your restaurant. Your rented BigSteelBox will always arrive looking clean and professional.
Protects Investments
Quality outdoor furniture is expensive. Protect it by keeping it out of the winter elements in a weather and rodent-proof BigSteelBox.
I would like to say that big steel was amazing. The girls on the phone and the guys who did the delivery where professional and extremely helpful. I was going through a extremely stressful time and moving wasn't helping. Big steel made my stress level to a zero. I can't say enough great things about this company. This was our second time using them and both times had been an amazing experience Thank you big steel!!! Yours Truly, Darlene k.
These guys have been SO good to me! Shout out to Brooks in the booking department for going above and beyond for me and they guys in the yard for making it happen. Under a very stressful real estate transaction that is going very very wrong these guys helped me with extremely short notice to offset my box being moved to the house I am suppose to own but now do not. They have been the easiest place to work with and even though they had very little wiggle room to accommodate this, a team of wonderful people went above and beyond what they needed to do to take a little stress off my life and I know that is a company that I want to support and work with and if it was my guys would have a big cheers and give a big thank you too for making our clients feel the way these guys made me feel! Thanks!
BigSteelBox made moving from Calgary to Kelowna very easy. Their customer service rep was always available to discuss any concerns I had throughout the process and was always very responsive on any (very minor!) issues that arose. Can't thank them enough!
Store Hours
Monday - Friday: 8:00am - 5:00pm
Call Centre Hours
Monday - Friday: 5:00am - 6:00pm
Saturday: 7:00am - 6:00pm
Sunday: Closed