Why choose BigSteelBox for storage on your construction site?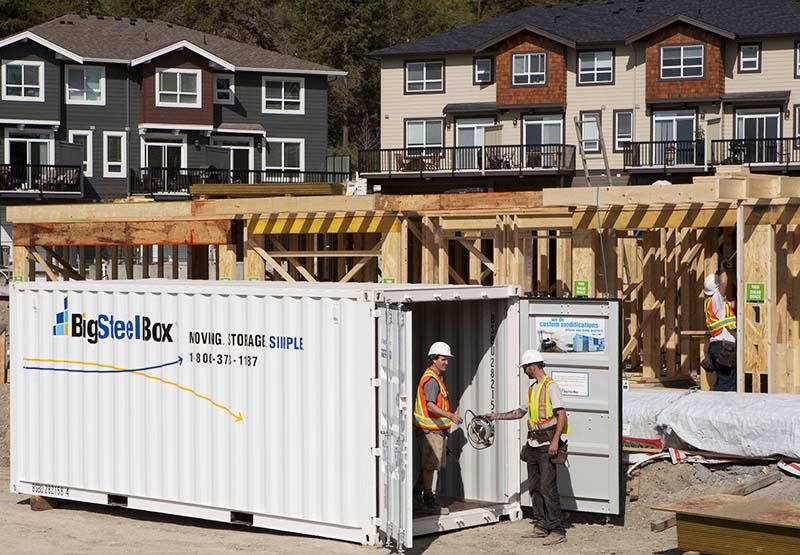 We're committed to delivering a reliable storage solution when and where you need it.
We've been supplying secure storage solutions to builders and construction companies for years, so we understand your business.
With a network of locations across Canada, we have a vast inventory of containers at our disposal. We can usually deliver the BigSteelBox you need to your site by the next business day. And if you ever need it moved (empty or loaded), we can usually accommodate your request within 24 business hours, if not sooner.
Call us today for pricing:
1-800-373-1187
We've got your construction site storage needs covered.
COMPETITIVE PRICING
We're committed to providing the competitive pricing you need backed by timely, reliable service.
20' Offices
With the flexibility to rent or buy, we'll bring you an office wherever and whenever you need it.
Add Shelving
We rent and sell shelf brackets that can be quickly attached to the container. Just add 2″x 10″ boards.
I would like to say that big steel was amazing. The girls on the phone and the guys who did the delivery where professional and extremely helpful. I was going through a extremely stressful time and moving wasn't helping. Big steel made my stress level to a zero. I can't say enough great things about this company. This was our second time using them and both times had been an amazing experience Thank you big steel!!! Yours Truly, Darlene k.
These guys have been SO good to me! Shout out to Brooks in the booking department for going above and beyond for me and they guys in the yard for making it happen. Under a very stressful real estate transaction that is going very very wrong these guys helped me with extremely short notice to offset my box being moved to the house I am suppose to own but now do not. They have been the easiest place to work with and even though they had very little wiggle room to accommodate this, a team of wonderful people went above and beyond what they needed to do to take a little stress off my life and I know that is a company that I want to support and work with and if it was my guys would have a big cheers and give a big thank you too for making our clients feel the way these guys made me feel! Thanks!
BigSteelBox made moving from Calgary to Kelowna very easy. Their customer service rep was always available to discuss any concerns I had throughout the process and was always very responsive on any (very minor!) issues that arose. Can't thank them enough!
Store Hours
Monday - Friday: 8:00am - 5:00pm
Call Centre Hours
Monday - Friday: 5:00am - 6:00pm
Saturday: 7:00am - 6:00pm
Sunday: Closed