Trust us to help make your event successful.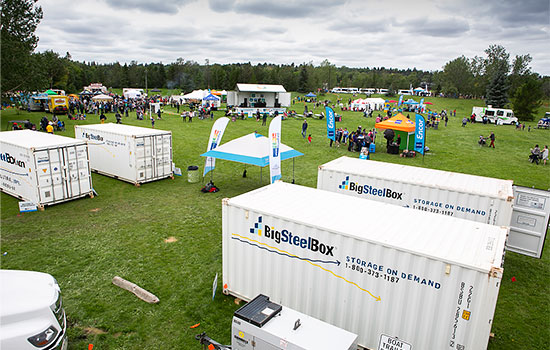 A secure storage solution can help your event go off without a hitch.
The key to any successful event or festival is preparation and organization. With so many moving parts, your event team needs to have easy access to supplies and equipment at all times.
In addition to storage on event sites, we also offer a year-round storage solution at our yards between events. Whether your next event is in a month or a year, we can delivery your BigSteelBox back to your event site to keep managing equipment and materials easy.
We pride ourselves on our customer service and treat all our customers like partners. Your storage problems are our storage problems.
1-800-373-1187
Festival & event storage you can trust.
SECURE
Nothing puts a damper on an event like theft or vandalism, so it's smart to choose a storage solution that will keep your gear safe.
FLEXIBLE
We'll deliver the storage containers on your schedule. We make ordering quick and easy, and our skilled Drivers will place it where you need it.
SCALABLE
Whether you're organizing a single local event, or multiple events in several cities across the country, we've got you covered.
I would like to say that big steel was amazing. The girls on the phone and the guys who did the delivery where professional and extremely helpful. I was going through a extremely stressful time and moving wasn't helping. Big steel made my stress level to a zero. I can't say enough great things about this company. This was our second time using them and both times had been an amazing experience Thank you big steel!!! Yours Truly, Darlene k.
These guys have been SO good to me! Shout out to Brooks in the booking department for going above and beyond for me and they guys in the yard for making it happen. Under a very stressful real estate transaction that is going very very wrong these guys helped me with extremely short notice to offset my box being moved to the house I am suppose to own but now do not. They have been the easiest place to work with and even though they had very little wiggle room to accommodate this, a team of wonderful people went above and beyond what they needed to do to take a little stress off my life and I know that is a company that I want to support and work with and if it was my guys would have a big cheers and give a big thank you too for making our clients feel the way these guys made me feel! Thanks!
BigSteelBox made moving from Calgary to Kelowna very easy. Their customer service rep was always available to discuss any concerns I had throughout the process and was always very responsive on any (very minor!) issues that arose. Can't thank them enough!
Store Hours
Monday - Friday: 8:00am - 5:00pm
Call Centre Hours
Monday - Friday: 5:00am - 6:00pm
Saturday: 7:00am - 6:00pm
Sunday: Closed